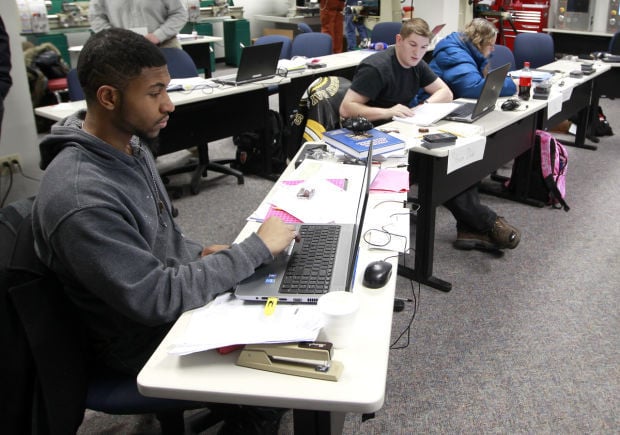 WATERLOO — Hawkeye Community College will have a new presence downtown amidst an area that has been undergoing extensive revitalization in recent years.
The board of trustees unanimously approved a $550,000 purchase of land at Jefferson Street and West Mullan Avenue Friday afternoon following a closed session. The property, which includes a city block between West Mullan and West First Street, has been empty since the former Waterloo Bowl-In building was demolished in 2002. The long-time business closed seven years earlier.
"This land will be used to construct our new urban campus," said Hawkeye President Linda Allen after the meeting. "The board was very pleased with the location. It's a terrific, highly visible part of downtown."
A two-story 40,000-square-foot adult education center will be constructed on the site, replacing the college's Metro and Martin Luther King Jr. centers. "These funds for this project were part of that bond referendum that was overwhelming supported by voters in February 2015," said Allen.
It's in the first phase of projects to be funded by the $25 million bond issue. A total of $8 million was allocated for the project, which "leaves us $7.25 million and change to construct the new urban campus," said Allen.
"We're really looking at probably 180 days from now as a start for breaking ground," she noted. Architects are set begin a range of site preparation and building design work. After the project gets underway in early fall, Allen suggested construction — which is sometimes weather dependent — could take anywhere from one to two years.
The Metro Center, at 844 W. Fourth St., is south of downtown and the King Center, at 515 Beech St., is on Waterloo's east side. Combined, they contain about 30,000 square feet of usable space.
Adult basic education, high school completion, high school equivalency testing, English language learner services and limited career courses are among the facilities' offerings. Staff at the two buildings work with many unemployed and underemployed people.
You have free articles remaining.
"There's just so many services that we need to continue," said Allen, noting officials hope to expand offerings with the additional space. "Those are yet to be determined."
The location was chosen after a lot of research into users of services at the current facilities. Allen said officials "paid close attention" to where the population they serve lives now, where people are moving to and projecting those trends into the future. "It's perfect for serving our students and for future growth," she said of the site.
Several major roads converge near the planned campus with the U.S. Highway overpass directly to the south and north- and south-bound lanes of U.S. Highway 63 (First and Mullan) on either side. The Cedar Valley Sportsplex is across Jefferson from the site and properties in the vicinity across Mullan have been redeveloped during the past few years. Grand Crossing, a condominium project at Jefferson and Westfield Avenue, is currently under construction. Cedar Valley TechWorks, where Hawkeye has a virtual reality lab in partnership with the University of Northern Iowa, is just beyond that on Westfield.
"We're on the 63 renovation corridor," said Allen. A stretch of the highway on the north end of Waterloo has been reconstructed.
"We truly believe Hawkeye's new urban campus will be a transformational project," she added. "We're very excited and we know that the city is very excited, as well."
Mayor Quentin Hart, who worked at Hawkeye for 18 years, said "we're absolutely excited" about plans to build the campus downtown. "It's taking an old site and it's a very perfect reuse of that particular site that spurs development.
"It's a fantastic development in a very great and growing downtown," he added, pointing to the diverse population the campus will serve. "This is going to benefit the community in so many ways."
Tavis Hall, Main Street Waterloo executive director, said Hawkeye's investment in the campus will enhance downtown.
"We're really excited and we're looking forward to seeing the project come to fruition and seeing exactly what kind of impacts" it will have. With "a couple thousand students" using the campus every year, coffee shops and restaurants will receive a boost, he suggested.
"I think it only makes sense to see if we can increase foot traffic down there," said Hall. "It's a great spot, it's a great solution to that site. There hasn't been a building there in decades. I think it will all work well and complement each other."