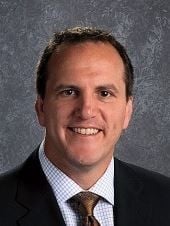 CEDAR FALLS — Four out of five students continue to take college-level coursework during their years at Cedar Falls High School.
Principal Jason Wedgbury presented the "senior year-plus" report Monday to the Board of Education.
"In 2020, we had 80.6% of students engaged in some kind of college coursework," he said, referring to classes taken over three years by last spring's graduates. That includes Advanced Placement classes or college credit courses during high school through concurrent or post-secondary enrollment options.
It was the third year the number had hovered around 80-81%. But those enrollments inched up for the class of 2020 compared with the previous year's graduates, when 80.2% took college-level courses.
There's been a slight decline of enrollment throughout high school by graduating classes in such courses since 84.3% of the class of 2017 took them. However, the trend is up since 63.2% of 2010 graduates were enrolled in college-level courses.
Among all students during 2019-20, 268 were enrolled in 14 AP classes. That compared with 252 the previous year. The number had grown from 200 in 2016.
Earning college credit depends on final test performance and the college's policies. But the number of exams taken rose from 376 to 417 with 85% last year achieving a score of at least 3 out of a possible 5. The average score for the school's students was 3.7.
"It's considered a passing score if you receive a 3 or above," said Wedgbury, that corresponds to likely college grades.
Most commonly, colleges or universities that will give students credit for AP courses do so with a score of 4 or 5, but some also give credit for a 3.
Wedgbury said the school tries to make AP classes accessible "to any student who is interested" without a lot of prerequisites.
"We have to be careful of celebrating a number," he explained, of the percentage receiving a 3 or higher. "I don't want it to come at the expense of taking some student opportunities away."
Concurrent courses, where students earn both high school and Hawkeye Community College credit, also grew during the last year. There were 1,200 roster enrollments through the high school in 2019-20 compared to 1,114 the previous year. Annual course enrollments have been trending up since 2008-09, when there were 540.
Students took 34 Hawkeye concurrent courses through the high school. Concurrent offerings include both career and core academic courses.
Twenty-five Cedar Falls students took a total of 42 classes at the University of Northern Iowa during the past year through post-secondary enrollment options. Students can take those courses when they've progressed beyond the concurrent courses offered at the high school.
On a separate matter, the board approved submitting an application for $961,418 in modified supplement funding to the state's School Budget Review Committee for Cedar Falls Community Schools' 2021-22 dropout/at-risk programs. That is a portion of the total estimated budget, set at $1.42 million. Other components will include an estimated $137,626 remaining from 2020-21 and $320,473 in dollars from the district's general fund, a 25% required match.
Drop-out prevention totaling $1.28 million includes mental health services, alternative programs and intervention center, academic supports, and credit recovery and the after-school Echoes program. At-risk funding totaling $137,626 would be for a school resource officer and student support services.
In other business, the board:
Approved a bid of $225,962 for two 84-passenger Blue Bird buses from School Bus Sales in Waterloo.
Set Jan. 25 public hearings for roofing and masonry repair projects as well as kitchen upgrade projects.



Collection of Cedar Falls-City High pictures