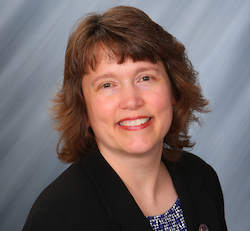 CEDAR FALLS — The fourth and last provost finalist is a University of Northern Iowa dean who has been on the faculty for 25 years and previously served as an interim in the role she is seeking.
Brenda Bass will interview remotely with UNI's faculty, staff, and students Wednesday and Thursday. She is a professor and dean of the College of Social and Behavioral Sciences. She was its associate dean from 2008 to 2012.
Bass noted her "close to 20 years of administrative experience" at Northern Iowa in a letter to the search committee made available by the university. She said her "depth and breadth of leadership experience, vision, and style along with my deep understanding of the institution will help drive UNI to continue its record of success and innovation."
She added, "I have chosen to invest my professional career at UNI because its mission and values align closely with my own. ... As an internal candidate, I bring the ability to create a seamless transition to immediately address the challenges facing UNI."
Among the accomplishments highlighted in her letter, Bass talked about being co-chairwoman of the general education re-envisioning committee, whose establishment was prompted by a review by the Higher Learning Commission. She said that has "provided an opportunity to build a vibrant new program based upon learning outcomes and innovative courses."
Her leadership was guided by campus-wide engagement that allowed for frequent communication with various groups and regular feedback opportunities. The result, she said, was "stronger outcomes by creating a dialogue that led to the inclusion of more diverse viewpoints."
Bass earned her doctorate and master's degree in family studies from the University of Arizona. Her doctorate included a minor in social psychology. She received a bachelor's degree from California State University, Bakersfield, in psychology with a minor in sociology.
Bass served as UNI's provost and executive vice president for academic affairs on a temporary basis from July 2016 to February 2017, when Wohlpart was the university's interim president. Before becoming associate dean, she held an administrative role as unit coordinator for the family studies program from 2000 to 2008.
She came to the University of Northern Iowa in 1996 as an assistant professor in family studies for the College of Social and Behavioral Sciences. Bass became a full professor in 2009.
Before her time at UNI, she held graduate research assistantship and teaching assistant positions and served as an instructor from 1990 to 1996 at the University of Arizona in Tucson.