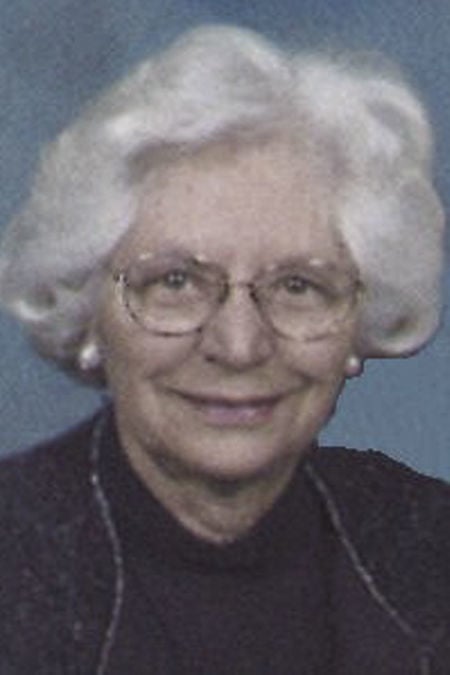 WATERLOO — Donna Harman showed up when she got behind a cause.
That was especially true of the retired teacher's alma mater, the University of Northern Iowa, and its work with early childhood education.
In the early 1990s, Harman contacted the Regents Center for Early Developmental Education at UNI "to find out what was going on" in the field and get involved, recalled its founding director Judith Finkelstein. She ended up serving on the center's leadership council and on the Freeburg Early Childhood Program's advisory council.
"What I know about Donna is she loved learning," said Finkelstein. As a member of the groups, "she asked questions, she entered into our discussion and gave us ideas."
Harman died Friday at age 94. The Waterloo native began working as an elementary teacher following her 1947 graduation from UNI. She and her husband, Eldred, and their two children lived in Waterloo and Iowa Falls before his career took them to Perry.
"She was very interested in doing anything she could to promote the enhancement of quality education for young children," said the Rev. Cathy Young, who had her early career as a teacher in common with Harman. "I think she was very intelligent, she was thoughtful and she was visionary — especially in the area of early childhood education."
They first met when Harman and her husband returned to Waterloo in the late 1980s upon his retirement.
"I really thought she was a pioneer and champion of childhood education," added Young. "She taught both before and after her marriage to Eldred."
Betty Zan, another former director of the Regents Center for Early Developmental Education, cited the generosity and philanthropy of Harman and her husband, who died in 2011.
"She's a wonderful person," said Zan, an associate professor at UNI. "So kind and caring, and she and Eldred were such big supporters of UNI. And her heart was really in early childhood education."
Harman and her husband also provided support for the Gallagher Bluedorn Performing Arts Center; the McLeod Center and UNI athletics; and his alma mater, Iowa State University. In addition, she had served as a past director of UNI's Alumni Association Board and on the UNI Foundation Board.
"There's a lot of folks who are generous with their resources but don't really engage with us," said Andrea Elliott, a senior regional director of development for the foundation.
Not only was Harman involved, she was "one of those really engaged board members," added Elliott. "She really offered valuable insight and was really always engaged in the conversations."
Harman served on the foundation board for more than a decade, leaving the role about seven years ago.
Around the same time Harman moved into Friendship Village and became less active in the community, including the church she had belonged to most of her life, First Presbyterian in Waterloo.
"Soon after, she was not able to come to worship as frequently," said the Rev. Amy Wiles. Still, she remained engaged, asking about the church and its members when Wiles or others visited. "Even though she couldn't come, I think she felt connected and we felt connected to her."
A private family graveside service was held Monday at Waterloo Memorial Park Cemetery.



Obituaries in the Courier today, May 10, 2020