DYSART — Jade Ewoldt received her Mother's Day gifts early.
In mid-April, her twin girls came home after nearly five months in an Iowa City neonatal intensive care unit.
That the girls even survived was the greatest gift, Ewoldt said.
"They are just miracles. I just can't even believe it. We've been abundantly blessed," she said.
Identical twins Keeley James and Kambry Lee Ewoldt were born 18 weeks early Nov. 24. Delivered at just 22 weeks and one day gestation, they are among the most premature known surviving twins in the U.S., and are the most premature surviving twins born at the University of Iowa Hospitals and Clinics.
"It's amazing that they're both alive. It's very hard for both twins at 22 weeks to survive. That's where the miracle is," said Dr. Jonathan Klein, a neonatologist and medical director of the NICU at UI Stead Family Children's Hospital.
Their extraordinary story, first reported by The Courier, has drawn worldwide media attention.
Tiny twins
At birth, Keeley weighed 1 pound and Kambry weighed 13.4 ounces. Each baby was about the length of a dollar bill.
Kambry lost some weight after she was born, which is common among preemies. Her lowest recorded weight is 11.64 ounces — less than a can of soda pop.
On their first post-NICU checkup with Klein on Wednesday, the girls each weighed 8 pounds, 5 ounces — within the normal range for a newborn baby.
"They've gained a tremendous amount of weight — more than an eight-fold increase," Klein said. "It's just amazing how far they've come."
On April 11, Kambry was the first of the twins to go home.
"At the beginning of April the doctors were saying maybe the end of May, then the end of April. All of a sudden it landed in our plate," Ewoldt said. "We were more than ready to bring them home."
Six days later, Keeley joined the rest of the family in their Dysart home. The family of six also includes includes Kollins, 3, and Koy, 5.
Ewoldt, 28, is a stay-at-home mom and Thirty-One Gifts consultant. Dad Wesley Ewoldt, 29, is a pattern maker at American Pattern & CNC in Cedar Falls.
"Busy. That's probably the best description of our life right now," Jade Ewoldt said. "Unless you've been through something like this, I don't think you can be fully prepared. It's a huge learning curve. Our life has completely changed; everything is different."
'Huge learning curve'
The Ewoldt home is a tangle of cords, tubes and monitors. Oxygen tanks line the rooms. The girls will be on oxygen until "their lungs do some more growing," Klein said.
They are fed a high-calorie combination of formula and breast milk every three hours, round the clock, "to catch up for all the growth they lost being 18 weeks early.
"It's a lot of work for the family — monitors, oxygen, various medications. Basically the family is running a mini, stepped-down neonatal intensive care unit at home," Klein added."It's hard enough caring for twins born at term, much less twins that require oxygen tanks and complicated feedings."
You have free articles remaining.
Visitors to the Ewoldt home are kept to a minimum, and only on Wednesday did Klein give the go-ahead for the family to take the twins out of the house for purposes other than medical appointments. They could attend church on Mother's Day, for example.
"The girls look good enough now they can sneak in late and leave early," Klein said. "The family can go on a walk. But I don't want anyone touching (the twins). They still need protected from viruses. It's important to not let people touch them."
A fragile start
Many babies born as early as the Ewoldt twins have problems with their bowels, hearts, eyes and other major organ systems that can lead to lifelong obstacles. While Keeley and Kambry dodged those complications, there were others.
The girls survived surgery in utero at 17 weeks gestation to correct twin-twin transfusion syndrome (TTTS), a rare condition in which abnormal formation of blood vessel connections between identical twins create uneven blood flow between the babies. The condition can be fatal.
After the girls were born, Keeley had heart surgery to close a vessel that, left intact after birth, can cause heart failure. Kambry was in isolation with a low count of cells vital to the immune system, the result of having been the TTTS donor twin.
Their skin was fragile enough to tear at the slightest touch, and their eyelids weren't fully formed. Respirators kept them breathing and stimulation — like light, sound and touch — was limited to protect brain development.
But under the watchful eyes and caring hands of NICU doctors and nurses, the girls have beaten the odds.
Growing, thriving
Though the twins are now 5 months old, their progress is monitored based on their "adjusted age." Adjusted age is the age of a baby based on his or her due date. Keeley and Kambry were due on March 29, which makes their adjusted age 6 weeks old.
Klein said the girls are on track developmentally.
"They are behaving like a 4- to- 6-week-old would behave — very feisty," Klein said. "It's a testament to how hard the family is working. A lot of the credit goes to them."
The twins' personalities continue to develop also, Ewoldt said.
"Since they were born we could always tell who was chill and easy-going. Keeley is kind of a spitfire. She really loves getting someone to pick her up. Kambry is the chill girl. It's kind of fun to see them be so alert; they are at home and seeing so many different objects. It's really been a blessing to watch."
'Strongly optimistic'
Based on the twins' current developmental levels, Klein said he expects they'll be of normal development long term.
"I always prefer to be strongly optimistic so we don't label the babies," he said. "I expect all of our patients to have a good outcome."
The Ewoldts expect the same and act accordingly.
"Every move we make we wonder could this be something that would harm the girls," Ewoldt said. "That, and prayer. We give it up to God. He knows the needs the girls have."
The Courier cannot verify the authenticity of any online fundraiser; please research before donating.
day25keelycuddle2hours.jpg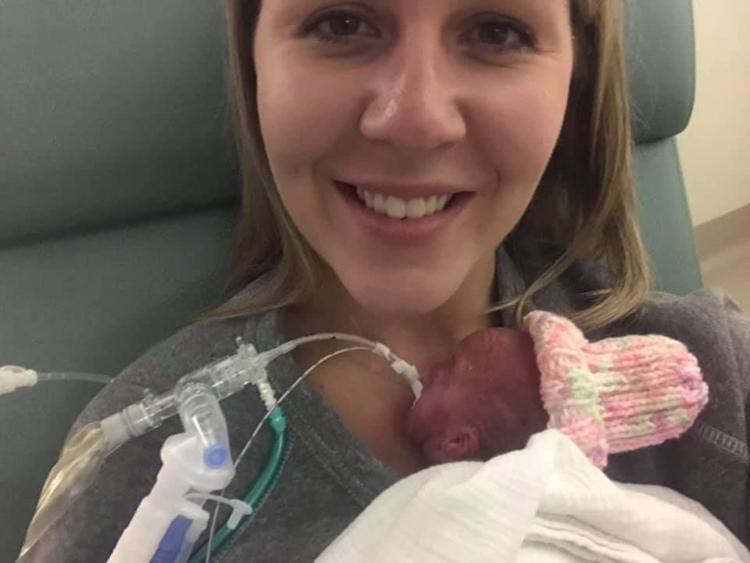 day36firstfamilyphoto.jpg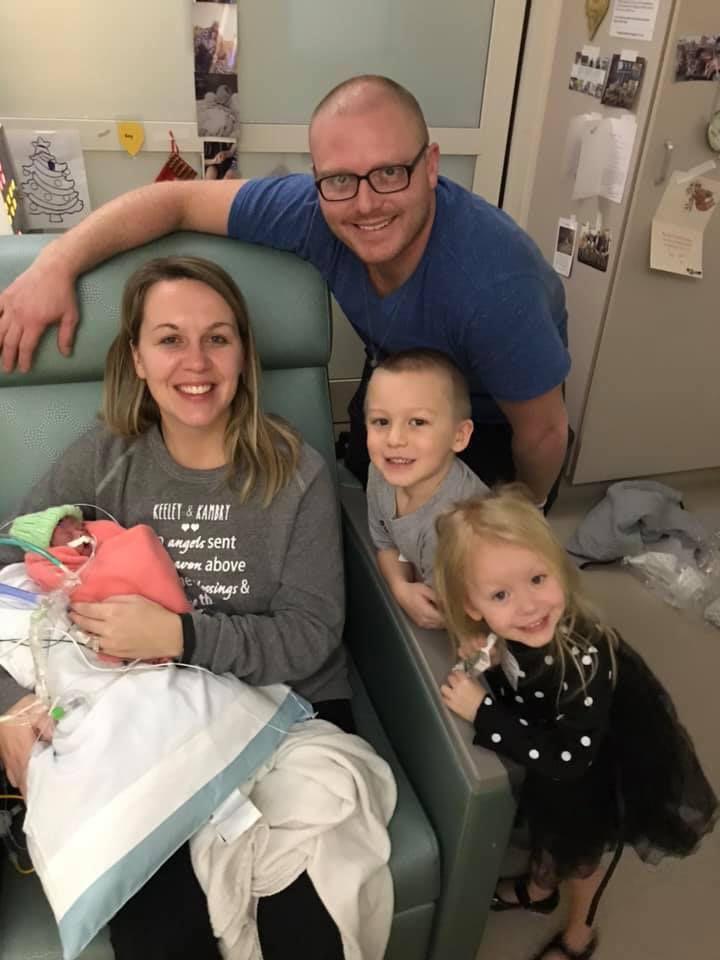 dec15keelydoublelengthofsharpie.jpg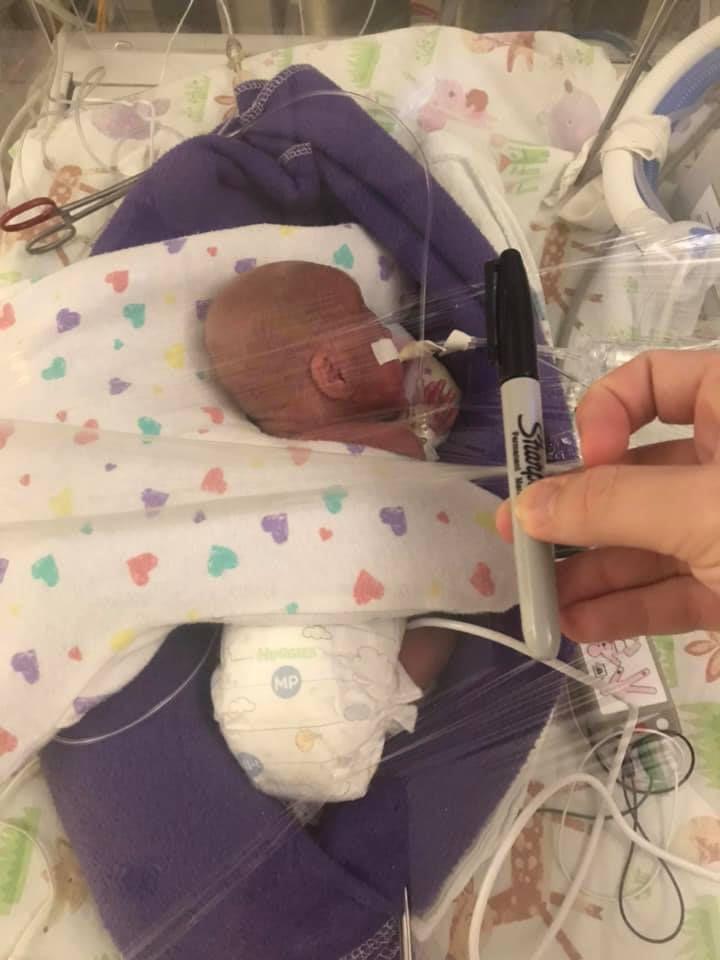 dec19keelycuddle.jpg
dec21.jpg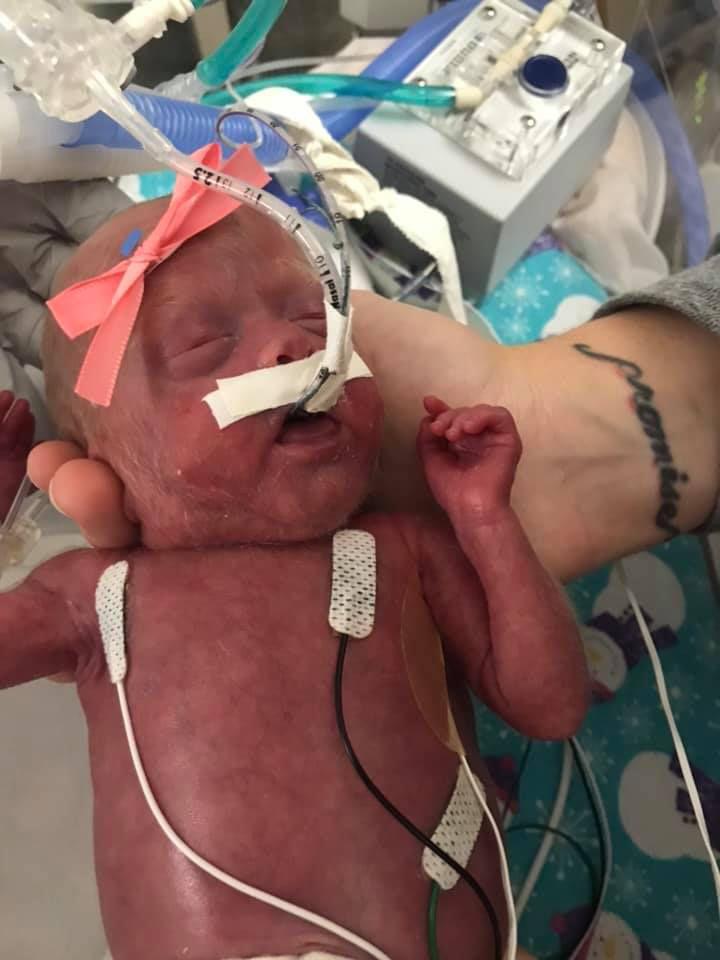 dec21keely.jpg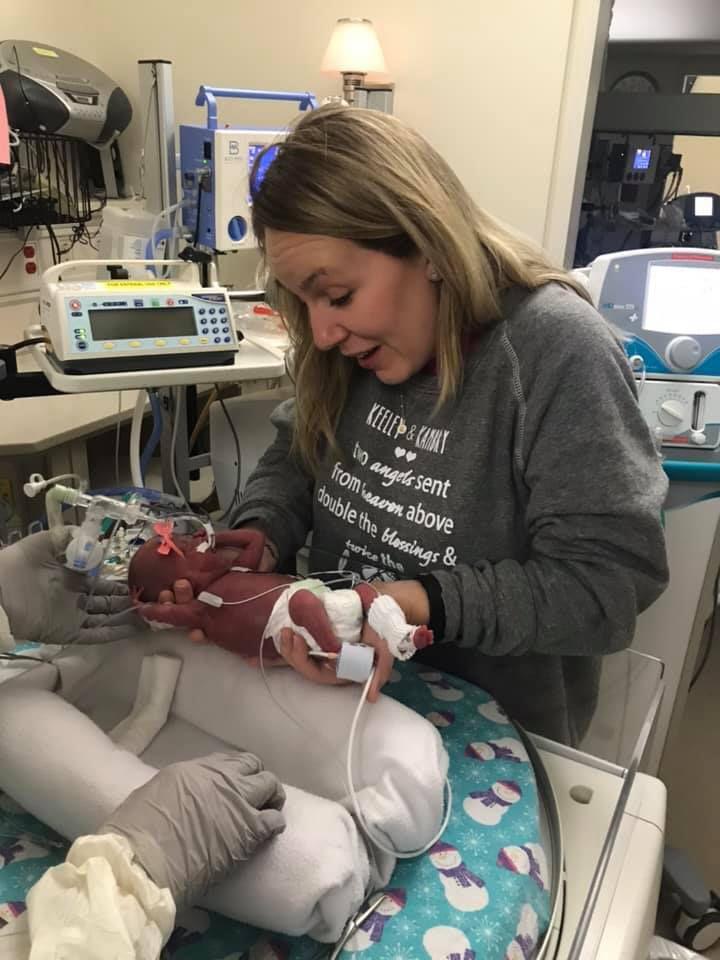 dec29handprints.jpg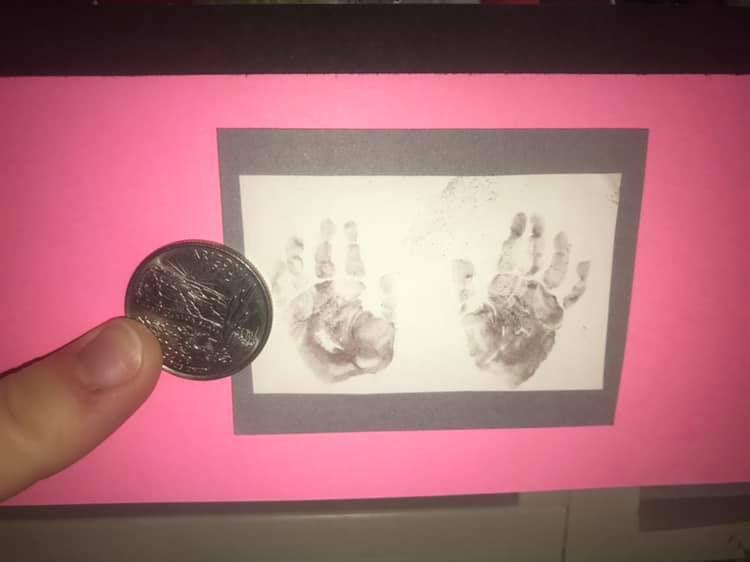 firstdiapers.jpg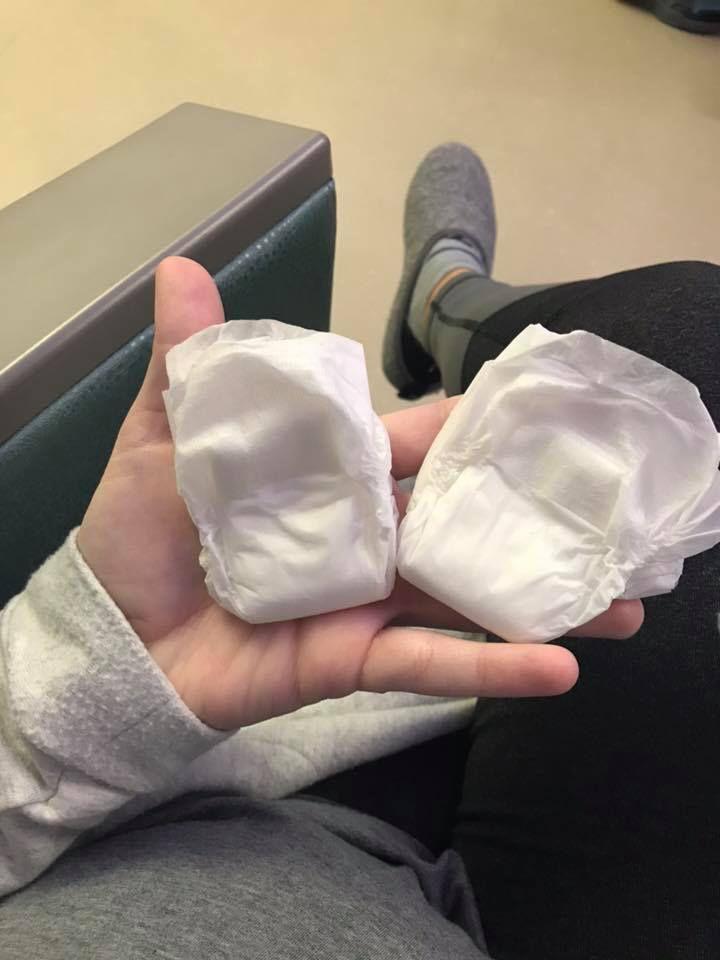 kabmrymom37daysold.jpg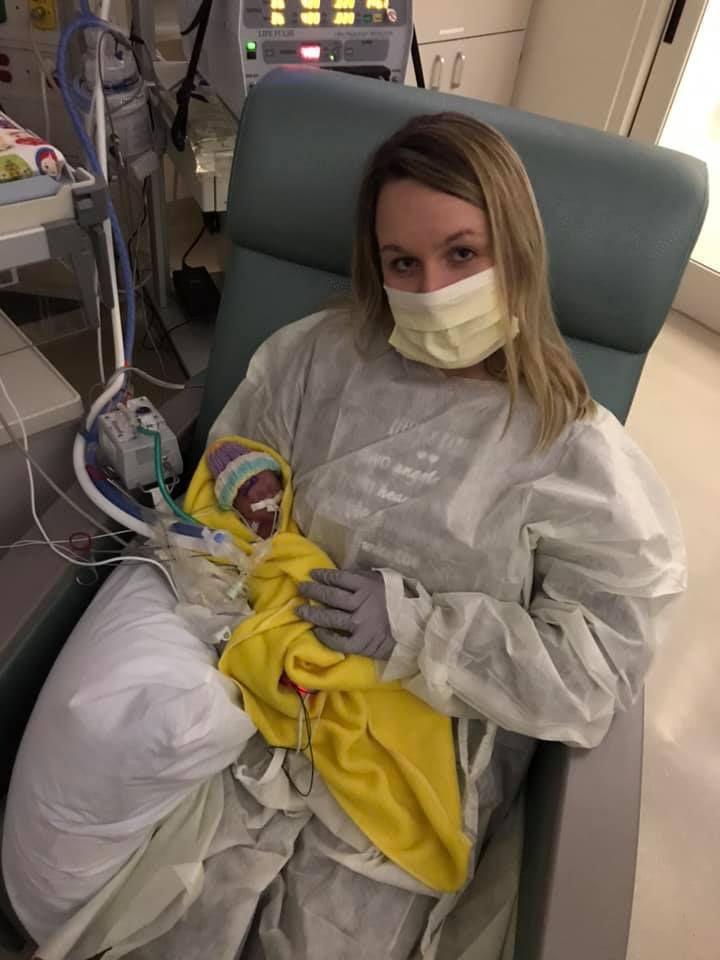 kambry24daysold.jpg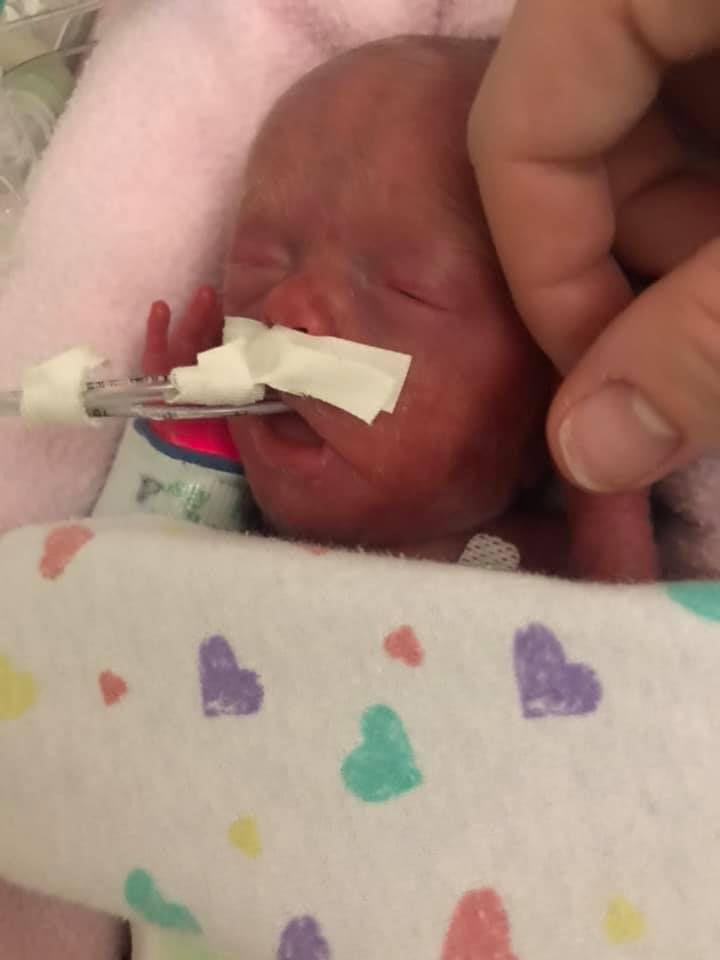 kambry112lbs.jpg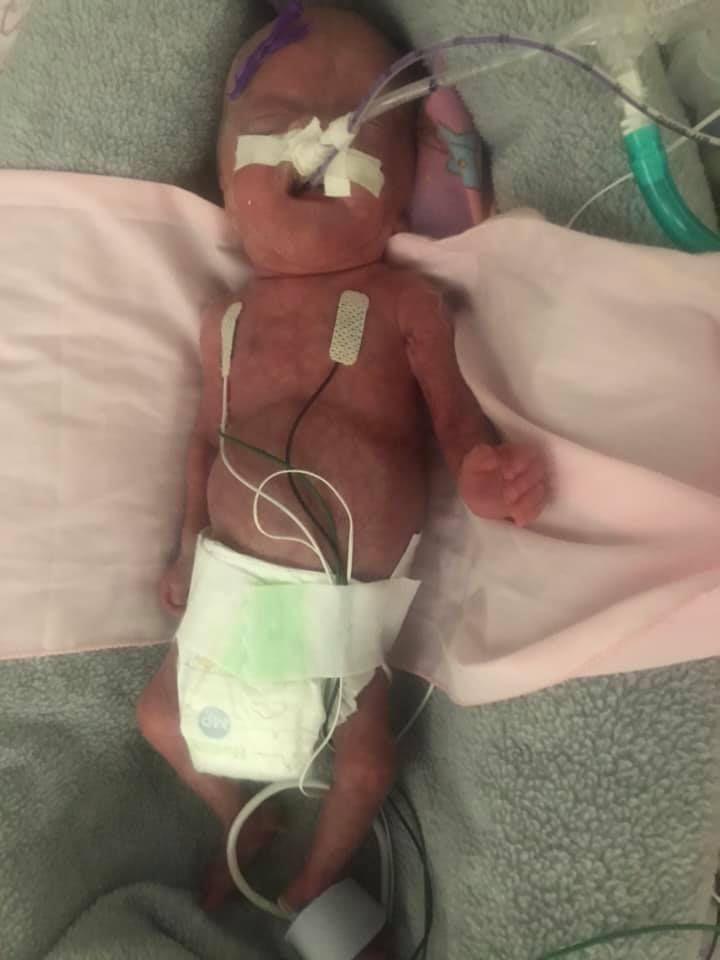 kambryfirstholddec15.jpg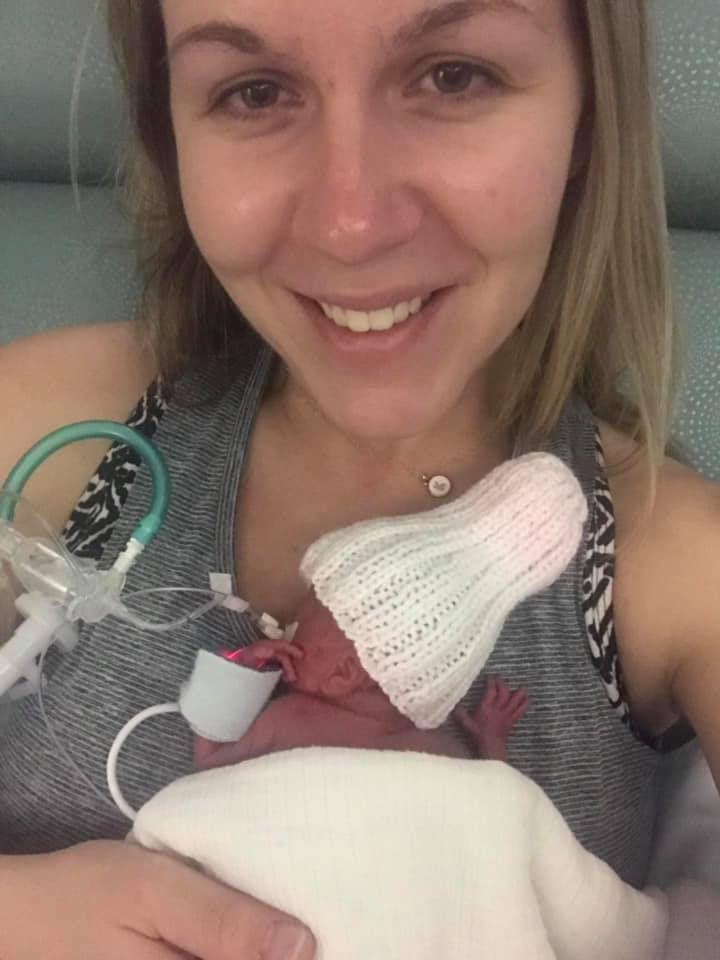 kambryjan3.jpg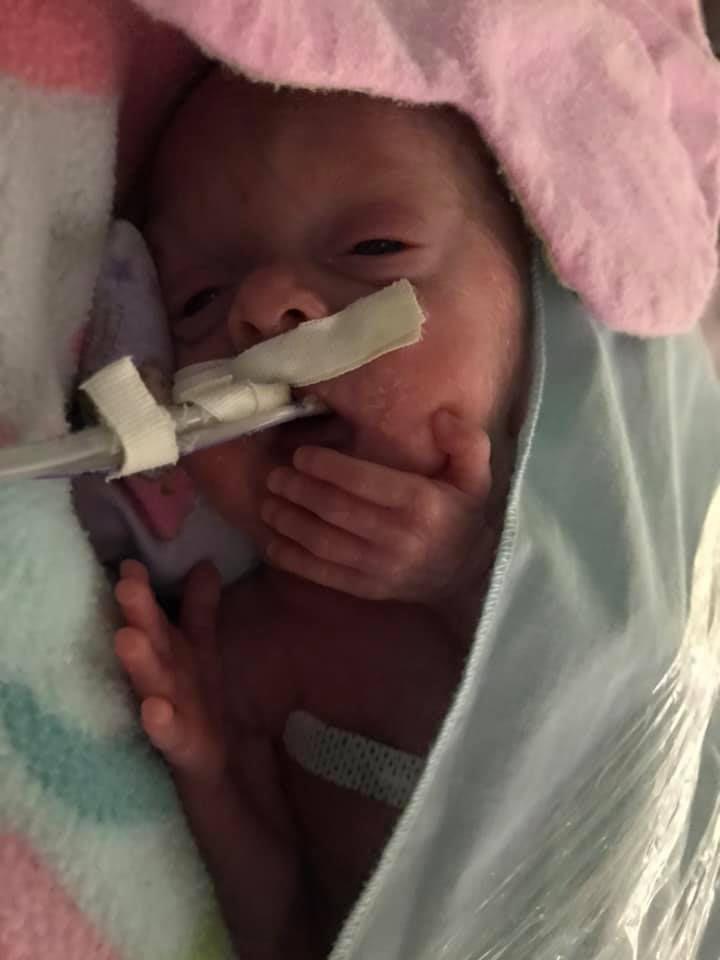 Keeleyjan9gripping momshand.jpg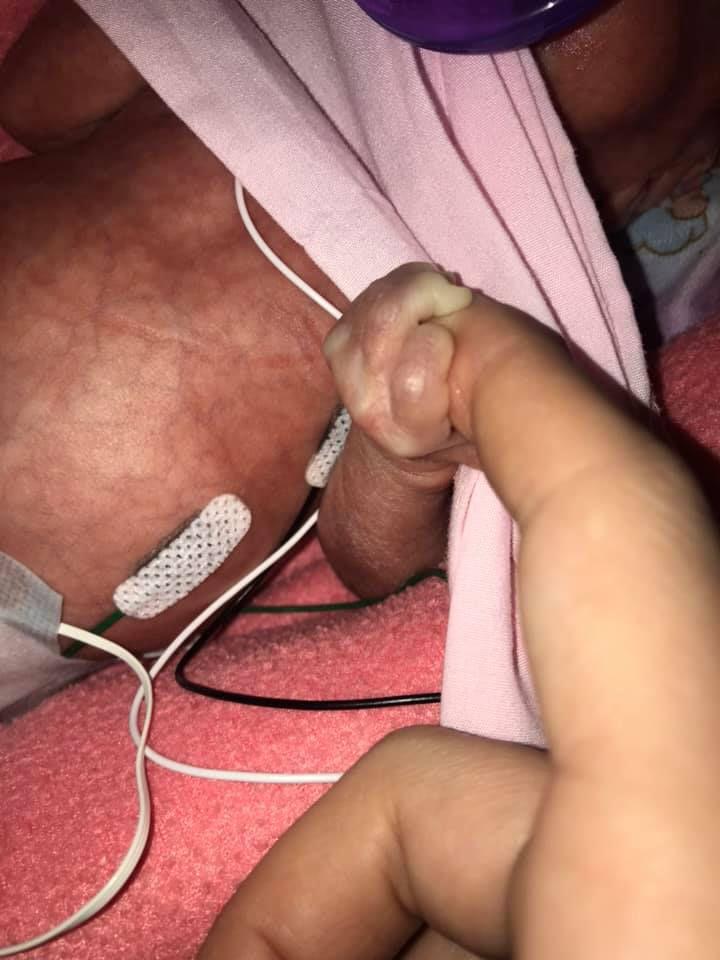 keelydec31.jpg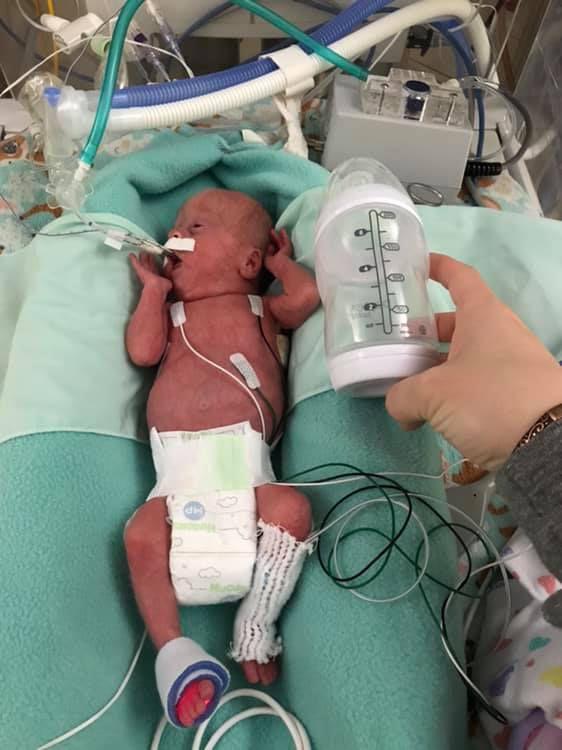 keelydec31hits2lbs.jpg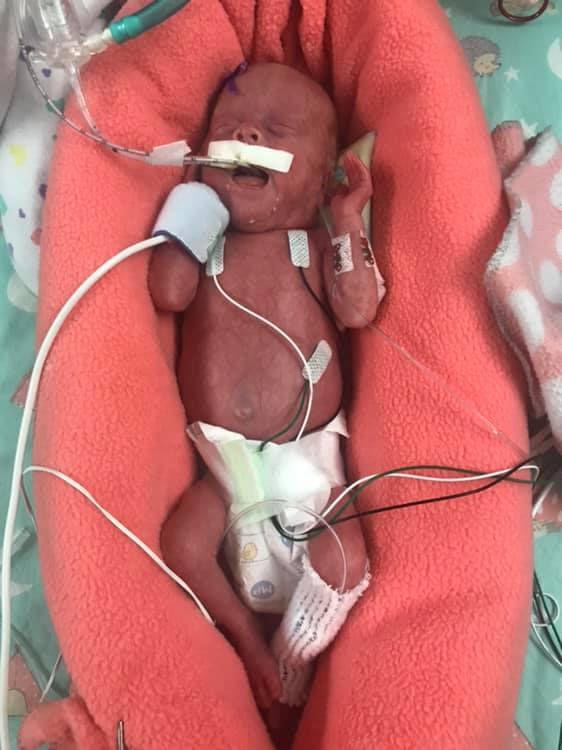 keelydec31startingtogrowhair.jpg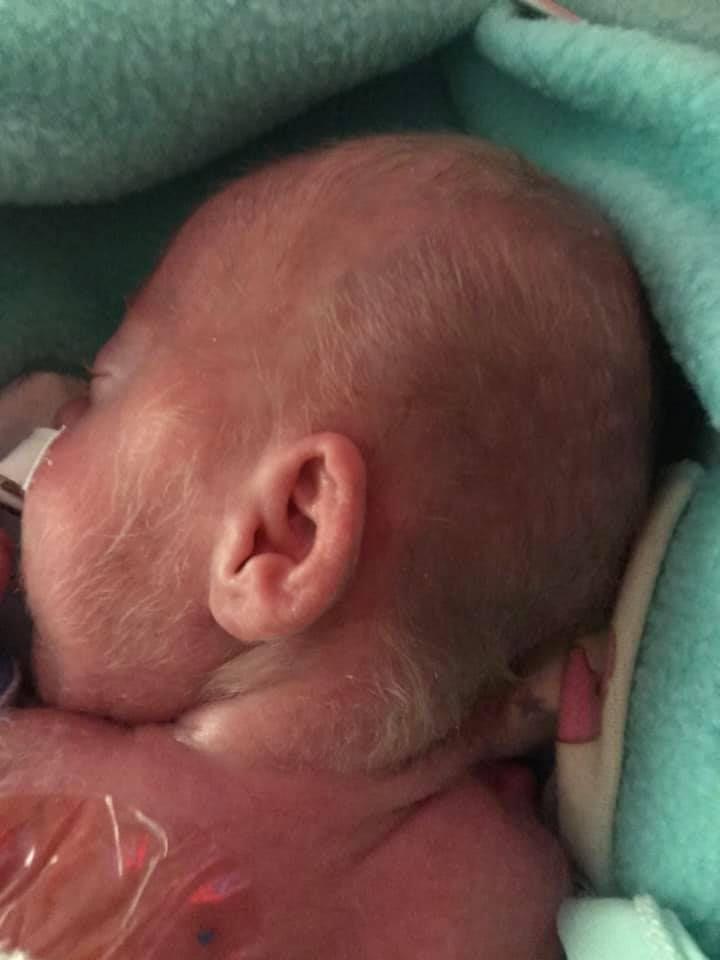 keelyJan9almosttripleherbirthweignt.jpg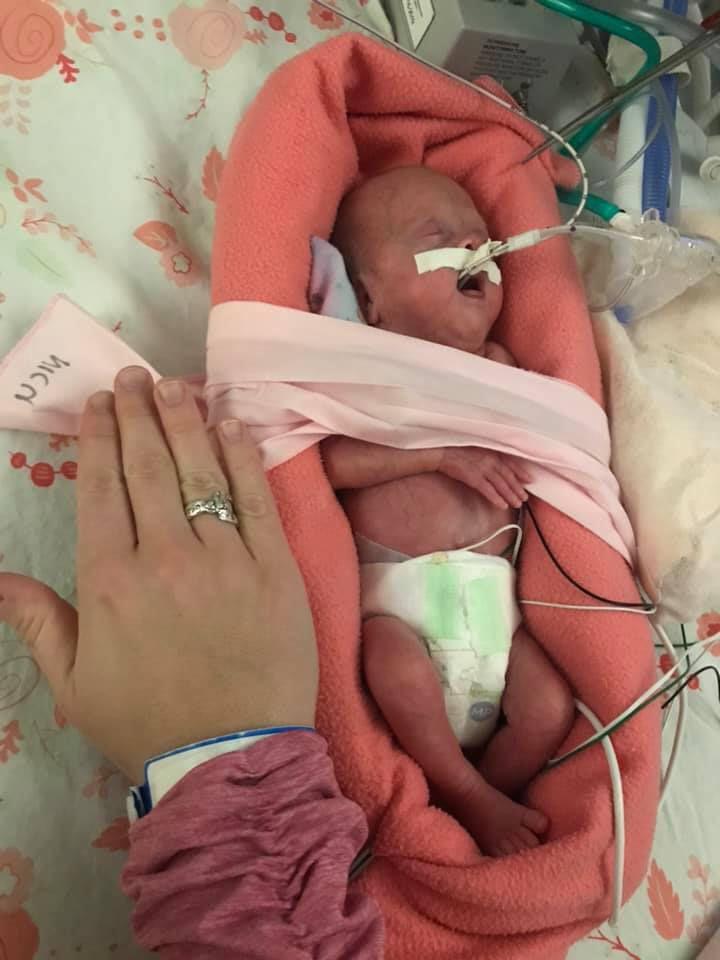 keelymom1hourcuddleJan3.jpg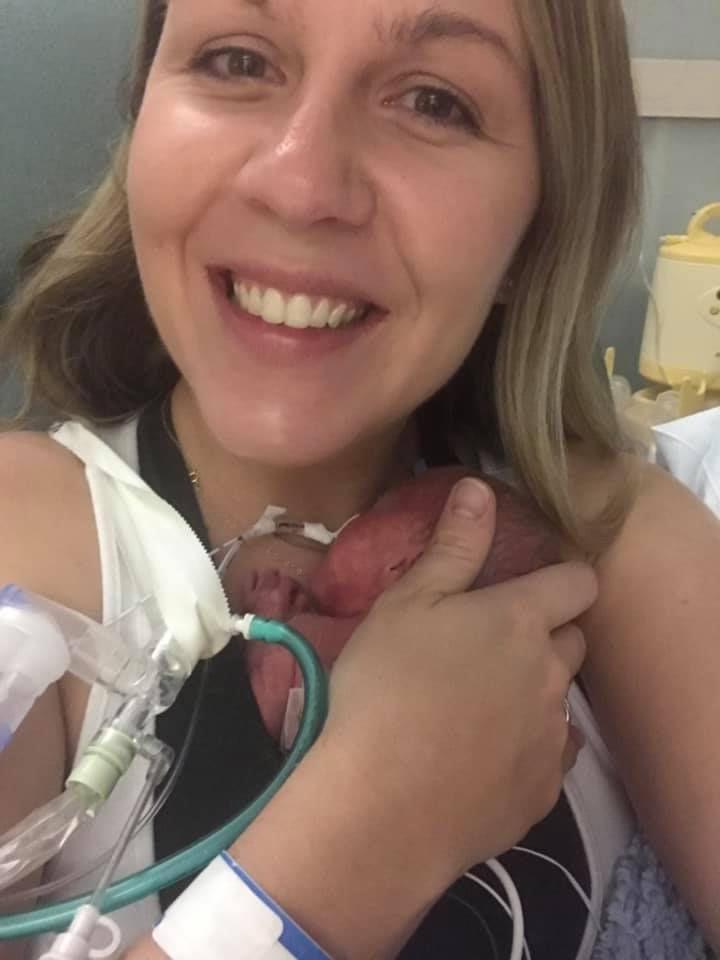 koykeely.jpg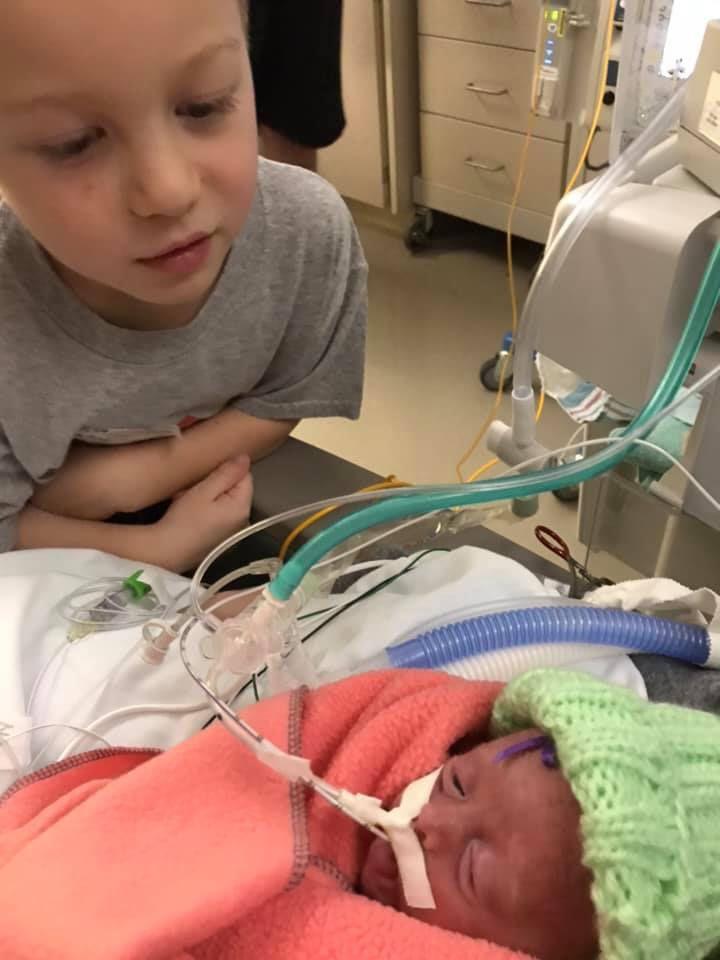 microdiaper.jpg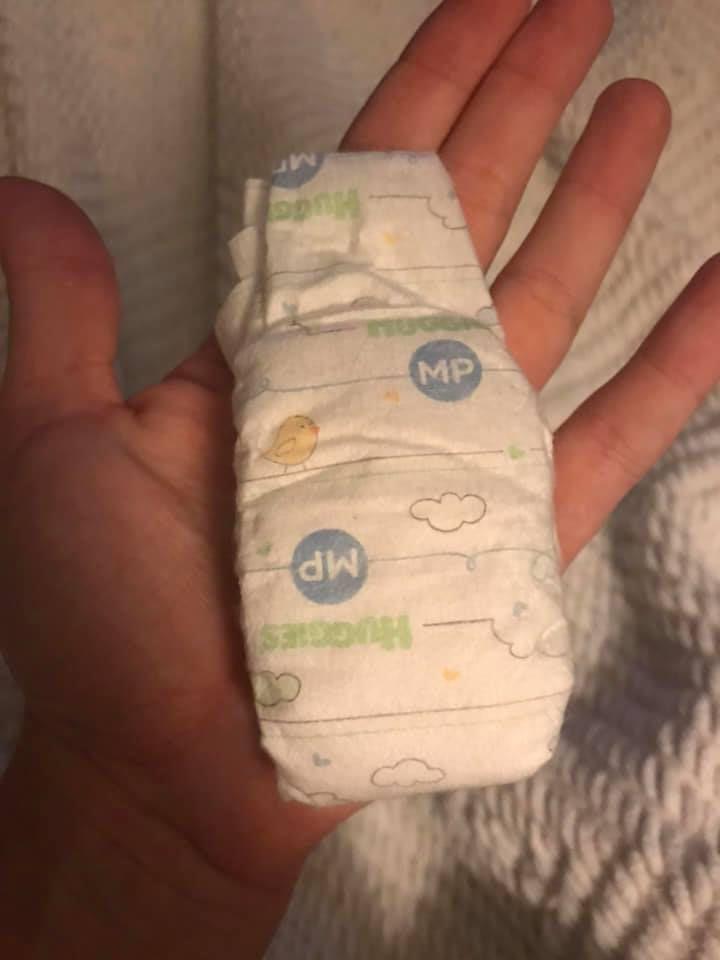 momkeeleydec31.jpg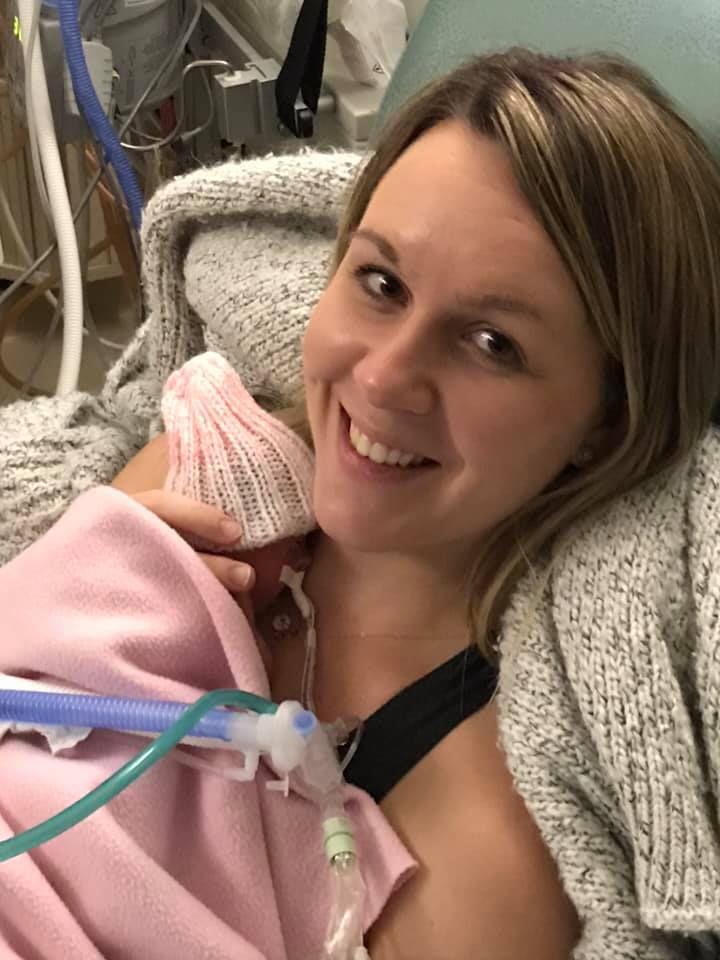 siblingswithkeely.jpg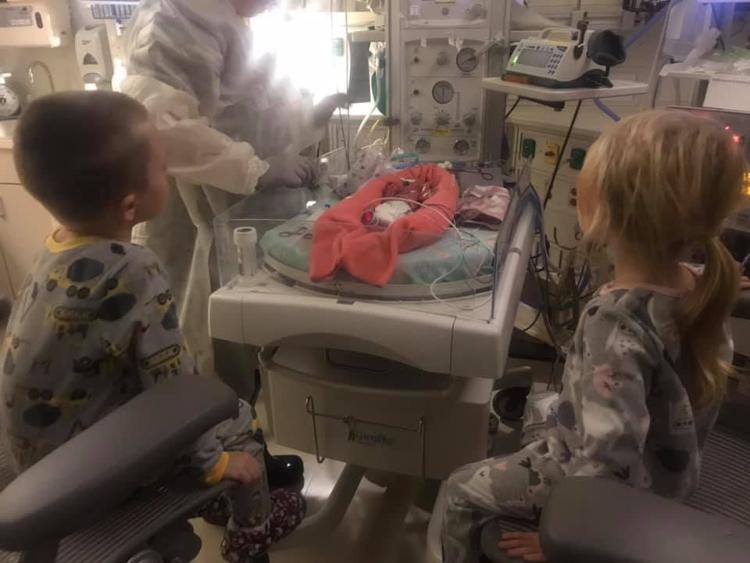 kambry50days2.jpg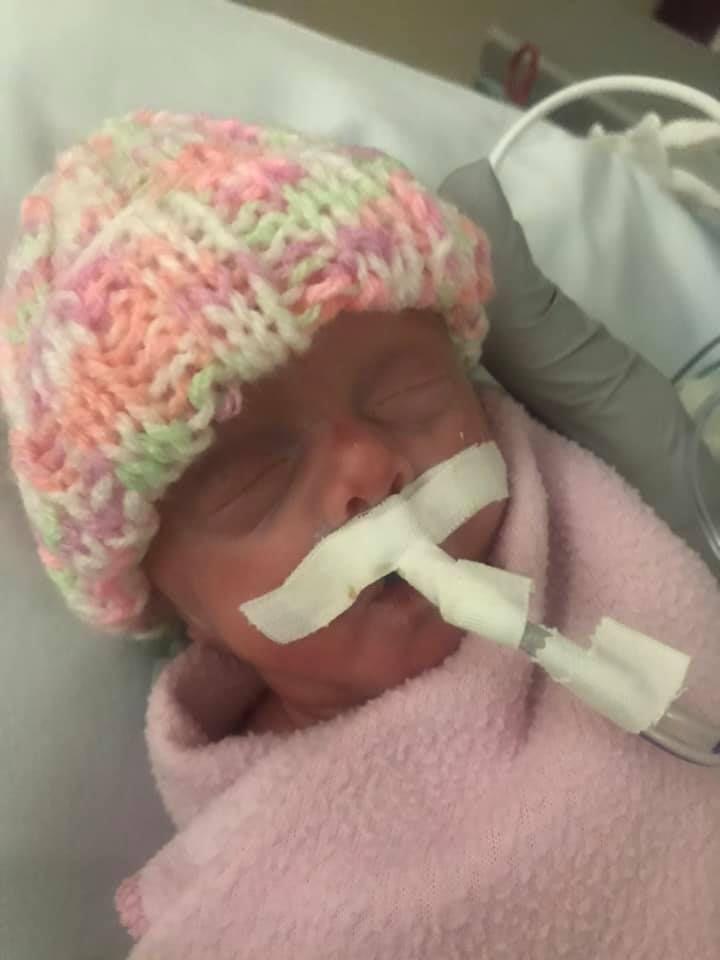 kambry50days3.jpg
kambry50days4.jpg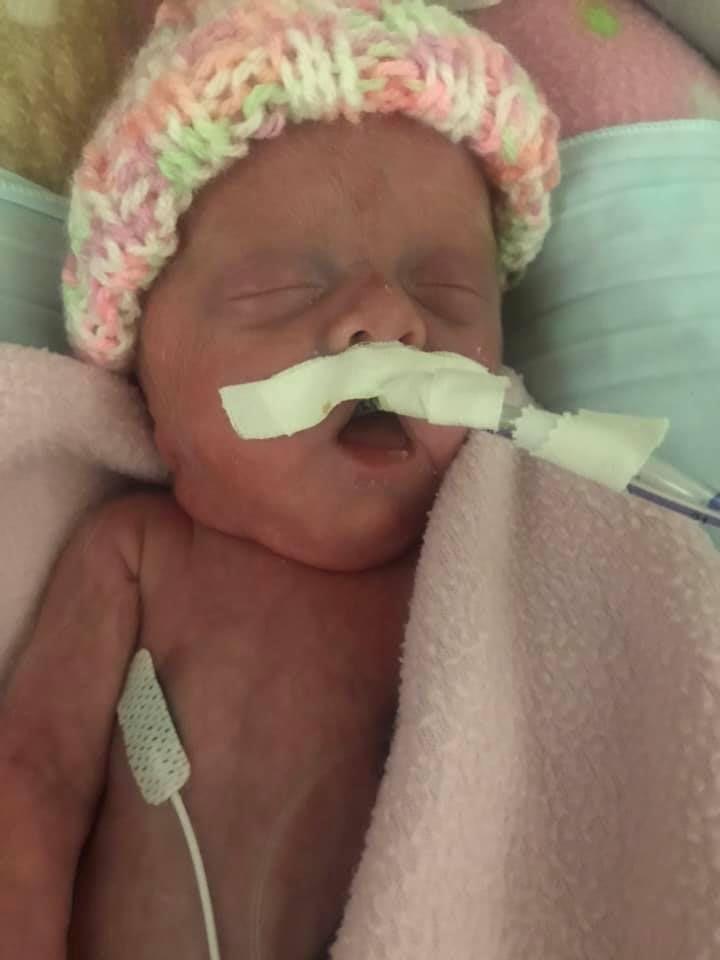 kambry50daysold.jpg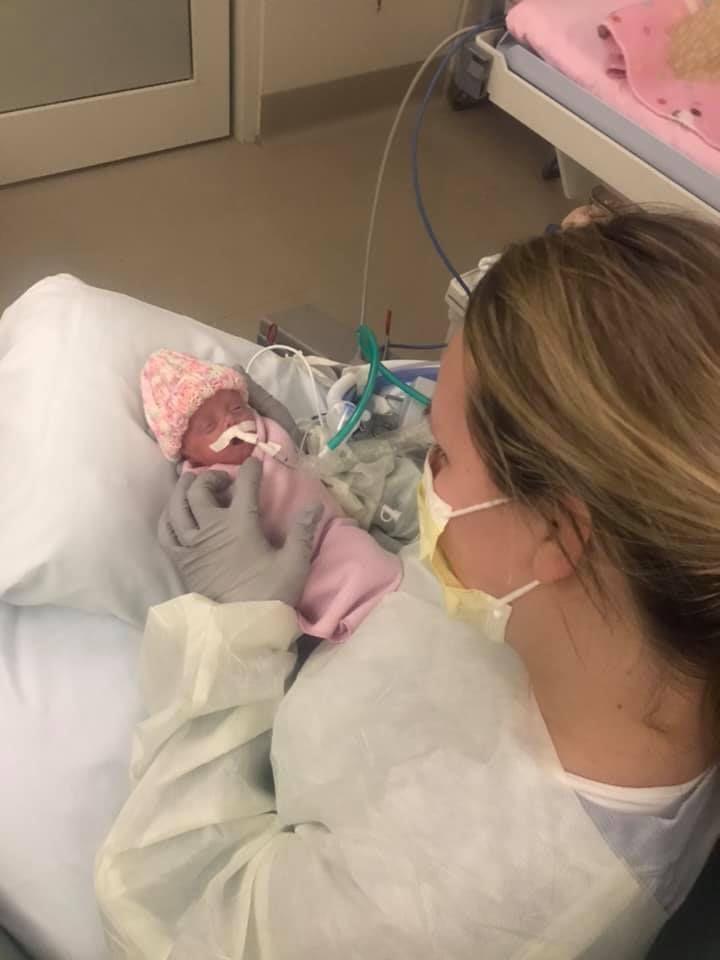 kambryday113point4ounces11inches.jpg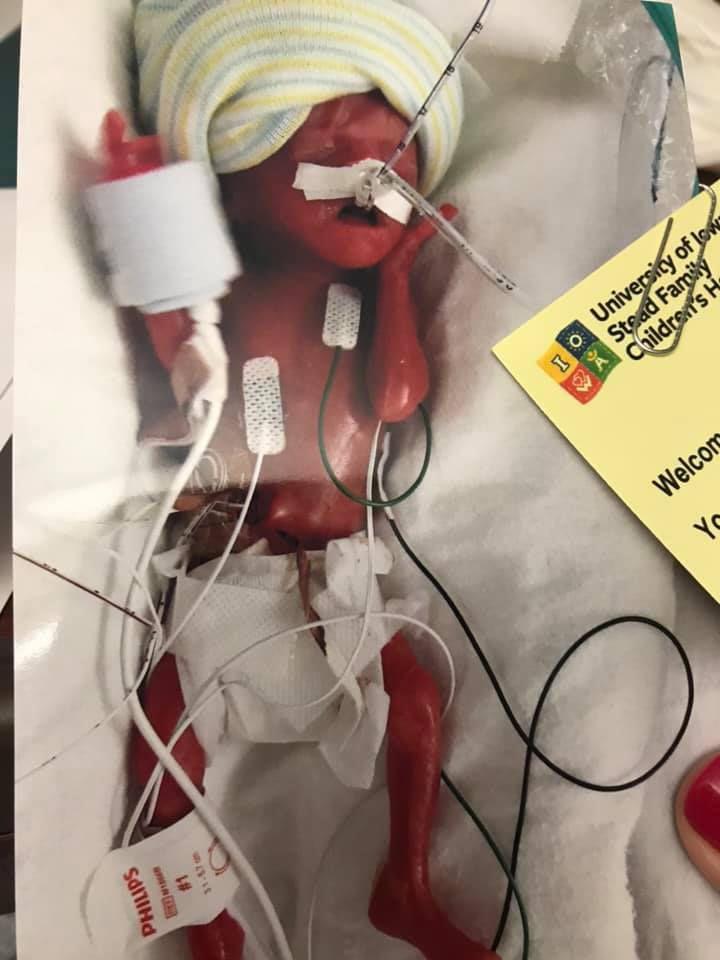 kambryleftkeeleyright.jpg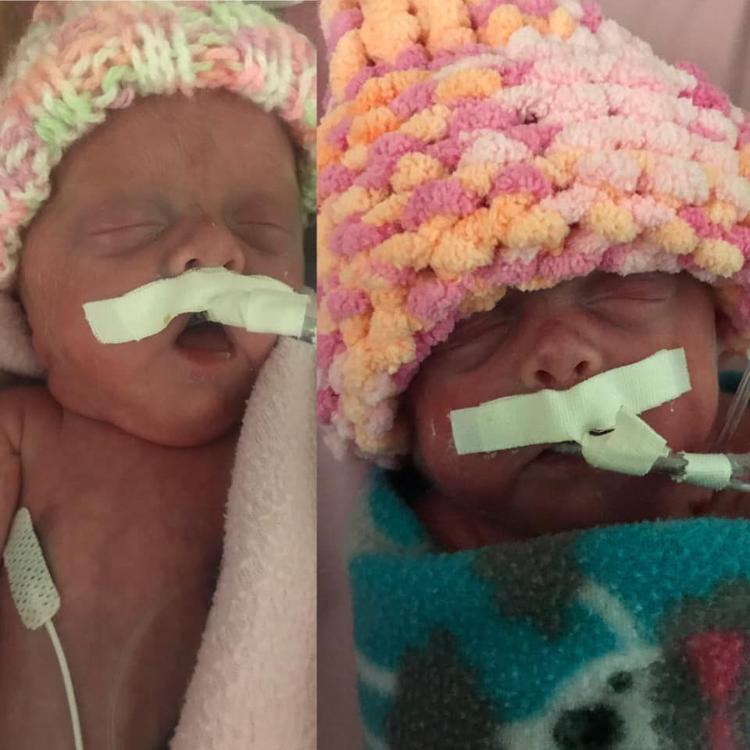 Keeley50days.jpg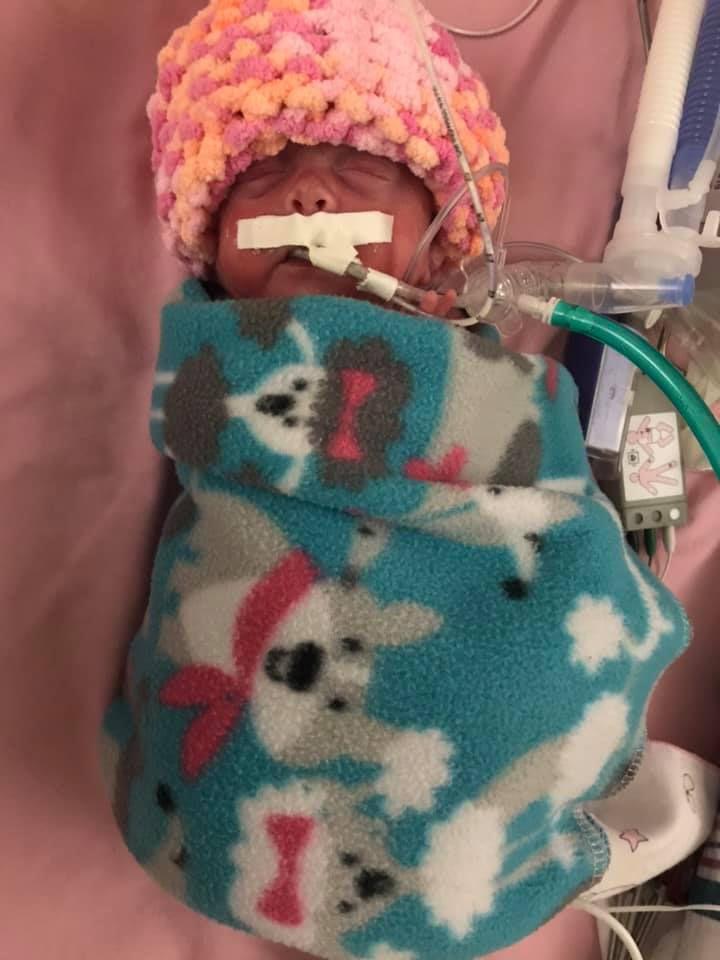 Keeley50daysclosup.jpg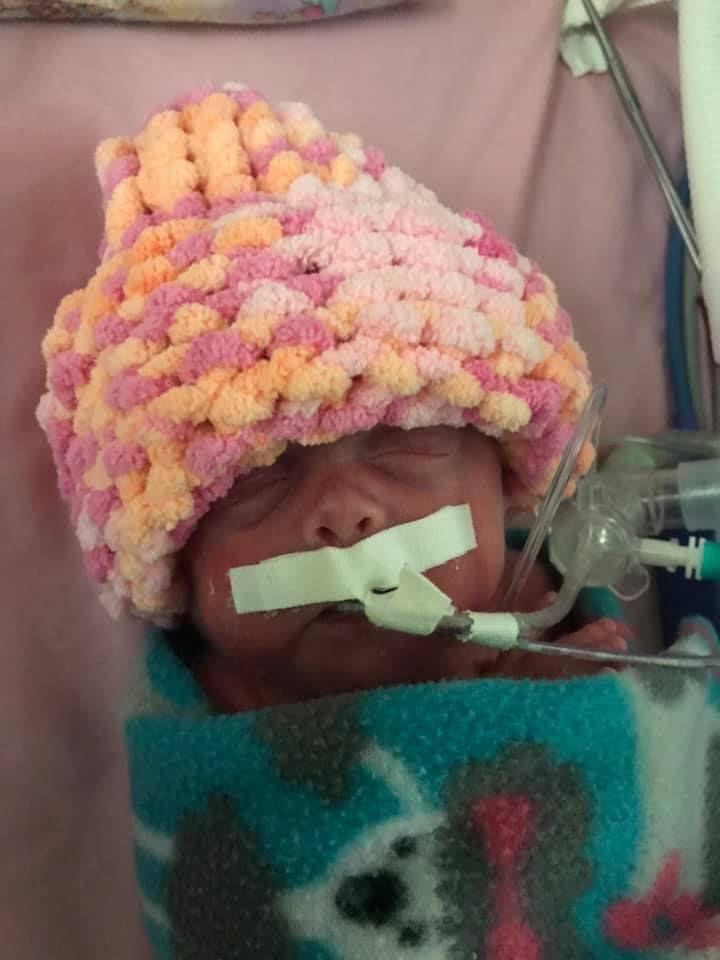 keeleyalmost3lbs.jpg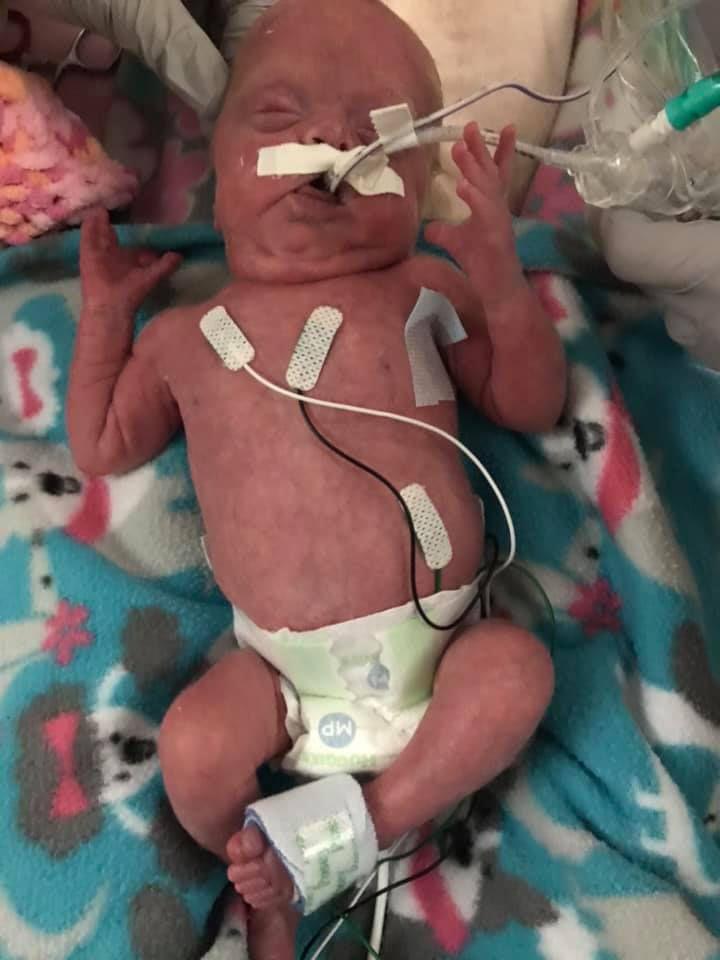 keeleyday1at1lb11andhalfinches.jpg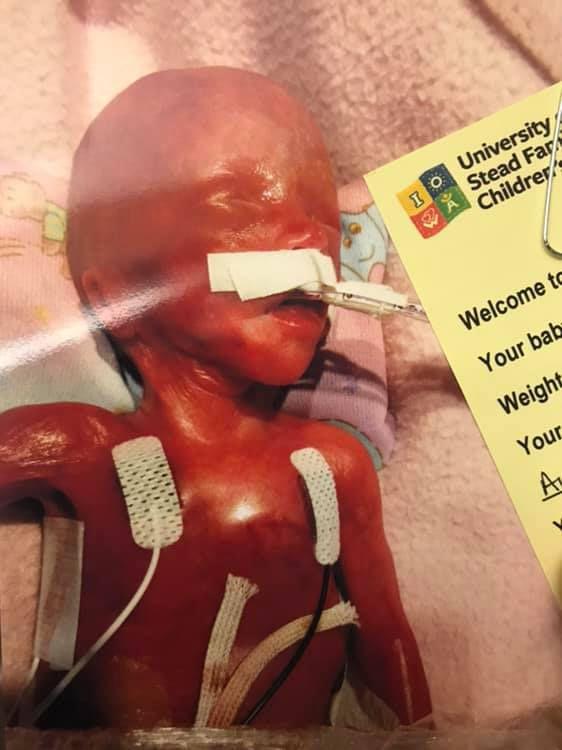 keeleyjan12dadsshoe.jpg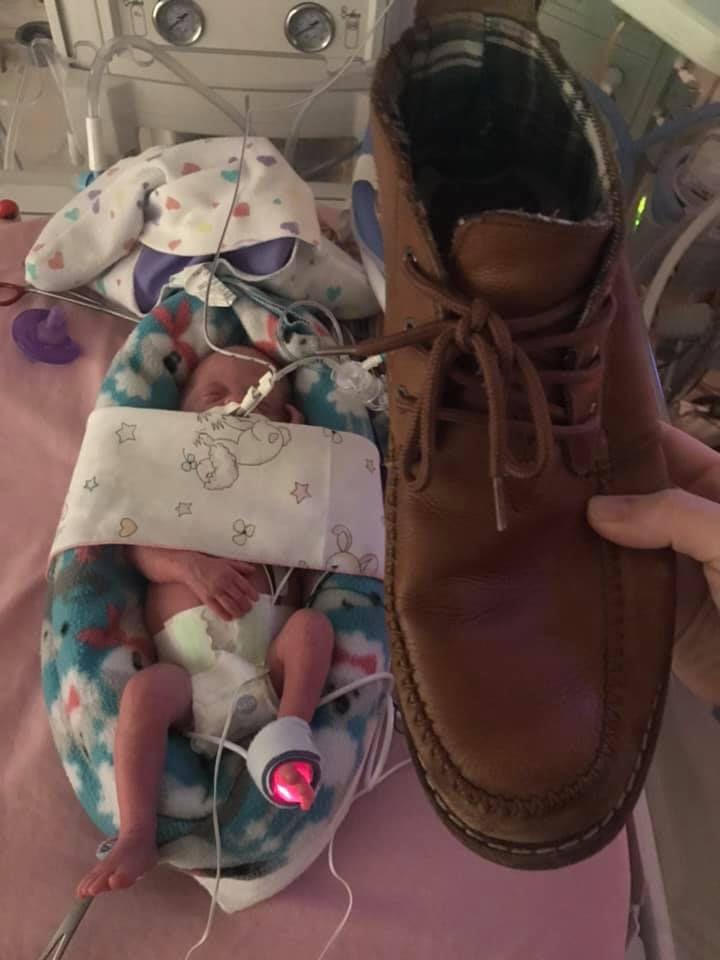 Keeley, birth to Feb. 14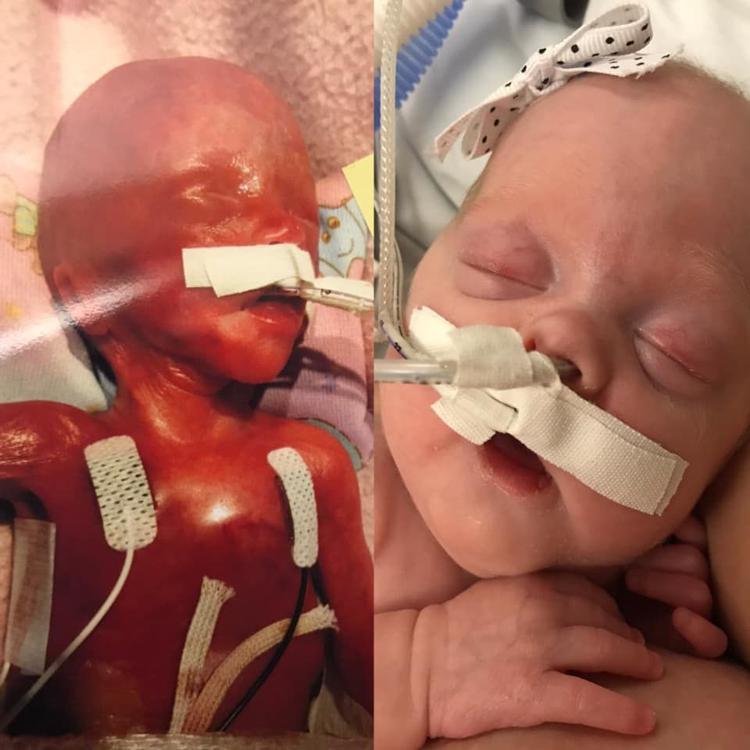 Keeley and Kambry first outfit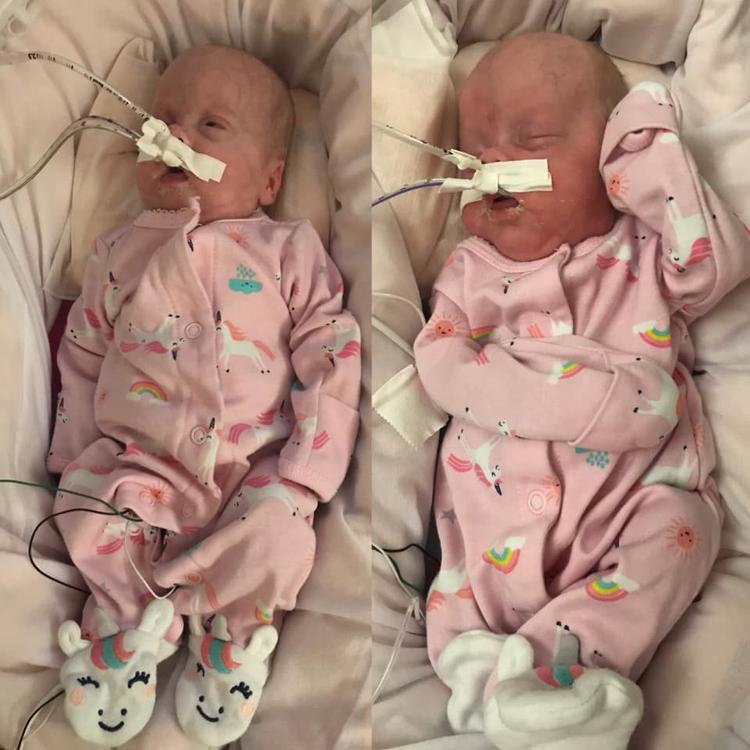 keeleywithbow.jpg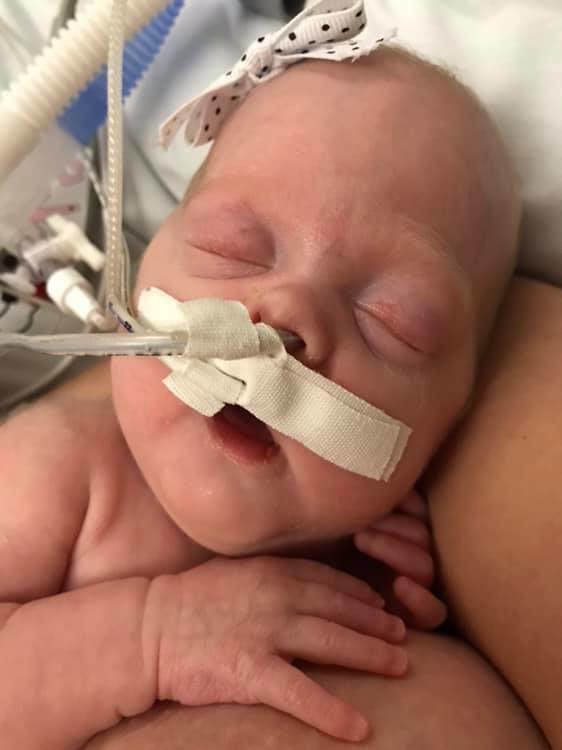 Kambry's first outfit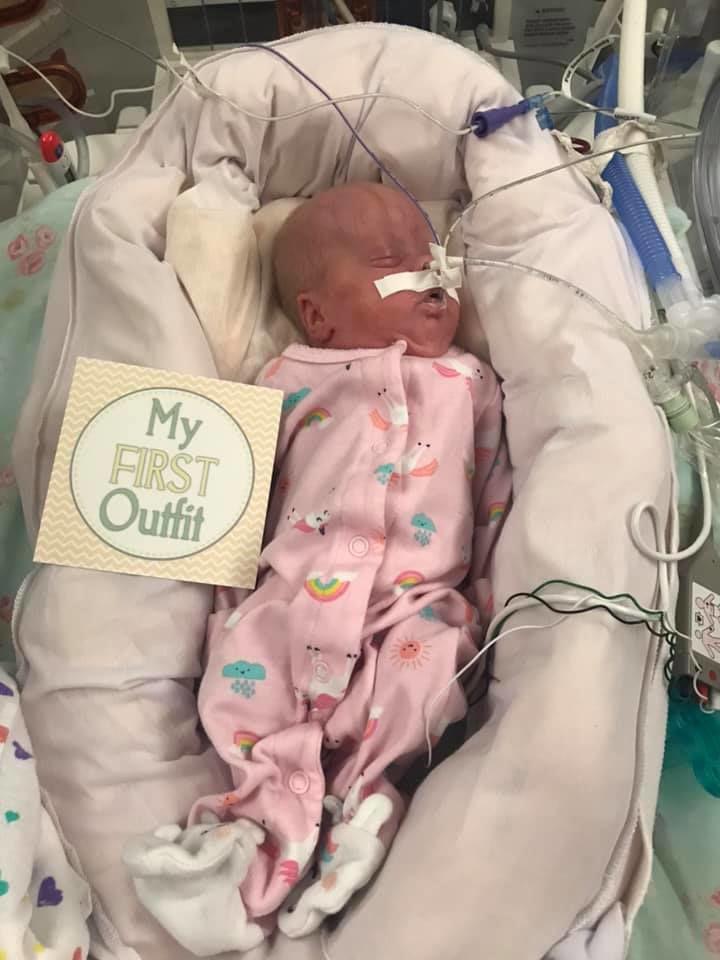 Wes Ewoldt, Kambry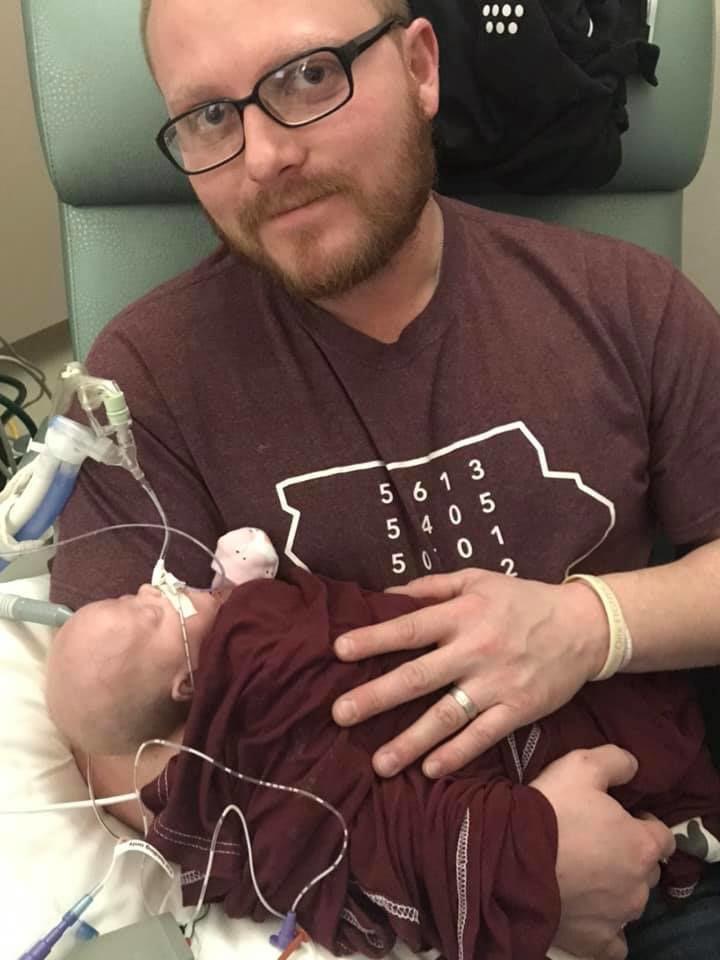 Kambry, birth to now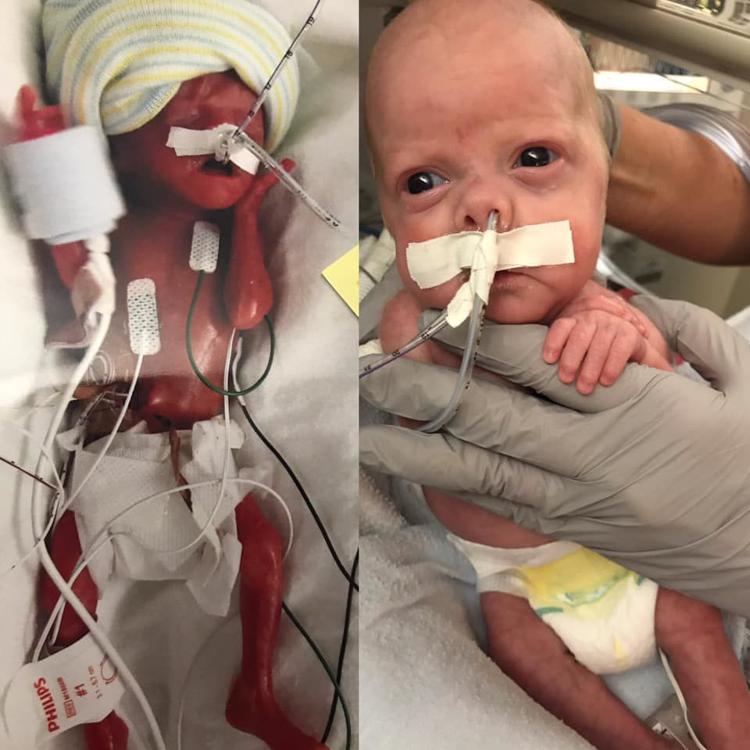 Ewold twins first night home together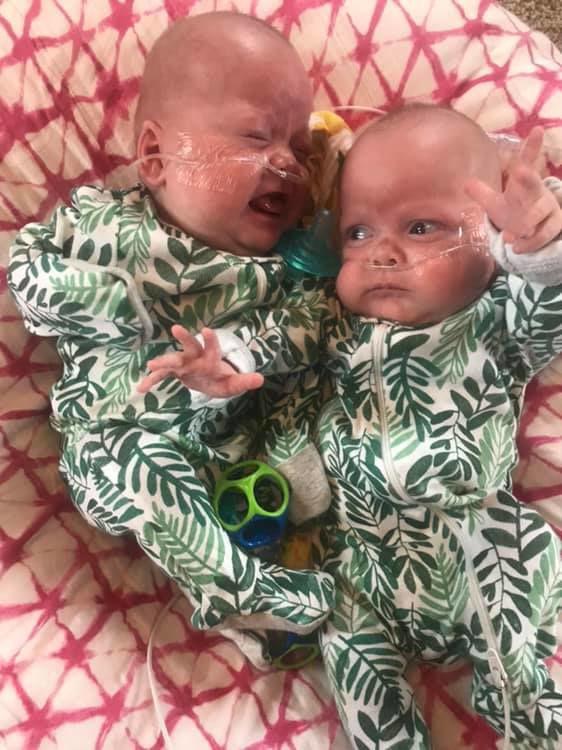 Jade Ewoldt and children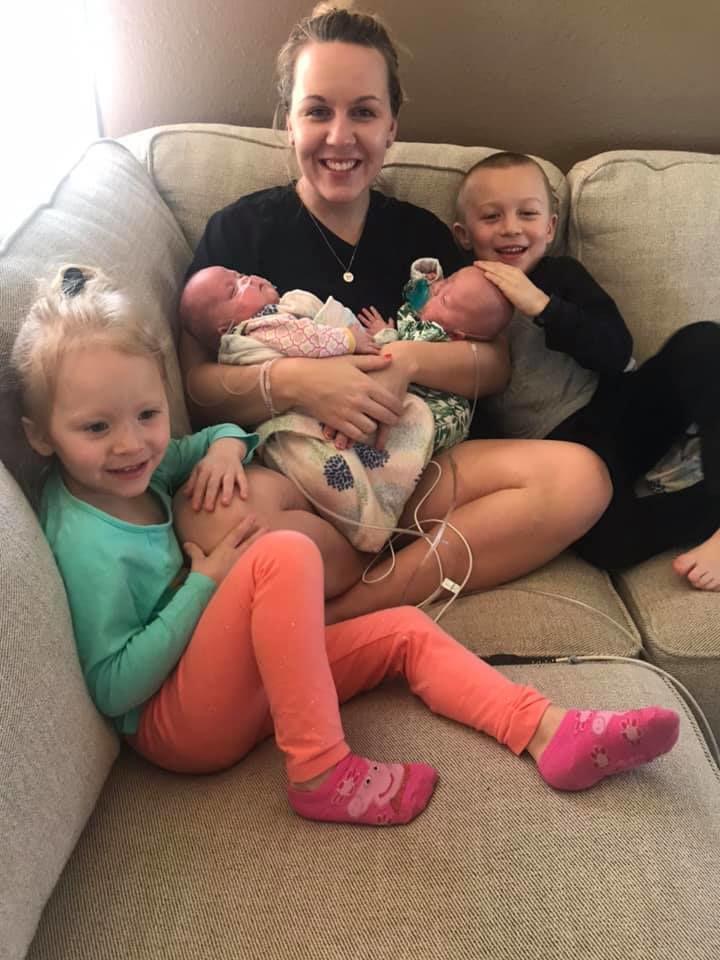 Kambry early April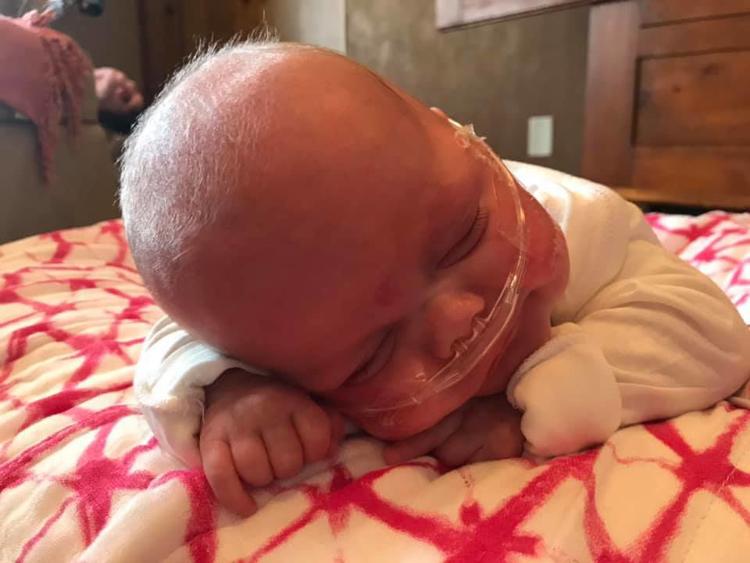 Kambry's first day home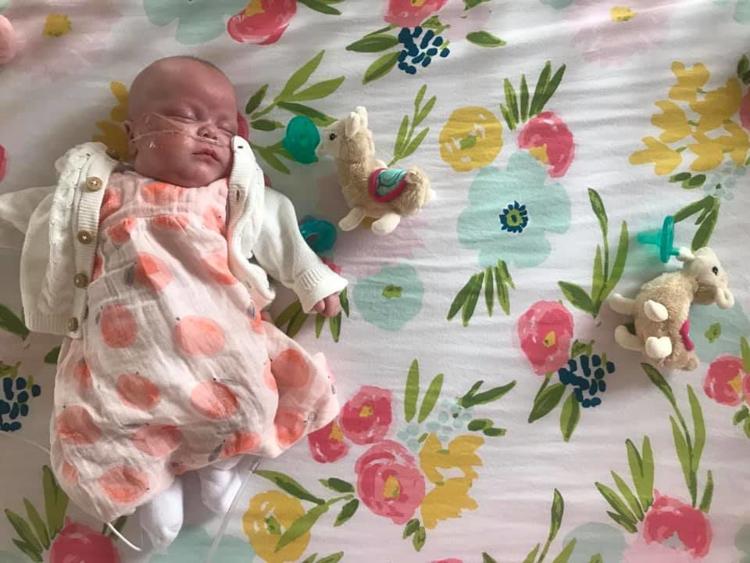 Kambry first day home 2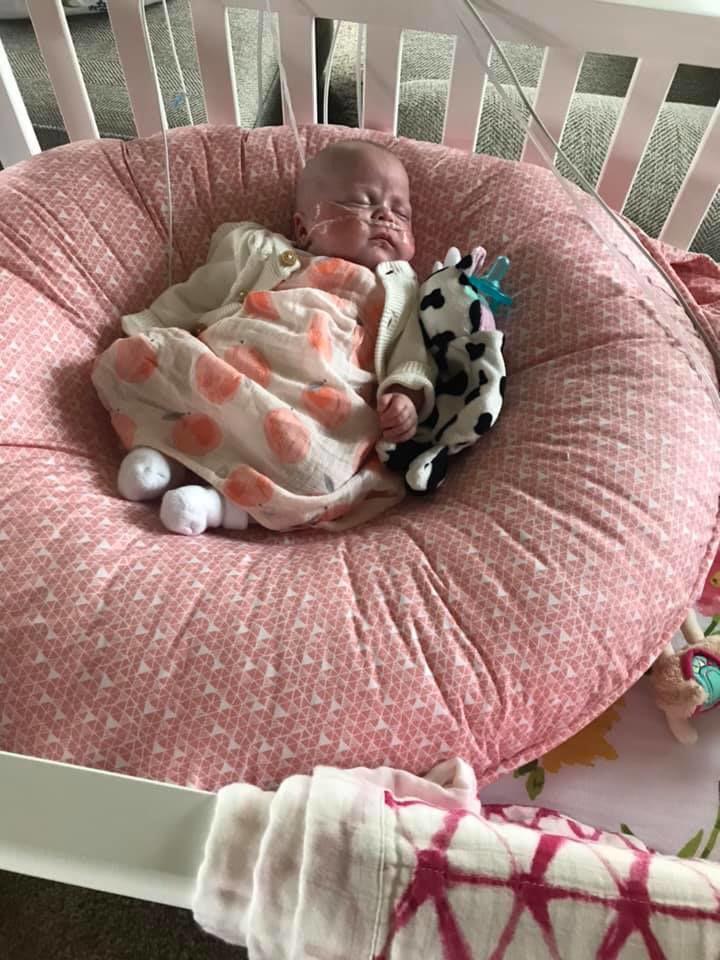 Kambry graduation day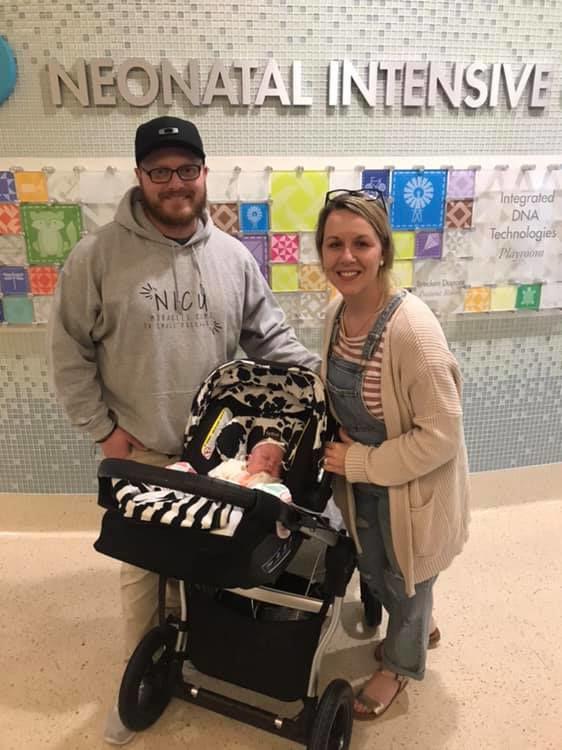 Kambry home early April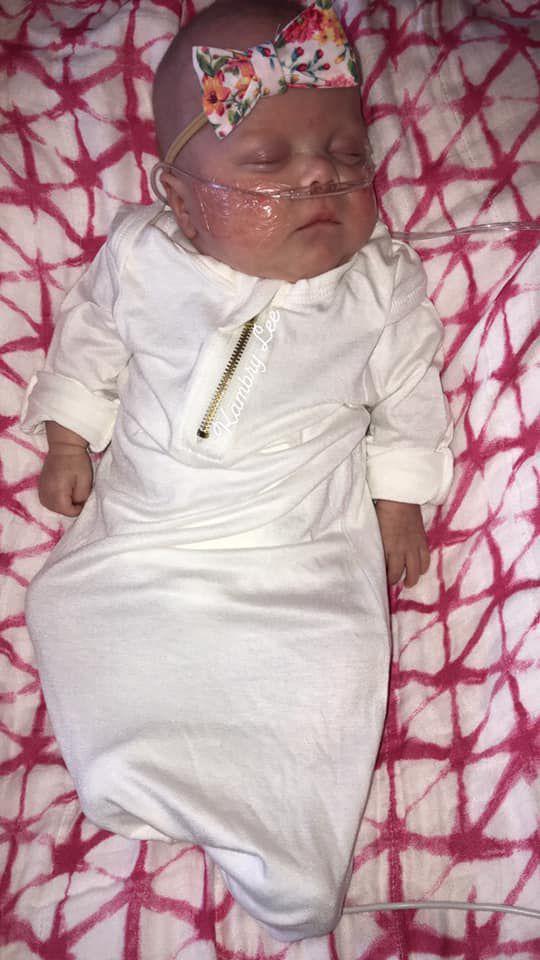 Ewoldt twins Easter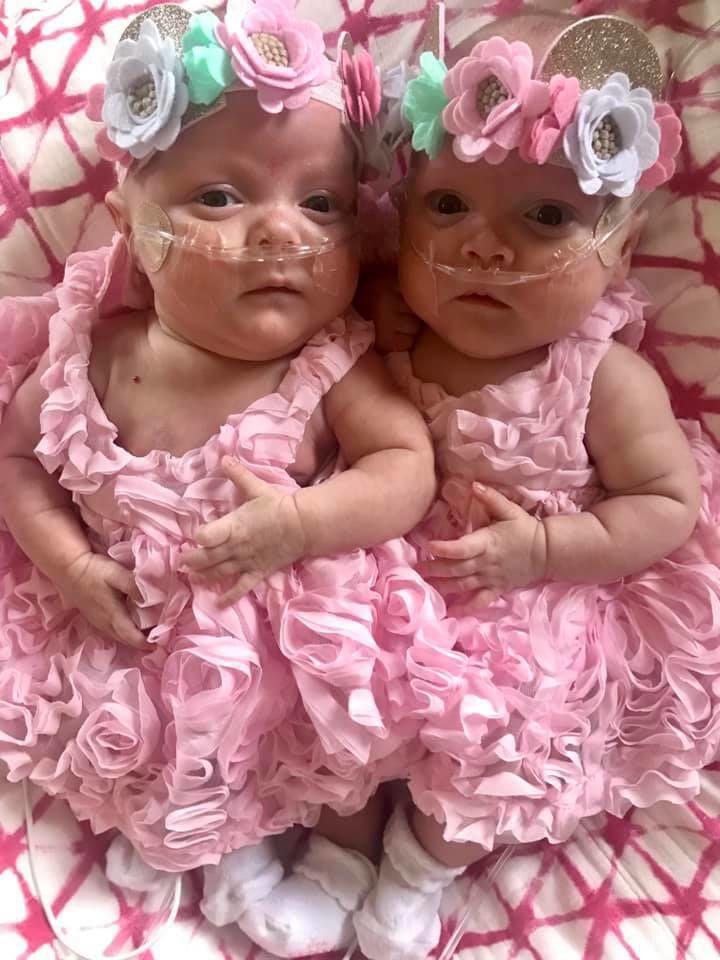 Twins first days home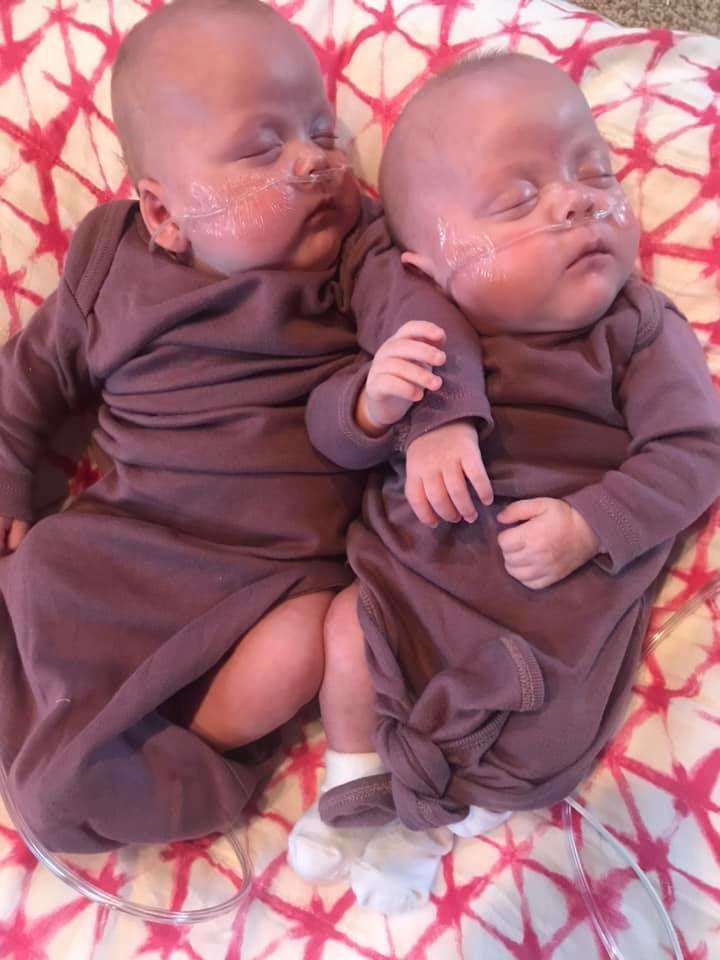 Foot size comparison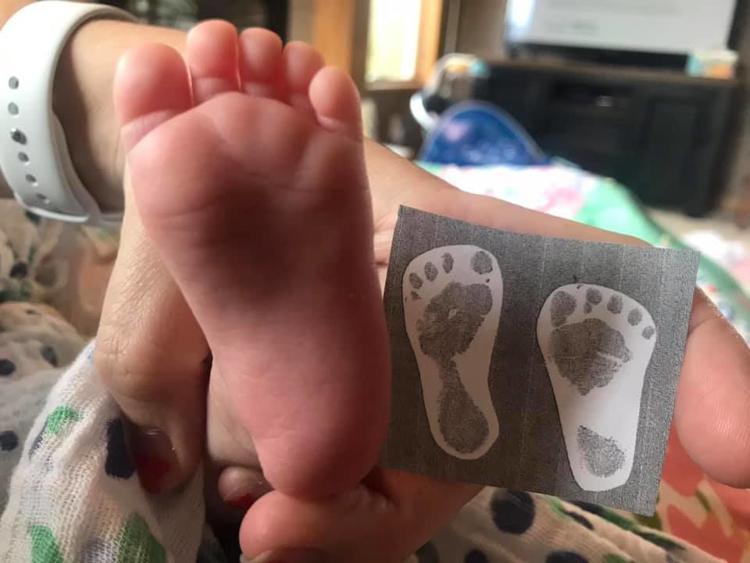 Eyes matured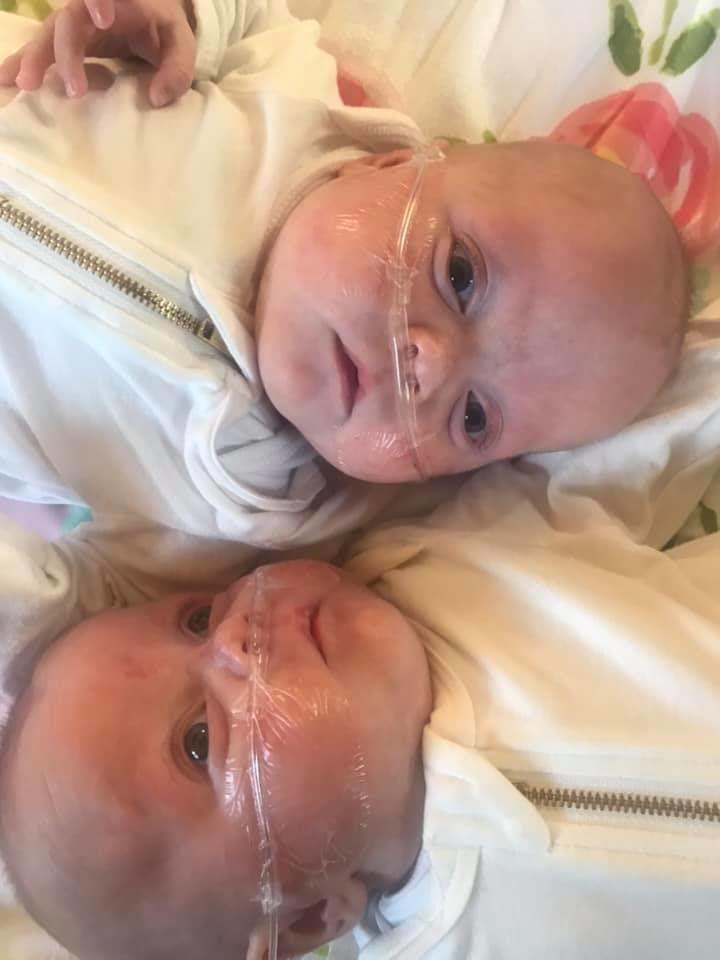 Twins at home April 26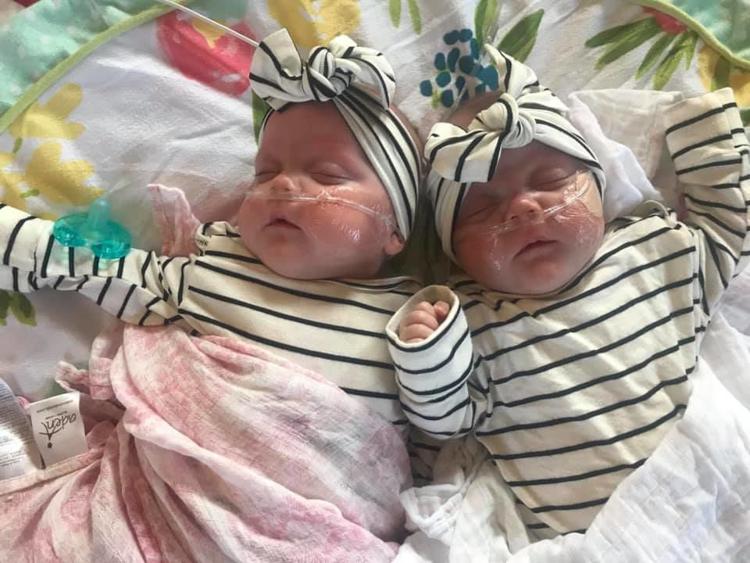 Meal time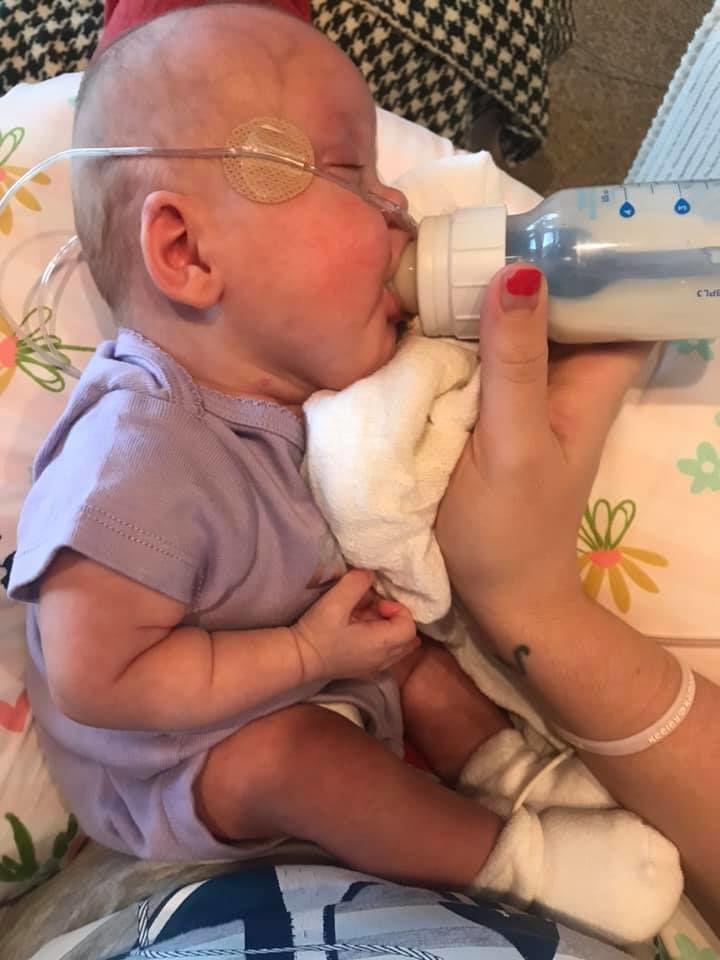 Twins at 5 months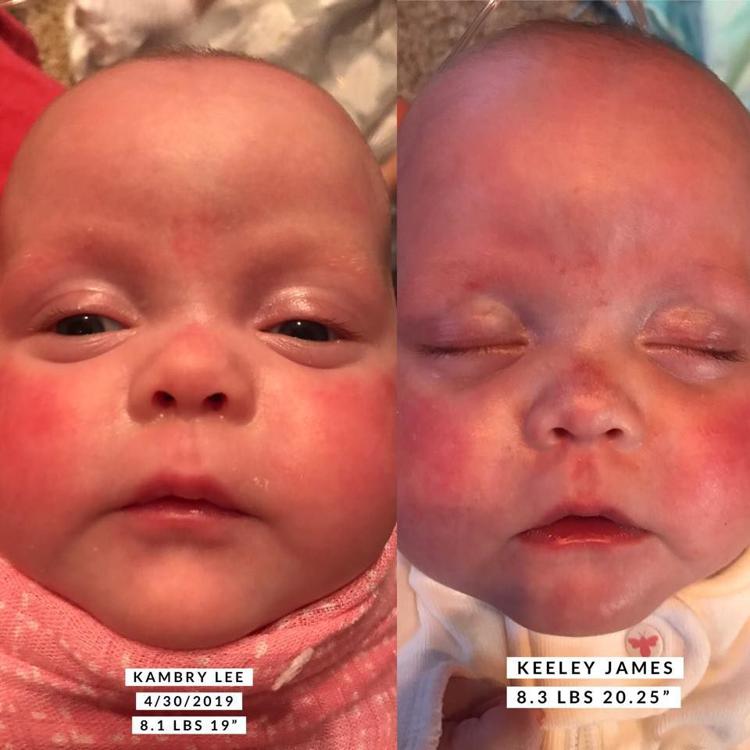 Twins snuggle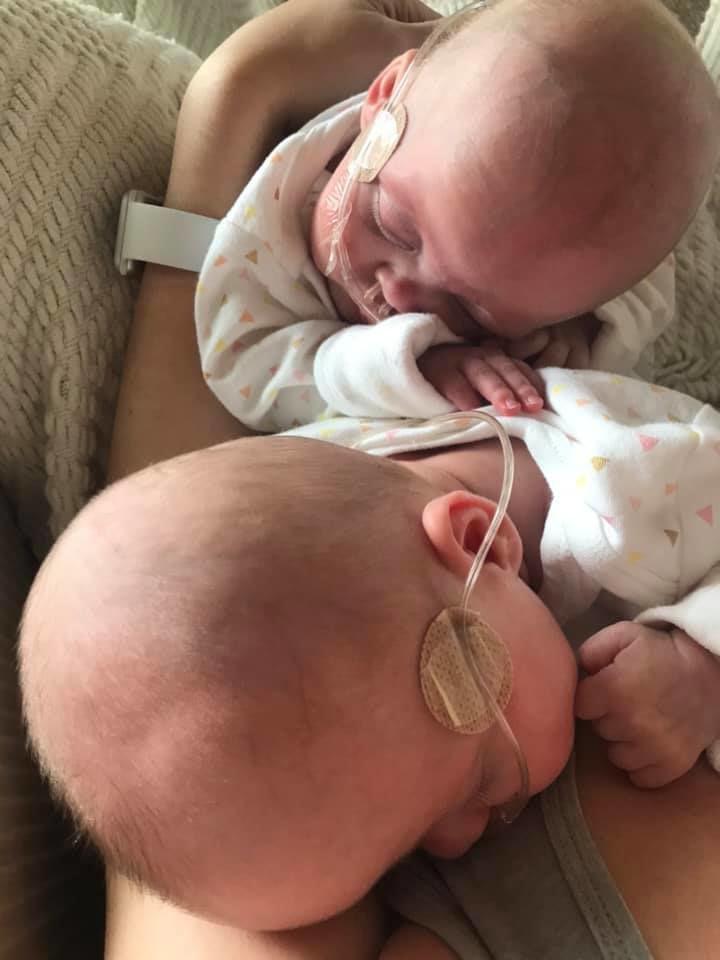 Twins at birth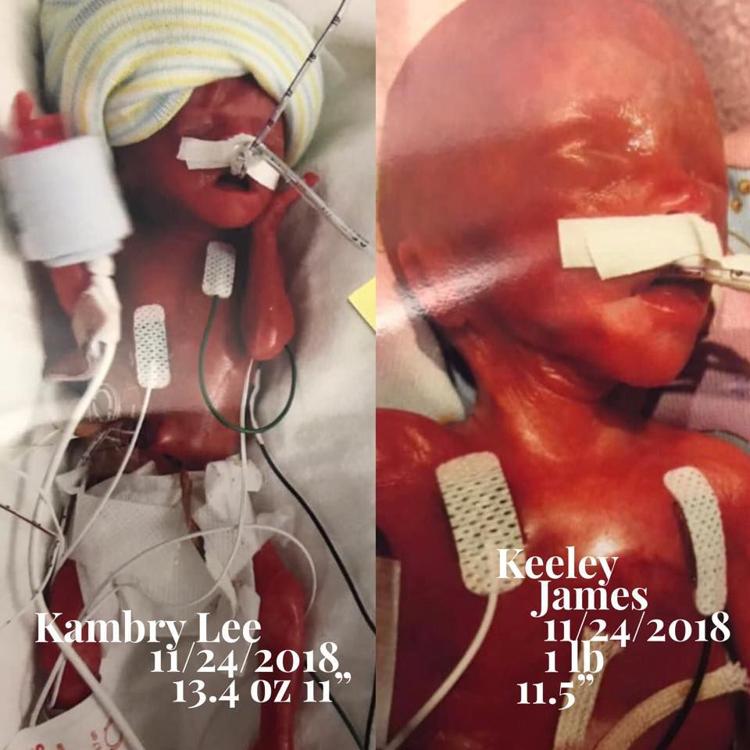 Ewoldt siblings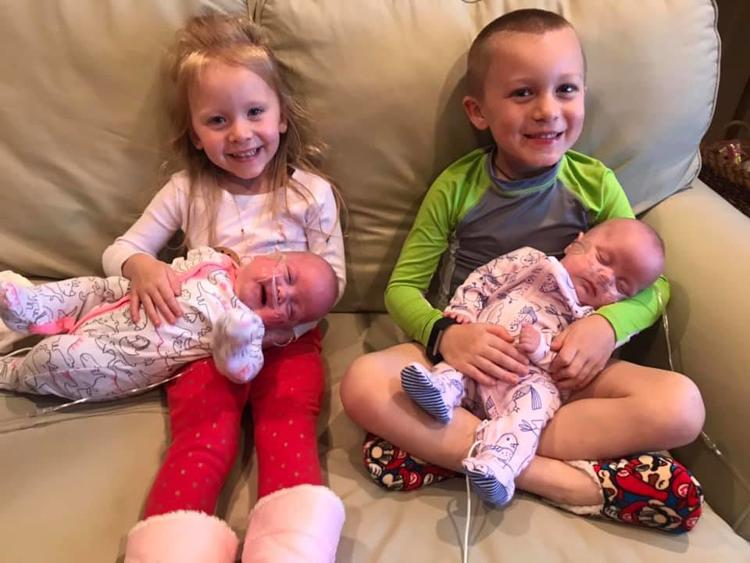 twinsbday1.jpeg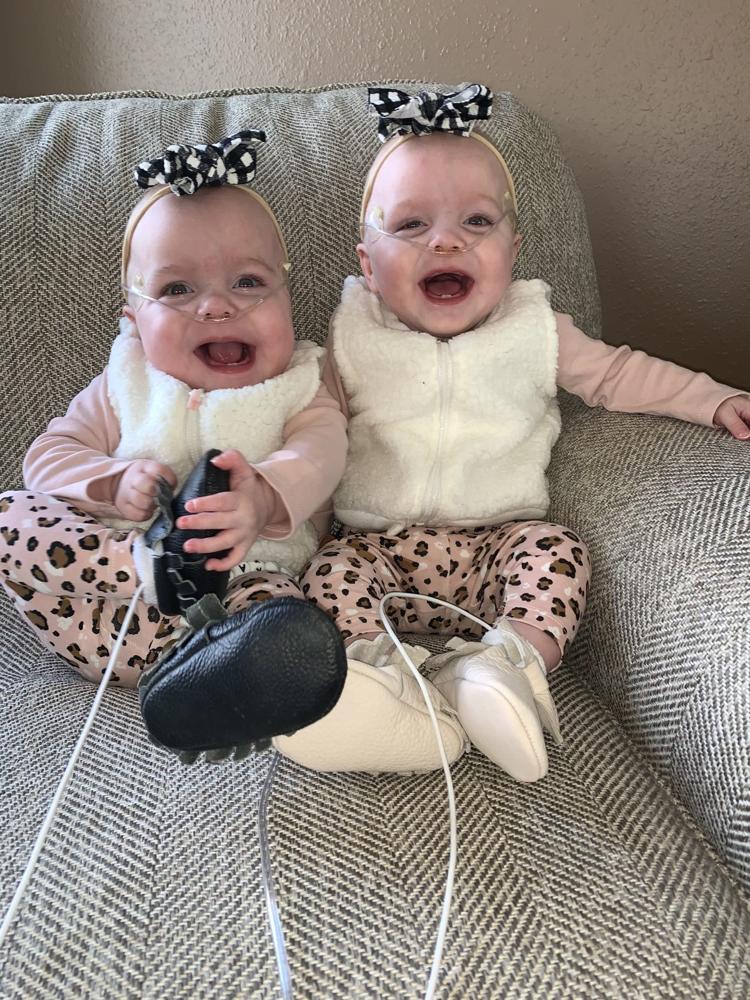 twinsbday2.jpeg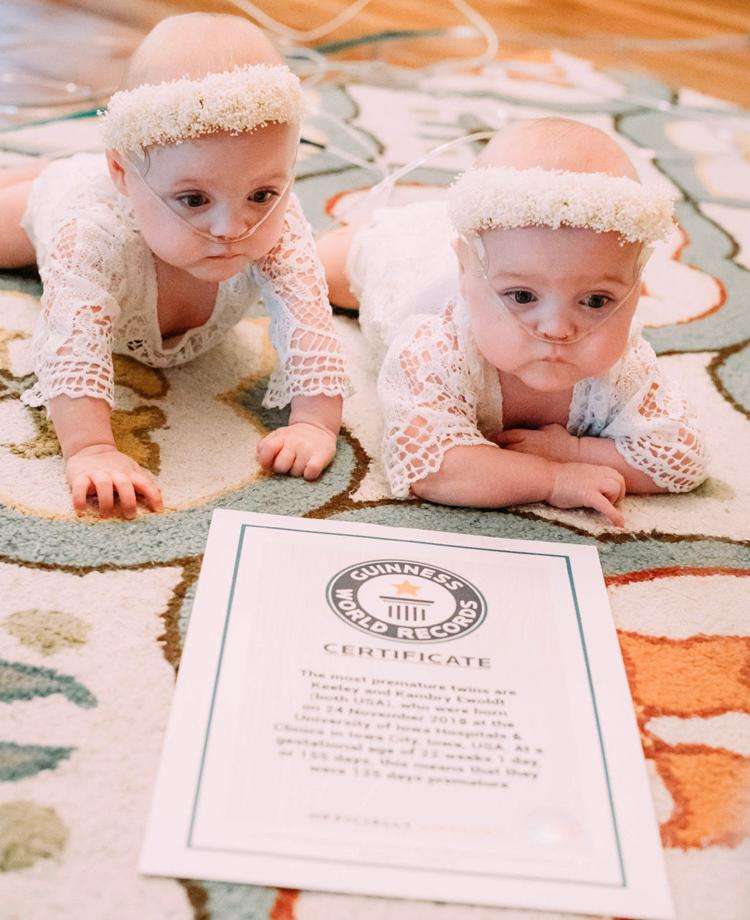 twinsbday3.jpg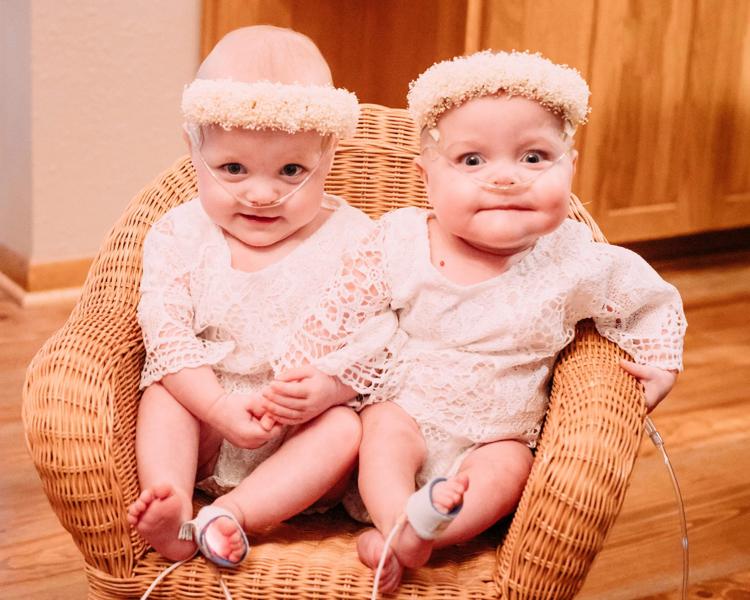 ewoldt family.jpeg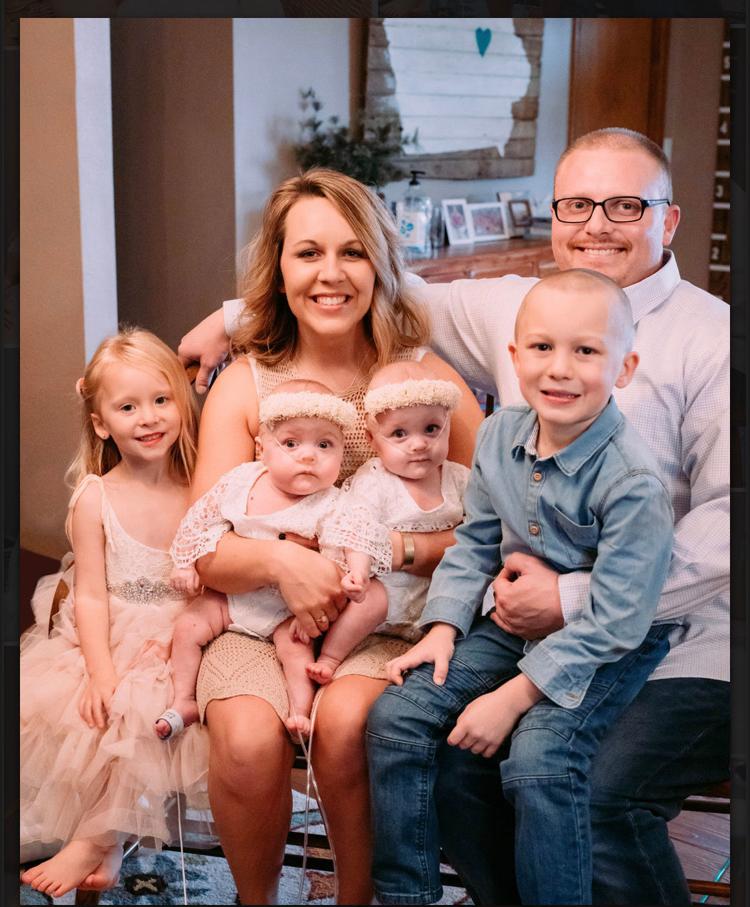 Jadetwins.jpeg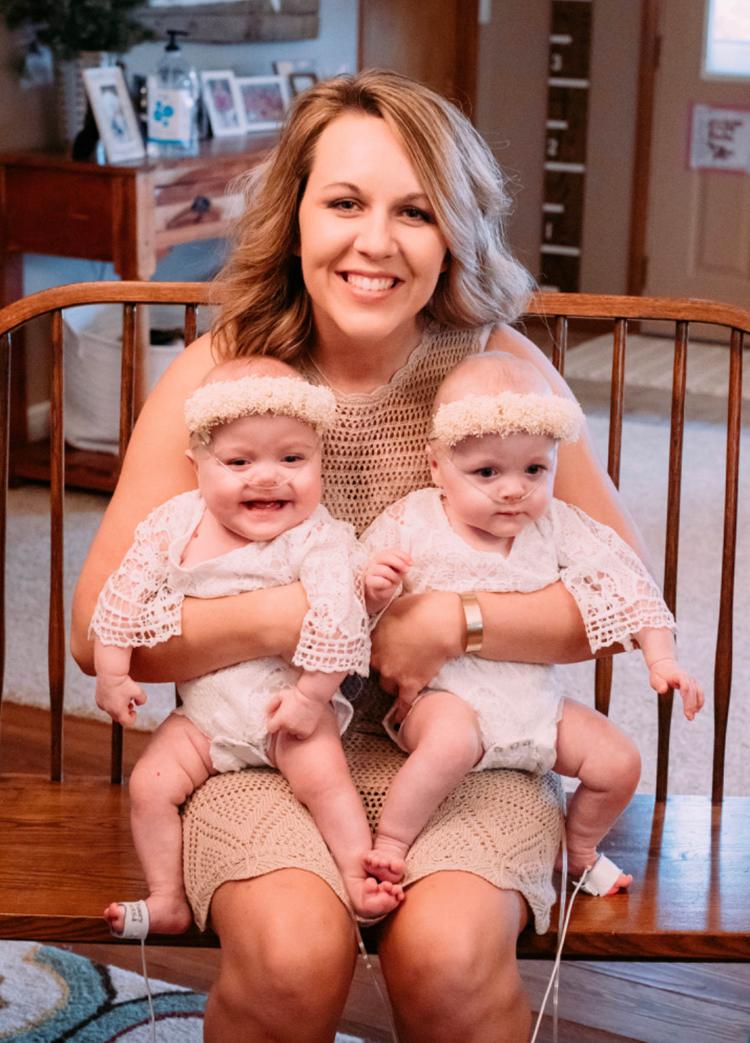 Kambry Ewoldt gets a treat
Kambry Ewoldt smiles
Keeley Ewoldt plays
Ewoldt twins at home
Ewoldt twins in the NICU
VIDEO: Ewoldt twins in the NICU
Keeley crawl attempt