DENVER – Last year Bob and Dawn Gwin were struck with life-altering news — both were diagnosed with stage 4 cancer.
In their 15 years of marriage the Gwins have held on to each other tight through life's ups and downs. Hand in hand, they still care for each other.
"I can help Bob on days he can't do anything," Dawn said.
Dawn was diagnosed with metastatic cancer in her ribs, spine, skull and liver in April as businesses were shutting down at the beginning of the COVID-19 pandemic. Just as she was settling down with the news, cancer struck again. But this time for her husband, Bob. Bob was diagnosed with terminal advanced metastatic stomach cancer in December.
"This just rolled in like a steamroller and caught everybody off guard," said the couples' brother-in-law and dedicated supporter Jacob Spiegel.
Dawn's doctor said patients with her diagnosis typically live three to four years. Bob received a prognosis of around a year – less without chemo.
But the couple remain as strong as they can while leaning on each other, family and friends.
"His [Bob's] doctor said he hasn't had anybody with this … survive past 16 months," Spiegel said. "And Bob said, 'I'm going to be your first.' He's got such a great outlook on everything."
The happy couple are making the most of the time they do have – together. They've made a bucket list that includes visiting the Shedd Aquarium in Chicago and the Henry Doorly Zoo in Omaha. They plan to get started on their bucket list this spring.
"Just to kind of get out and get away a little bit," Bob said.
They've also adopted a furry friend, Sasha, a rescue cat from the Cedar Bend Humane Society.
"We've never owned a pet, and that's helped quite a bit," Bob said.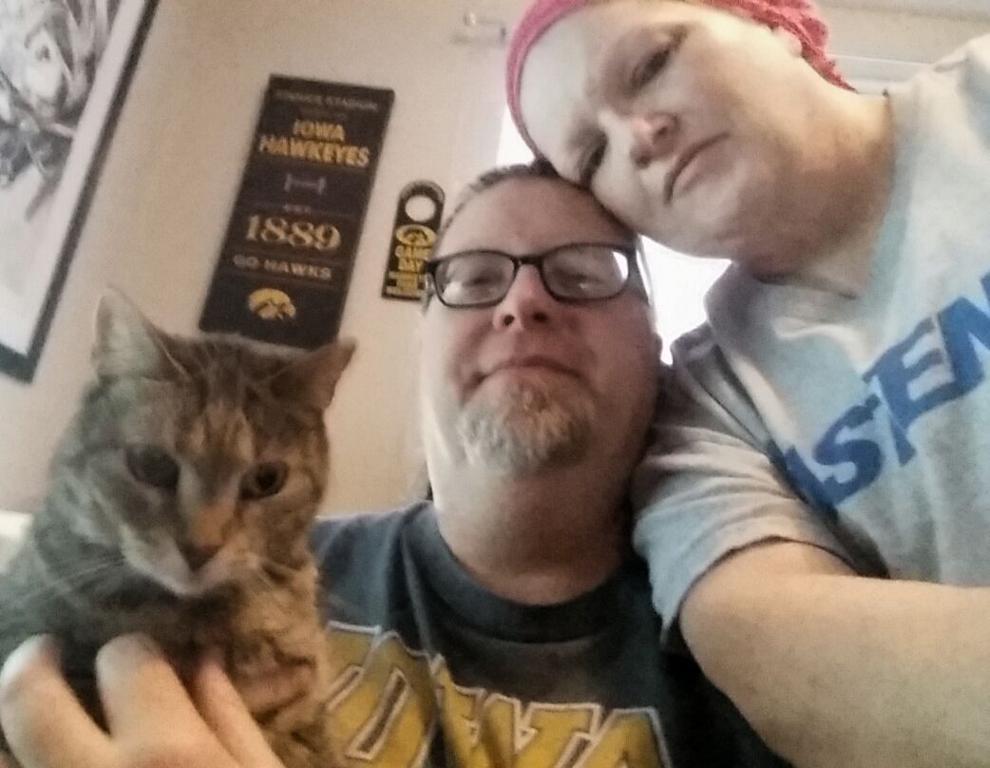 Dawn is no stranger to battling cancer. The 1989 Jesup High School graduate was diagnosed with breast cancer in 2016. She spent the next several years in and out of the hospital with a double mastectomy, lymph node removal and chemotherapy.
She began to feel better, and the first few months of 2020 she was feeling the best she had in years. She believed she had beaten cancer — until she was diagnosed again. This time it had spread.
Dawn is currently on weekly chemotherapy sessions and will be for the rest of her life. She is stable, but the cancer has caused fractures on her ribs and spine.
Bob, a Sioux City native, was having severe bouts of recurrent heart burn and indigestion before he was diagnosed with adenocarcinoma, an aggressive cancer involving his stomach and abdomen.
Bob is on palliative chemotherapy sessions every two weeks Wednesday through Friday. He is typically bed-bound over the weekend, and by the beginning of each week, Bob said he feels great.
"Everybody's got that one person they can tell anything to – vent, cry, complain and you're always safe. He and I have always been that for each other. He's like a brother from another mother. It's tough," Spiegel said.
Bob and Jacob have grown close over the past 15 years of being married to sisters, Dawn Gwin and Denise Spiegel. They each have a background in paramedics and served on the Jesup Fire Department together.
Knowing Bob's job is their only source of income, Jacob and several other family members set up a GoFundMe page after Bob was diagnosed.
"If he gets to the point he can't work there's nothing to pay the rent, electricity, none of that. This gives them a little cushion when times start to get tough," Jacob said.
Just one of Dawn's medications cost $2,500 per month – with insurance. Without insurance, the prescription would cost $12,000 per month.
Bob continues to work remotely for Fastenal, an industrial supply company with branches and distribution centers throughout North America and Europe. He said his company has been more than generous over the past year.
While the COVID-19 pandemic has confined the couple to their home, they enjoy watching episodes of "Law and Order" and "Diners, Dives and Drive-ins," along with the occasional trip to their favorite diner, the OP in Waverly.
"Nobody gets out alive, so make the best of it," Bob said. "Make the most of what time you do have left."
All money raised will be used to pay medical bills, utilities, rent and any medical supplies and equipment as their cancers progress.