WATERLOO – Eight-year-old Grayson Whiteside and his two brothers were all smiles Tuesday afternoon as they entered their family's newly built home for the first time.
Grayson's eyes lit up as he ventured around the two-story house at 434 Almond St. searching for his room. When he found it on the top floor, he slowly stepped in to discover a shelf with learning activities customized with his favorite books and interests.
"This is so cool," he said, studying each item that was picked out specifically for him.
It's the 108th shelf created and donated by Delta Kappa Gamma, Iota Chapter, for its collaborative program with Iowa Heartland Habitat for Humanity. The organization provides bookcases filled with books, games, puzzles and more for children moving into Habitat homes.
Before the Whitesides began moving in their belongings Tuesday, a dedication ceremony welcomed the family into the home that was empty except for the shelves in each of the boys' rooms.
"It's like Christmas morning when they see them," said Sherrie Moore, a Waterloo DKG member who attended the dedication.
The home was built for Karen Whiteside, a single mom and nurse with her three boys, Grayson, Graham, 10, and Gage, 2. Whiteside applied about two years ago after outgrowing several apartments.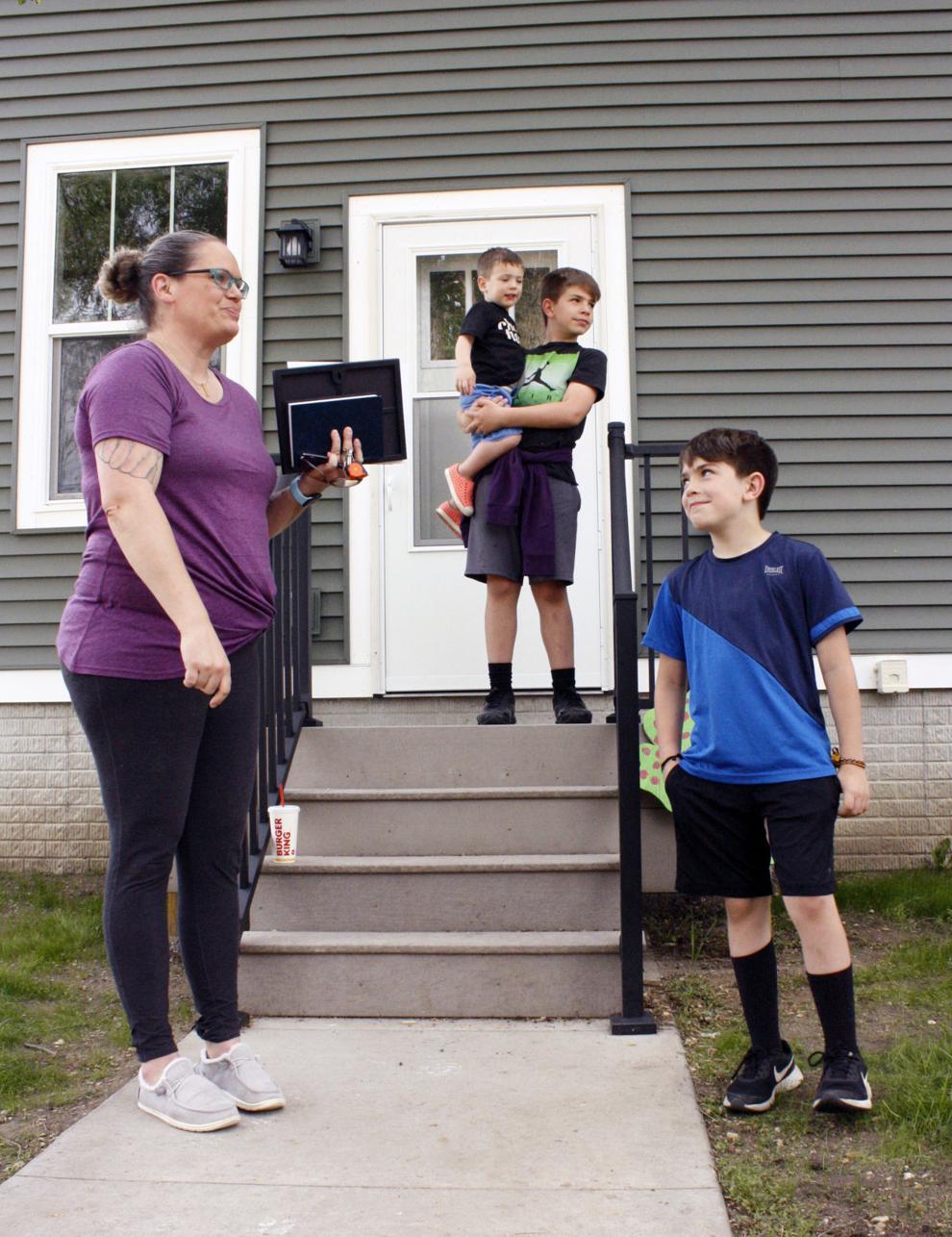 "I had kind of gotten out of a bad situation and was just kind of lost and looking for ways to build myself and secure something solid for my kids and I," she said.
Whiteside had tried buying homes several times in the past, but plans fell through each time. She learned a year ago she had been accepted for a new home through Habitat.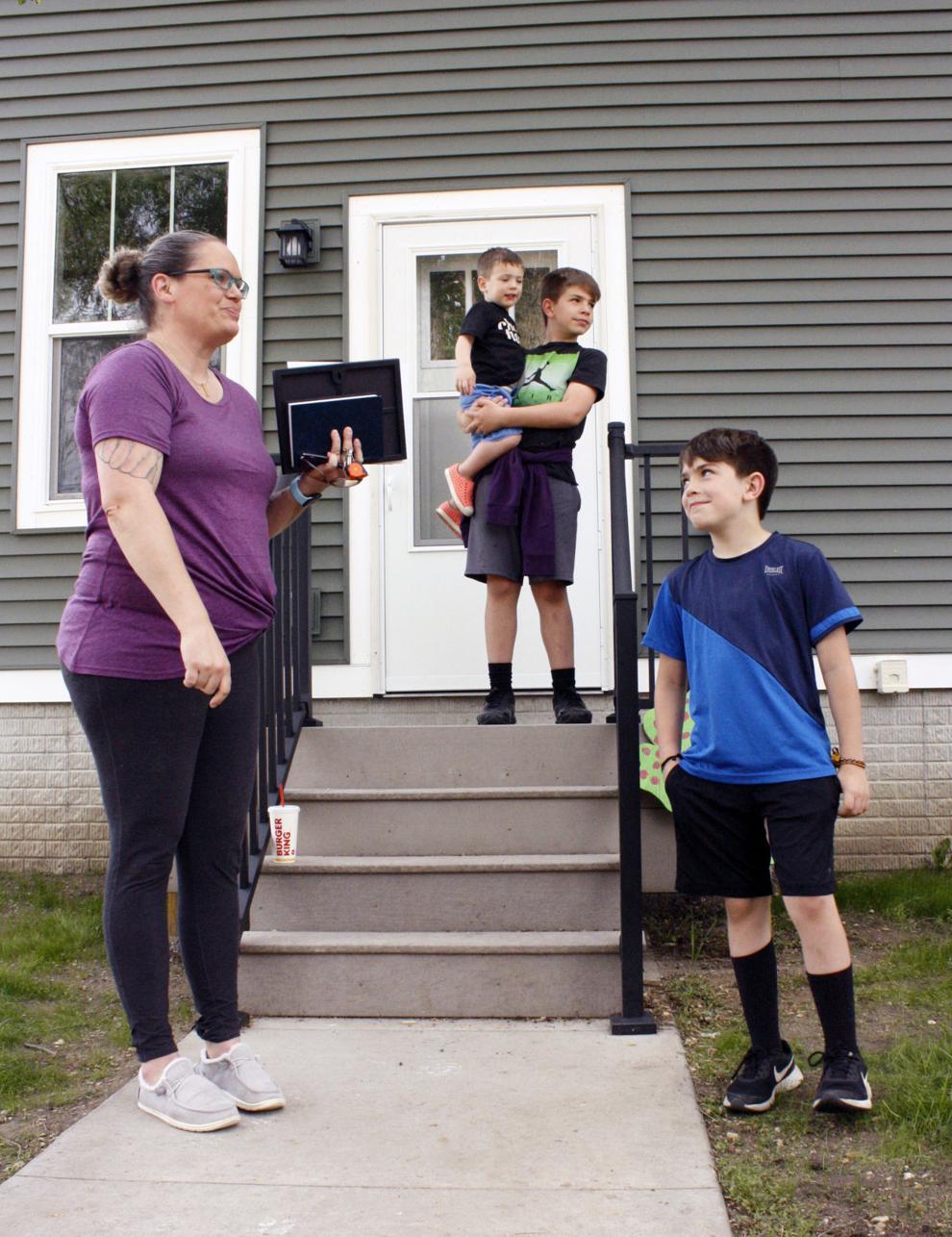 "I cried. I figured they'd say no. It seems like anything I'd tried to help get a step up for myself and the boys I was always denied," she said through tears. "I felt this was so far out of reach."
Part of her contract included volunteering at the Habitat Restore at 4107 Hammond Ave. She also helped the volunteers through each stage of building, beginning with digging the foundation. Whiteside and her boys delivered snacks to the volunteers because she wanted her boys to meet the people who were helping their family.
Judy Marshall, a neighbor and Habitat for Humanity board member, kicked off the dedication by sharing historic facts about the site, including a story of the earliest recorded home on the property built in the early 1800s.
Mandy Mahncke, Habitat program director, also welcomed the family to their new home.
"The kids they just love it. The shelves they put together are so cute and sweet," she said.
Delta Kappa Gamma is an international society of female educators founded in 1929. The Iowa chapter was organized in 1936, and the local Iota chapter launched in 1941. They have completed numerous literacy projects over the years, including donating books for children at doctor's offices.
Their goal for the shelves is to provide a space to enhance literacy for the children moving into each Habitat home. The first shelf was donated in May 2011.
Each shelf includes 15-20 books per child, a reading lamp, blanket, stuffed animal, art supplies and learning games. Younger children are given items to improve fine motor skills, including puzzles and matching games. They are customized to fit the needs and interests of each child after the parents complete a survey listing their children's favorite authors, subjects, interest areas and colors. Parents also are given a bookmark for "Raising a Reader."
Most items are donated by members or collected at fundraising events. During the 2019-20 school year, the group received $2,255 from the Community Foundation of Northeast Iowa Women's Fund.
The home is among several Habitat houses being built in the historic Walnut neighborhood of Waterloo. Next year the organization will begin building homes in the Church Row neighborhood.
"I'm just really thankful for all the people who took the time to help with this. I don't know if it would have ever happened without them," Whiteside said.