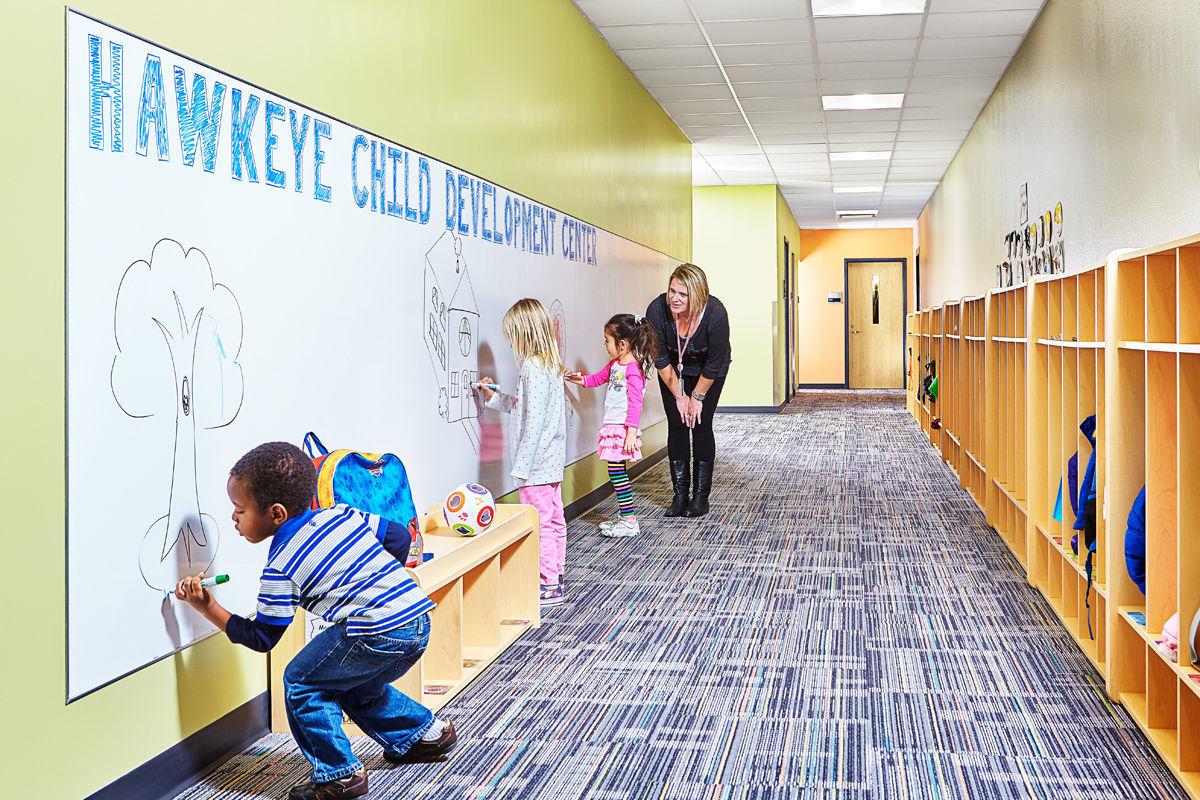 WATERLOO — When Kyle Roed's wife was just 12 weeks pregnant with their first child, the couple signed him up for day care.
They had to do so that early, Roed explained, because the waiting list for quality child care in Black Hawk County was quite long. In fact, it wasn't until after their son was born — and 2 months old — that he finally got in.
Roed, then a senior human resources manager at Omega Cabinetry in Waterloo, knew he wasn't alone. Furthermore, he knew from studying the issue at his employer the lack of quality child care was a business issue — maybe the biggest issue his business faced.
"What we found was that we were losing a significant number of employees because they lost day care, or couldn't find day care in the first place," he said. "Then they would have to quit, or stop showing up to work."
One of the solutions Omega arrived at was a modification of their shifts, opening up more part-time shifts to accommodate working parents, and allowing spouses who both worked at Omega to work at different times.
"We saw such an overabundance of people interested in it, we filled every single position immediately," Roed said.
Roed and several other stakeholders involved in child-care issues in Black Hawk County have recently arrived at the same conclusion: The lack of child care has directly affected the number of skilled workers available to fill needed positions at businesses across Northeast Iowa.
"It's holding back our economy," said state Sen. Jeff Danielson. "The waiting list for quality child care are into the thousands. And, if you think about that, those are families that could move here, families that could stay here, and improve our overall economy."
Numbers game
Dawn Oliver Wiand, executive director of the Iowa Women's Foundation, said her organization's focus groups and round-table discussions over the past three years showed child care was the number-one issue faced by working women statewide.
And the statistics back up the anecdotes: As many as 300,000 Iowa children under the age of 12 are not being served by a registered child care, according to the IWF's calculations — though that could be for a variety of reasons, such as a parent or another family member choosing to stay home with the child.
In Black Hawk County, 21,324 children are under the age of 12, and there are only 7,686 child-care spaces available countywide, Oliver Wiand said.
That problem is getting worse, fast: Black Hawk County has lost 40 percent of its registered child-care providers in the past five years due to retirement, lack of benefits and stricter regulations on providers, Oliver Wiand said.
"We've learned Iowa is definitely headed to a child care crisis," she said. "And this crisis is no longer just a family issue; it is a business issue, and a community issue."
To address it, the IWF has convened business, academic and community leaders in each of 18 communities, including Waterloo, to discuss possible solutions.
Out of those meetings, Waterloo's group formed the Cedar Valley Child Care Coalition, a group of nearly 40 individuals which has been meeting regularly to work on Cedar Valley-specific solutions.
"Basically, what the IWF and our agency have done is decided on solutions that we need answers to," said Mary Janssen, the children and family services director at Child Care Resource and Referral of Northeast Iowa, a division of EPI which partners with the IWF.
Baby steps
Janssen said the group has so far identified several issues: More child care centers are needed, as is better training of child-care providers. Second- and third-shift child care is nearly nonexistent. And businesses aren't taking the problem of child care seriously or considering it as a barrier to employment.
The coalition divides into small groups, and each group tackles just one issue.
"All of these people set goals," Janssen said.
For instance those looking to help providers — what they're calling the "child care entrepreneurial group" — are talking about potentially pooling or scaling benefits and insurance, so people have an incentive to get into the business. If providers don't have access to a building, could they share a facility with a senior center? And could providers be trained better on the business aspects of child care?
Hawkeye Community College is helping with that last part by adding business management training as part of its child development curriculum by the fall of 2019, said provost and vice president of academic affairs Jane Bradley.
"That is the missing piece for many people," Bradley said. "They love children, they understand the educational side, but it's the business side that sometimes gets missed. So we want to expand that, and explore ways to provide training to people already working in existing daycare centers."
The college is itself a child-care provider, and plans to expand that with the completion of its new Hawkeye Metro Center in downtown Waterloo, which will double the capacity of the children it can provide for. That wouldn't have been accomplished without the Community Foundation of Northeast Iowa, which was a major donor for the project, said Kaye Englin.
"One piece of that is going to be expanding their child care downtown in Waterloo to really provide that experience to students, and take care of their kids while getting an education," said Englin, also part of the Coalition.
It's those sorts of partnerships that will move the issue forward, participants say.
"It's not going to be solved in a year," Janssen said. "Ultimately, our communities can't thrive without child care. Hopefully, this topic will continue to grow, and the more people hear about it, they'll think, 'Oh yeah, that does affect us.'"