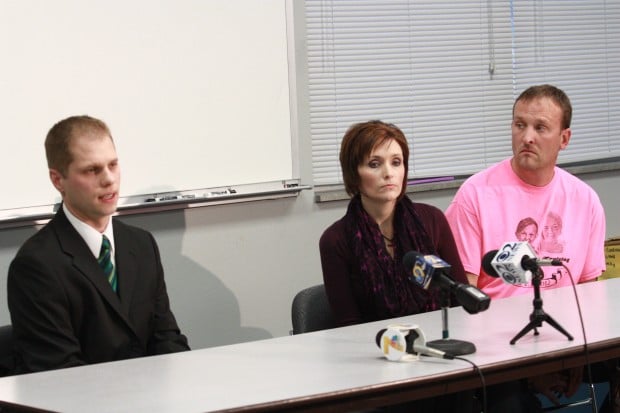 WATERLOO, Iowa --- In its first year in operation, Cedar Valley Crime Stoppers has helped in the arrest of dozens of people and has pulled in tips about high-profile crimes.
It also spawned an effort to track down sex offenders who have slipped through the system and sparked new interest in cold cases.
Crime Stoppers, a nonprofit group that pays rewards to residents for anonymous tips and passes information to law enforcement, got its start in Black Hawk County last June.
According to numbers released last week, tips to the Crime Stoppers hotline brought 60 arrests, and the residents who called made a combined $7,500 in rewards. Brice Lippert, an investigator with the Waterloo Police Department, said there are several more arrests from Crimes Stoppers tips in the pipeline.
In January, organizers began using the website and Facebook page to bring attention to the number of sex offenders who have failed to comply with registration requirements.
Lippert said they got the idea from Drew Collins, father of abducted cousin Elizabeth Collins, who suggested posting their photographs. On a whim, Crime Stoppers officials pulled up information on a woman convicted of human trafficking who had failed to register.
"We decided 'Let's try this one.' We posted it, and within 45 minutes, we knew where she was," Lippert said. "This gave us the idea that we might be on to something."
Crime Stoppers posts one fugitive sex offender a week; it gets the most hits. It has brought three arrests, and some people featured on the site have simply turned themselves in, Lippert said.
The group has also started working with IowaColdCases.org, a website that features unsolved crimes and missing people.
"It allows us a little connection to the past, but what we're hoping that it jogs some memory or after all these years someone says 'enough is enough, I need to move forward,'" Lippert said. He authorities have received three leads on local cold cases and are following up.
Crime Stoppers offers $1,000 for tips that help solve homicide investigations --- and the organization has paid for one such tip already. Tips on other crimes are paid on a sliding scale based on the significant of the information and the seriousness of the crime.
"Some people just like the fact it's anonymous. They don't want the money," Lippert said.
People with information on crimes can call the anonymous tip line at (855) 300-8477.
Donations to support the program can be sent to Cedar Valley Crime Stoppers at 715 Mulberry St., Waterloo 50703.
Get local news delivered to your inbox!
Subscribe to our Daily Headlines newsletter.