TAMA– A federal grand jury had returned an indictment against a Wyoming man who was found with guns and marijuana in Tama County in July.
The indictment charges Damon Edward Montano, 38, of Laramie, with possession of a firearm by a person with a domestic violence conviction and assault.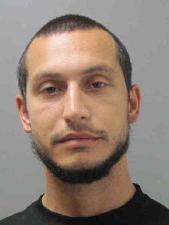 Court records allege Montano attempted to strangle his wife on the Meskwaki settlement near Tama on July 18, and authorities found three handguns later that month.
You have free articles remaining.
Montano is barred from handling firearms because of a domestic assault conviction in Fremont County, Wyoming, in 2007, according to court records.
Meskwaki Nation police began investigating Montano, who was staying at the casino's RV park, in July after witnesses saw his wife with bruises on her face and a bite mark on her arm, according to court records.
Authorities searched Montano's Winnebego RV on July 29 and found 24 grams of marijuana in a cooler in the bedroom, a loaded .50-caliber Desert Eagle pistol, a .357-caliber Smith & Wesson revolver and a .40-caliber SIG Sauer pistol.
Montano was arrested on state weapons, drug and domestic assault charges in July, and the charges were dropped because of the federal prosecution.