GRUNDY CENTER – A Waterloo woman accused of faking a kidney transplant as part of a scam has been sentenced to prison for allegedly stealing items from a rural Grundy County farm in 2017.
Judge David Odekirk sentenced 46-year-old Shawn Marie Tomkins, also known as Shawn Marie Eastman Adams, up to five years in prison with three years before she can be considered for parole on June 3. She was also ordered to pay restitution to be determined later.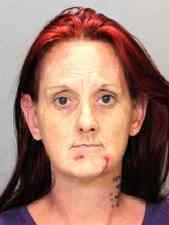 A jury found Adams guilty of second-degree theft following an April trial.
You have free articles remaining.
Authorities allege Adams took others to the farm on 160th Street in rural Dike on Dec. 4, 2017, telling them that items on the property were hers and she was selling the items for more than $1,000. The real owner told investigators with the Grundy County Sheriff's Office that missing items included tools, a woodchipper, a John Deere lawn tractor, a Triggs livestock trailer and a surrey horse buggy.
Adams is currently awaiting trial in Black Hawk County for first-degree theft and false report charges. Authorities allege she took more than $57,000 from a Waterloo couple for assistance after claiming she had a kidney transplant, tumors and other afflictions and then accused the man of sexually abusing a boy she claimed was her son when the couple discovered the ruse.