WATERLOO — After Denise Susanna O'Brien got into an argument outside a Dawson Street home April 21, she said she should return and kill everyone, according to court records.
Hours later, someone set fire to the home, killing Ashley Smith and Smith's 9-year-old son, Jaykwon Sallis. Three others fled the burning home through a second-floor window.
Waterloo police arrested O'Brien for two counts of murder in the fatal fire Monday. During a brief courtroom appearance Tuesday, a judge ordered her bond remain at $1 million at the request of prosecutors.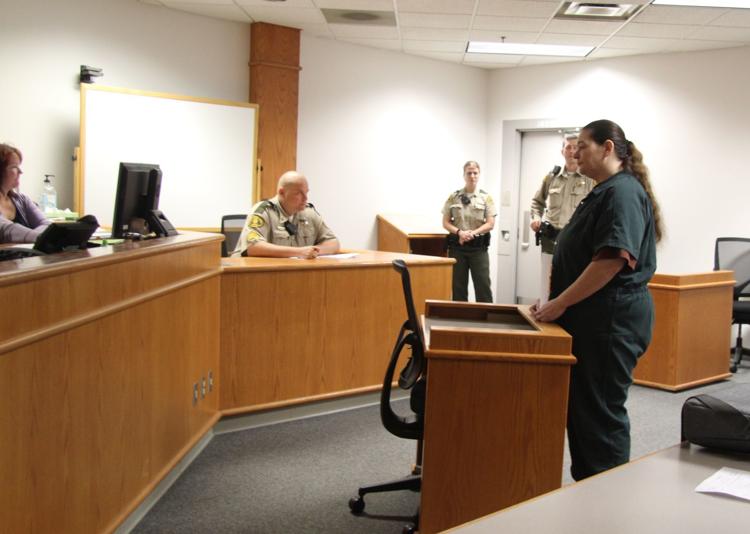 "We believe she is a threat to the community," County Attorney Brian Williams told the judge.
Dressed in a green jail uniform, O'Brien stood quietly in court and turned to glance through a window that separated a gallery for spectators, where a few family members had gathered.
Judge Patricia Eichman set a preliminary hearing in the case for Aug. 31.
WATERLOO – A hearing has been postponed for a Waterloo woman accused of breaking a court ord…
Court records shed new light on the evidence in the state's case, which alleges O'Brien set the fatal fire.
You have free articles remaining.
Investigators said a flammable substance was used in the blaze.
Authorities allege O'Brien had caused trouble at 536 Dawson St. in the past. She suspected an ex-boyfriend was seeing another woman who lived at the home, and on April 13 she allegedly broke out a window and damaged a TV at that address and was arrested for misdemeanor criminal mischief.
On the night of April 21, she walked to the Dawson Street house because she suspected the boyfriend was headed there after he left her home. A confrontation followed — police reports allege it became physical — and O'Brien got a ride away from Dawson Street.
As they left, she allegedly told the driver "she should go back to the house and kill everyone," court records state.
WATERLOO — Amid the candles, balloons, stuffed animals and artificial flowers on the concret…
Surveillance cameras from the Kwik Star convenience store on Broadway Street — about two blocks from 536 Dawson St. — showed O'Brien walking past within minutes of the 6:30 a.m. fire and removing a stocking cap from a pocket and pulling it over her head, covering most of her face, court records state. She entered the store for a short time and then left.
About 13 minutes after the fire was reported, a security camera at MidAmerican Energy on Fairview Street recorded O'Brien walking past, dressed in different clothing and carrying a plastic Kwik Star cup, according to court records.