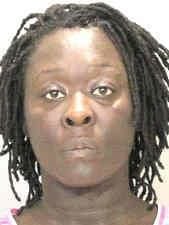 WATERLOO – A Waterloo woman has been arrested for allegedly hitting her teenage son with a SUV over the weekend.
Brittany Valencia Martin, 31, of 1026 Logan Ave., was arrested Sunday for misdemeanor leaving the scene of an injury accident and willful injury causing bodily injury, a felony. She was later released from jail pending trial.
You have free articles remaining.
Authorities allege Martin was driving a Chevrolet Tahoe in the 800 block of Logan Avenue when she veered off the roadway and onto the sidewalk where her 16-year-old son was walking around 6:27 p.m. Friday. He was struck on the back, landed on the hood and then slid onto the ground, according to the accident report.
Martin then got out of her SUV, yelled at him, telling him she hopes he dies and then climbed back into the Tahoe and drove off, according to court records.
Medics with Waterloo Fire Rescue took the son to a hospital where he was treated for minor injuries, records state.