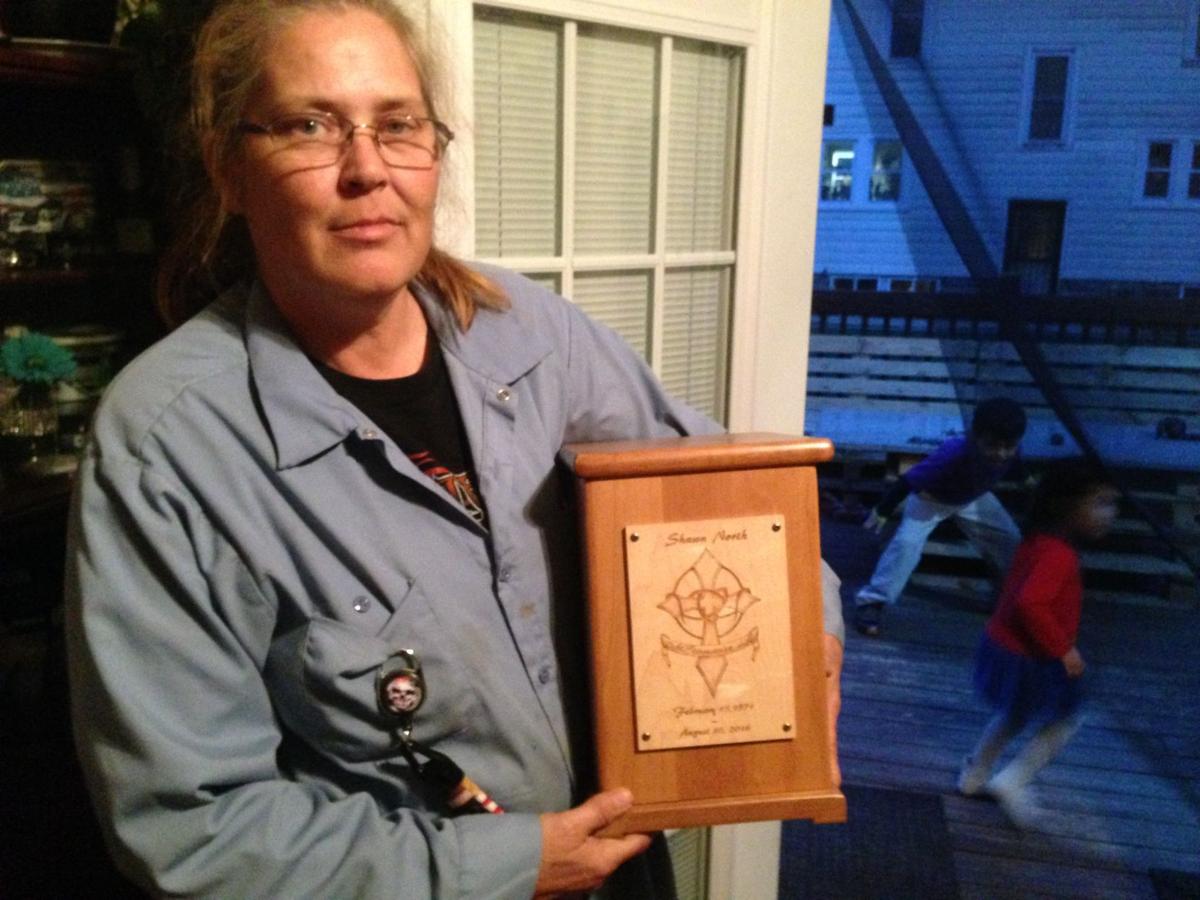 WATERLOO – Sherry Powers cradled the wooden box holding her younger brother's ashes as she recalled Shawn Michael North's final years.
"It's been really, really hard," Powers said.
At her kitchen table, North's preschool-aged niece listened in on the conversation and perked up and smiled when she heard his name.
"It's OK to talk about Uncle Shawn," Powers told the girl.
North died Aug. 30 at UnityPoint Health-Allen Hospital at the age of 45.
He had been shot in 2001, and the attack left him paralyzed. On the death certificate, issued in late October, Medical Examiner John Thompson determined the cause of death was related to complications arising from the 15-year-old gunshot wounds, which made his death a homicide.
No one was ever arrested in the shooting. For Waterloo Police that means reopening a case that just shifted from the aggravated assault column to the homicide column.
"We will go back and look at the case and talk to potential witnesses and see if there are any leads we can follow up on," said Capt. David Mohlis with the Waterloo Police Department.
A decade and a half later, the shooting still baffles family members.
Neighbors in the 1200 block of Doreen Avenue heard screaming and moaning around 1:35 a.m. on May 21, 2001.
When they looked outside, they saw North on the pavement in a driveway. He was taken to the University of Iowa Hospitals and Clinics in Iowa City for treatment, but the bullets had struck his spinal cord and left him paralyzed from the sternum down.
When police interviewed North, he said he had heard tapping at his window, and when he went to the door, he was confronted by two men who said they wanted his truck, Mohlis said. When he refused, he was shot. The suspects fled on foot, leaving the truck behind.
Mohlis said North had been shot from the front, apparently by two different guns. Investigators found a spent .22-caliber casing and a spent 9 mm casing as the scene. They also recovered bullets during early surgeries. The projectiles and the casings have been entered into a national database to compare against other bullets and casings.
"There really wasn't any other evidence there," Mohlis said. "There were no other witnesses to this."
Powers said North had told her he found out on the streets who the suspects were. She said he had asked around and was given the names of people who are already in prison for other crimes.
North was never the same after the shooting.
"He was outgoing, very athletic. He was on the football team, and he was in hockey. He was a good bowler," Powers said, recalling his earlier days.
North had worked at an automobile dealership, but with the loss of his lower body he went on disability. He moved out of his Doreen Avenue house because it wasn't accessible for this wheelchair.
North eventually bought a house across the street and down the block from Powers' Hammond Avenue home, and she took care of him. He had friends who would come by to visit, and sometimes he would go out to the car lot to see acquaintances.
Even so, life for him would be an ordeal. About eight years ago, he developed pressure sores on one hip after falling from a hospital bed. He began leaning to shift his weight to the other side and developed sores there.
"He became depressed because he couldn't sit up in his chair because of the sores," Powers said. "They say paraplegics can't feel pain. Well, he did. He felt pain."
More recently, North had found a girlfriend who helped Powers care for him.
Earlier this year, he underwent surgery to attach a colostomy bag. Powers said he was excited because it would make one part of his life easier. On Aug. 30, he accidentally pulled the bag off while he was sleeping. He developed an infection that contributed to his death, Powers said.
Now Powers is trying to cope with the loss of her brother and the void it has left in her own life.
"Since Shawn was shot, I was the one taking care of Shawn. So, 14 years of getting calls in the middle of the night, all hours of the day … I'm trying to find myself without Shawn," Powers said.
Sign up for our Crime & Courts newsletter
Get the latest in local public safety news with this weekly email.