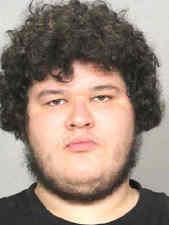 WATERLOO – A Waterloo man who was injured during a struggle over a shotgun last week has been arrested.
Authorities allege 23-year-old Austin Jacob Fleshner had been sexually abusing a girl, and the struggle involving the shotgun broke out when he was confronted about the abuse on the night of May 7.
Fleshner sustained a gunshot wound to the upper groin area during the struggle, and on Wednesday night, Waterloo police arrested him for willful injury causing serious injury, going armed, three counts of third-degree sexual abuse and one count of sexual exploitation of a child.
Bond was set at $115,000.
Authorities allege Fleshner had sexually abused a girl, using threats that he would harm her family and friends. He also had the girl send him nude photos and videos, according to court records.
On May 7, a man confronted him about the abuse, and an altercation broke out. Fleshner allegedly struck the man in the head with a breaker bar. The struggle with the shotgun followed, according to court records.
Fleshner is currently awaiting trial for a second-degree burglary charge stemming from an April 19 incident where he allegedly kicked in the door to an Ackermant Street home and took a dog. He then returned to the home because he had lost his cell phone during his first visit, according to court records. He told police he took the dog because he thought it was being abused, records state.
Photos: Missing children in Iowa
Sign up for our Crime & Courts newsletter
Get the latest in local public safety news with this weekly email.