WATERLOO — The brother of an alleged ISIS sympathizer has been sentenced to prison on unrelated gun charges.
Judge Linda Reade sentenced Wayne Jonathan Jones, 38, of Waterloo, to 43 months in prison on Wednesday in U.S. District Court in Cedar Rapids.
"Wow, 43 months. That's quite a bit," Jones said upon hearing the decision.
Defense attorney David Eastman said Jones was active in the community, as evidenced by letters from supporters who talked about his work through the local Islamic foundation, Islamic cemetery and a youth athletics group.
But prosecutors said Jones had an alter ego and had expressed he had the same opinions as his brother in Illinois, who was charged with supporting the Islamic State.
WATERLOO – A Waterloo man said he is more careful about his extremist leanings than his Illi…
Wayne Jones had pleaded guilty to possession of a firearm and ammunition as a felon and drug user in connection with a 9 mm Kel Tec handgun police found while the FBI searched his Western Avenue apartment in April 2017. Authorities allege he handled at least three firearms — including long guns at a range — and had attempted to get a relative to buy him a shotgun in a straw-man purchase despite prior felony convictions and marijuana use.
Wayne Jones' apartment was searched the same day FBI officers detained his brother, Joseph Jones, in Zion, Ill., on charges of conspiracy to provide material support for the Islamic State terrorist organization. Joseph Jones and another Illinois man had allegedly given old cell phones they thought were going to be used to trigger improvised explosives to a man who claimed to be traveling to fight for ISIS in Syria. The traveler turned out to be an FBI undercover operative.
Wayne Jones wasn't charged in the ISIS plot, but prosecutors said he had expressed radical leanings in a conversation with his sister following his brother's arrest, telling her he had the same opinions and would kill people but would be more careful about it and cover his tracks.
"In regards to his brother, we don't think he's been candid," said Assistant U.S. Attorney Richard Murphy.
WATERLOO — A Waterloo man has been detained on probation charges and his brother has been ch…
You have free articles remaining.
In an intercepted conversation, Wayne Jones was quoted as saying, "I'm a little wiser, like OK, hell I'll kill ya, like you and your whole (expletive deleted) household, but I'm just not gonna be all you know unwise about it. I'm going to take the appropriate approach and make sure my ass is covered."
Murphy said Wayne Jones had also talked about getting an iPhone to thwart wiretapping.
In court on Wednesday, Wayne Jones said the intercepted comment wasn't about doing anybody harm. He said he had been free of legal problems for years and "I was doing my best to help children and young men" not make the same mistakes he had made in the past. He admitted he made a mistake about allowing firearms into his house, but he said he didn't understand the law when it came to guns and hadn't been carrying or brandishing firearms.
Eastman said Wayne Jones was attempting to steer his brother down the correct path and work to bring change through the community and not through violence.
"This is not a person who is looking to harm society. This is a person who is looking to help society … and I think he deserves some credit for that," Eastman said.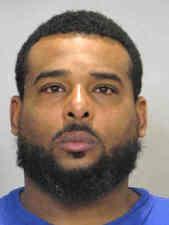 In handing down the sentence, Reade said she found Wayne Jones' intercepted comments "really concerning" but not grounds to increase his sentence. She did, however, find other reasons to increase the sentence above the recommended guidelines sentence, which was 30 to 37 months in prison.
She noted he had made false statements on the stand when he testified during an early hearing in March in preparation for sentencing.
"He gave false testimony in hopes of reducing his exposure," Reade said.
Wayne Jones will have to spend three years on supervised probation following prison.
His brother is still awaiting trial in Illinois. Two weeks ago, a federal grand jury returned a superseding indictment charging Joseph Jones' codefendant, Edward Schimenti, with making a false statement to FBI agents. He allegedly made false statements about his understanding of what the cellphones were to be used for, records state.