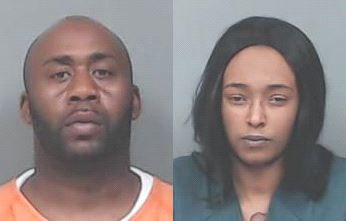 WATERLOO — A Waterloo couple will spend a decade behind bars for setting up 16-year-old girls from Chicago with adult men for prostitution in 2016.
U.S. District Court Judge Leonard Strand on Tuesday said he found the nature of the offense "disturbing" and struggled to understand the light sentences hammered out in plea agreements for Lawrence Campbell Jr., 37, and Sade Desire Campbell, 25, who had pleaded guilty to sex trafficking of children.
Under sentencing guidelines, Lawrence would have faced 30 years to life based on his criminal history and facts of the case. Sade Campbell would have faced 24 to 30 years under the guidelines.
Instead, the two reached plea agreements for 10 years each, the minimum allowed by law.
Authorities said Lawrence Campbell met one of the teens online and brought her, a friend and her infant child to Waterloo in August 2016. Once in Iowa, photos of the teens were taken and used in advertisements on BackPage.com, and they were taken to hotels and a home to meet men.
Prosecutor Timothy Duax said there could have been difficulties with the victims testifying had the matter gone to trial. He noted the Campbells' crime was relatively short-lived — lasting only a few days before it fell apart when the teens were caught shoplifting at Target.
The scheme also lacked any violence, threats or drugs often found in similar crimes, Duax said. He said the sentences are reasonable.
"It sends a message this is a serious offense," Duax said.
Defense attorney Melanie Keiper, who represented Lawrence Campbell, said her client didn't set out to find underage girls and didn't initially know the girls were underage.
He had met one of the girls through Tagged.com, and then bought them bus tickets. Keiper noted Tagged.com indicates the website is only for people 18 and older, and the girl indicated she was 19.
"He did not intentionally recruit or initially set out to bring minors to his home. Once he met them and had a chance to observe them he obviously made the wrong choice and that is why he (pleaded) guilty," Keiper wrote in a memo before Tuesday's sentencing.
She also noted a man who had sexual contact with the teens was never arrested.
Sade Campbell's attorney, Clemens Erdahl, said the husband was in control of the scheme.
"She was under the thralls of her husband," Erdahl said. He said his client had been involved in prostitution herself.
Court records show Sade Campbell received a deferred judgment in an April 2015 prostitution sting, and prosecutors in state court sought to revoke her probation when she was arrested for trafficking the teens.
In formalizing the plea agreements Tuesday, Strand imposed on Lawrence Campbell eight years of supervised release following his prison sentence. Sade Campbell will have five years of supervised release.
Sade Campbell's prison time will run consecutive with any time handed down in the pending probation revocation.
Strand also declined to impose supervised release conditions that would have prevented the two from coming into contact with children without prior permission. This move came after Lawrence Campbell's defense attorney argued they weren't needed because he didn't have sexual contact with the teens and doesn't have a sexual interest in children.
Both Lawrence and Sade Campbell apologized to the court.
The teens weren't in court and declined to submit written statements to be considered at sentencing.
Sign up for our Crime & Courts newsletter
Get the latest in local public safety news with this weekly email.