Two former Cedar Falls men sentenced in elephant tranquilizer drug case
CEDAR RAPIDS — Two former Cedar Falls men who unwittingly sold elephant tranquilizers that looked like prescription painkillers have been sentenced to prison.
Authorities said Evan Sage, 20, and Cameron Lensmeyer, 21, sold hundreds if not thousands of counterfeit pills obtained through the dark web. The pills had the appearance of the painkiller oxycodone but were really carfentanil.
Assistant U.S. Attorney Dan Chatham said carfentanil is 100 times more powerful than fentanyl, which is more powerful than heroin.
"Just one slight miscalculation and you have a dead body on the other side," Chatham said.
"They were lucky no one paid the ultimate price for their crimes," he said.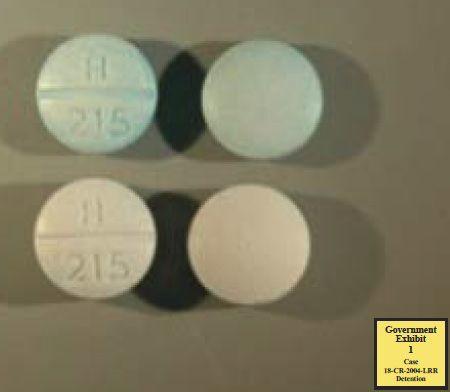 Both the prosecution and defense attorneys agree the two didn't know what the pills contained when they used and sold them, and Tri-County Drug Enforcement Task Force officers who searched their Tremont Street home in June 2017 also initially thought they had seized 800 oxycodone pills.
But Judge Linda Reade said that was no excuse as she handed down sentences in U.S. District Court in Cedar Rapids on Wednesday.
"Ignorance of what you are selling is no defense," Reade said.
You have free articles remaining.
Sage, who had pleaded to possession with intent to deliver carfentanil, cocaine and marijuana, and possession of a firearm in connection with drug trafficking, was sentenced to seven years and one month in prison to be followed by five years of supervised release.
Lensmeyer, who pleaded to possession with intent to deliver carfentanil and marijuana, was sentenced to four years and four months in prison followed by three years of supervised release.
In additional to the counterfeit pills, police found 30 grams of cocaine, 600 grams of marijuana and $20,000 in cash, according to court records. They also seized a loaded .32-caliber CZ pistol that allegedly belonged to Sage. Tests later determined the pills, which had been obtained through the AlphaBay online marketplace, were carfentanil, which isn't approved for human consumption but is used as a large-animal tranquilizer.
Sage was surprised when he discovered what the pills contained, according to his defense attorney, Jill Johnston. He was that he was thankful nobody died, she said.
Chatham said that although the two didn't know what was in the pills, they likely knew it wasn't oxycodone because the pills were slightly discolored, and the effects were different.
CEDAR FALLS – Two former Cedar Falls men who obtained what they thought were prescription pi…
Both Sage and Lensmeyer apologized during the sentencing hearing, which drew more than a dozen friends and relatives to the courtroom. Sage said he wanted to use the opportunity to become a better person.
"I'm learning to be better with my life," Lensmeyer told the court.
Reade declined requests for leniency, noting that Sage wasn't just selling the drugs to maintain his own habit, he was turning a profit. The two also fared poorly while awaiting trial, she said. Their pretrial release was revoked because they continued to be involved with drugs.
Lensmeyers' federal drug sentence is to run consecutive with a misdemeanor eluding charge from an August 2017 91-mph motorcycle chase with police.