WATERLOO – Waterloo Police chased two stolen vehicles within a matter of hours late Sunday and early Monday, with both pursuits ending in crashes.
The cases are unrelated, but in both instances the vehicles were stolen when they had been left running to warm up, police said.
The first vehicle theft was reported at about 11:45 p.m. Sunday when a worker left his gold Toyota Camry running while closing Liquor and Tobacco Outlet, 2844 University Ave.
Minutes later, the driver -- identified as 26-year-old Jakob Densell Gamboa -- crashed into a concrete wall near the dead end in the 400 block of Main Street, about a mile from the store, according to police reports. He got out to check the damage and drove off before authorities arrived.
Around 12:25 a.m. Monday, patrol officers who were at the store gathering information about the theft spotted the stolen vehicle driving past them, and a short chase followed, ending when the fleeing vehicle became stuck in a snow bank in the area of Upton Avenue, police said.
Officers found alprazolam pills, commonly known as Xanax, in the driver's pocket.
Gamboa, of Sheldon, was arrested for felony eluding, operating a vehicle without the owner's consent and possession of alprazolam.
Then, at 6:40 a.m. Monday, a woman reported the theft of her silver Chrysler 300 from 1422 West 11th Street.
Officers noticed the vehicle in the area of Mitchell Avenue and Baltimore Street, but the driver took off, hitting 90 to 100 mph down Mitchell, court records state. The chase lasted about three blocks, coming to an end when the Chrysler attempted to pass another motorist on the left and crashed into a utility pole on Hillside Avenue, police said. Officers found a Ruger .45-caliber in the driver's waistband and a used syringe in his sock.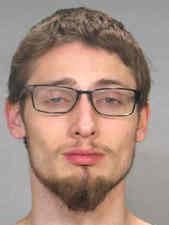 The driver, Gage Tyler Bondy, 22, of 321 Third St., Washburn, was injured and transported to a nearby hospital for treatment. He was later arrested for felony eluding, carrying weapons, felon on possession of a firearm, operating a vehicle without owner's consent and possession of drug paraphernalia. Bond was set at $14,300.