WATERLOO — Raymond Duke Birden Jr. watched as his brother, Otavious Brown, was killed in a 2016 drive-by shooting on Logan Avenue.
Now police claim Birden is responsible for the May killing of Shavondes Martin, one of the men acquitted of murder in Brown's death.
Authorities arrested Birden Jr., 20, on Monday on a charge of first-degree murder in connection with Shavondes Martin's slaying. Bond was initially set at $1 million.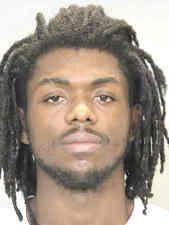 Birden is the second person charged in Shavondes Martin's death. On Nov. 13, Martin's cousin, 22-year-old Danaesha Lynne Martin, was detained in Norfolk, Virginia, on a Waterloo murder warrant. She was returned to Iowa on Jan. 7 and remains in the Black Hawk County Jail pending trial.
Authorities said Shavondes Martin's slaying was planned by several people, including Birden, ahead of time.
Court records said Danaesha Martin led Shavondes Martin into an ambush knowing he was going to be attacked. Witnesses saw Birden carrying a gun and leading him into the alley between the 1200 block of West Washington Street and South Street where he was later found dead, records state.
Danaesha Martin fled the state following the shooting. Birden also left town, records state, and police said in court records they later found messages between Birden and Shavondes Martin exchanged hours before the shooting where Birden threatened to kill him.
Court records show Birden is suspected of another shooting.
WATERLOO | A Waterloo teen has been arrested in connection with an early December shooting t…
In 2015, he was arrested for intimidation with a weapon and felon in possession of a firearm in the Dec. 4, 2015, shooting at West Second and Allen streets that injured Donald Harris.
He was 17 at the time, and within a year prosecutors asked the court to temporarily dismiss the case because of difficulty locating witnesses for trial.
Two months later, Birden, his brother and others were hanging out outside a Logan Avenue home waiting for a friend when a sport utility vehicle drove by and the occupants began shooting.
WATERLOO — One of the last things Raymond Birden Jr. heard his brother say was a warning.
Birden would later recount for a jury seeing muzzle flashes and running from the shots. He saw Brown jerk when a bullet hit him, and he loaded Brown into his father's Audi and headed for the hospital. Brown was pronounced dead at the hospital.
Authorities said Shavondes Martin was in the front passenger seat of the SUV during the shooting, and Doncorrion Spates and Armand Rollins were in the back seat. The driver, Jacques Williamson, pleaded to a lesser charge, and during a February trial a jury found Spates guilty. Shavondes Martin and Rollins were acquitted.
With the murder charge behind him, Shavondes Martin pleaded to a felony marijuana charge from a June 2016 traffic stop and was granted probation on May 3.
A neighbor found Shavondes Martin's bullet-riddle body in an alley behind South Street in the early morning hours of May 31, months after a jury found him not guilty in Brown's murder.
An autopsy determined two guns had been used to kill Shavondes Martin, according to court records.
In September, prosecutors renewed efforts to prosecute Birden in the 2015 shooting at West Second and Allen, arresting him on weapons charges. Jury selection for the West Second Street shooting is tentatively scheduled to begin today.