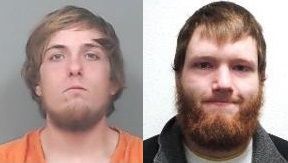 OSSIAN – Two Northeast Iowa men have been arrested in connection with an investigation into opioid sales in 2017.
Jacob Allen Swearingen, 22, of Westgate, was arrested in October for two counts of possession of heroin with intent to deliver, and Chase Henry Heying, 25, of Ossian, was charged with conspiracy to deliver heroin, conspiracy to deliver fentanyl and violation of the drug tax stamp act, according to the Winneshiek County Sheriff's Office.
Authorities allege the two were involved in heroin distribution between April and June 2017. A search of Heying's South Hall Street home on June 6, 2017, turned up a bottle with 14 pills that were later determined to be morphine, according to court records.
OSSIAN — Two guns seized in 2012 following gunfire in Calmar and a subsequent manhunt turned…
The arrests were in connection with the investigation into Cole and Kaleb Breitsprecher, who were indicted on federal drug and weapons charges in 2017.