WATERLOO — A Waterloo doctor recounted how her infant son, Liam Xander Mwanje, was progressing in August 2017 as he was reaching his seventh month of life.
"He was able to roll front to back and back to front, and he was sitting up by himself, and we were feeding him solid foods. He was smiling, he was making baby talk," said Dr. Violet Mwanje, who studied medicine in Uganda and moved to Waterloo to practice in 2015.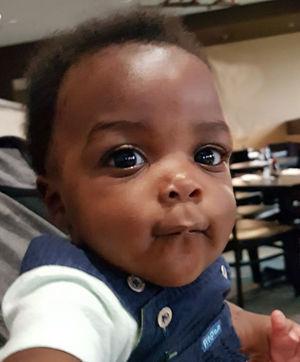 She also remembered being at work Aug. 2, 2017, when she noticed five missed calls on her phone. When she called back, she was told there had been an accident and Liam wasn't breathing. She headed to the UnityPoint Health-Allen Hospital emergency room.
"There were a number of physicians and nurses in the room. He was gasping," she said. He was flown to University of Iowa Hospitals and Clinics in Iowa City where he died.
Authorities said Liam's death was the result of Derrick Earl Johnson's decision to drive while intoxicated. Testimony in Johnson's trial for homicide by vehicle started Wednesday in Black Hawk County District Court.
WATERLOO — Bond has been set at $100,000 for the driver of a pickup that slammed into a mini…
You have free articles remaining.
"The defendant's drinking, drug use and decision to drive had deadly consequences for Liam," said Assistant County Attorney Molly Edwards, who is prosecuting the case with Jeremy Westendorf.
Authorities said Johnson was driving a pickup truck that blew through a stop sign on Sycamore Street and collided with a mini-van traveling on East First Street carrying Liam, his babysitters and other children.
Edwards said police determined the truck was traveling about 55 mph in the 25 mph zone in front of the downtown post office. Officers noticed signs of drinking and conducted field sobriety tests.
"There were signs of impairment on every single test," she said.
She said Johnson's blood alcohol level at the time of the crash was calculated to be around .089 to .120, and there was cocaine in his system.
Defense attorney Brian Johnson said admitted his client was driving the truck, but he said he wasn't intoxicated at the time of the crash.
"We dispute anything other than this was a terrible accident. This is a tough case. No one is disputing this is a tragedy. No one is disputing this is a serious matter," Johnson said.