TAMA – A Traer man has been charged in connection with a March shotgun robbery in the Meskwaki Casino parking lot.
Tama County Attorney Brent Heeren filed a seven-count information on March 23 charging Harold Ray Amos, 39, with first-degree robbery, felon in possession of a sawed-off shotgun, going armed, intimidation with a weapon, assault while participating in a felony, extortion and assault with a weapon.
Amos was also cited for driving without a license.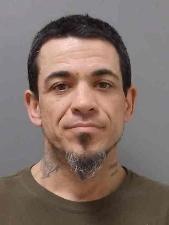 You have free articles remaining.
Amos was in the Tama County Jail in Toledo as of Tuesday with bond set at $100,000 for an unrelated parole warrant.
Authorities allege Amos pointed a shotgun at Adam O'Clair in the casino parking lot and took $400 in cash from him on March 14.
Police found a shotgun with a sawed-off barrel in the back of Amos' Dodge Ram pickup truck, court records state.
According to court records, Amos is on parole out of Kentucky in connection with meth lab and escape charges dating back to 2011, according to the Kentucky Department of Corrections. He is in Iowa as part of an interstate compact agreement with Kentucky authorities.