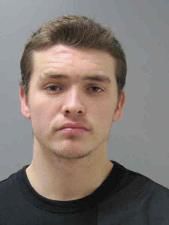 JESUP -- A Toledo man has been arrested for allegedly trying to meet a 12-year-old girl and sending her an obscene text message.
Buchanan County sheriff's deputies arrested Cameron Michael Presgrove, 19, on Thursday on a warrant for enticing a minor and distribution of obscene material to a minor. Bond was set at $7,000.
Jesup police investigated the incident.
According to court records, Presgrove is accused of communicating with the Buchanan County girl through the Snapchat social media platform and text messaging in September. He allegedly told her that she thought she looked sexy and asked her where she lived.
He allegedly sent her a picture message of his genitals and discussed meeting her in the Tama area so they could go for a walk and make out, court records state. Presgrove also said he would like to "smash" in the woods, according to the criminal complaint, which noted that the Urban Dictionary defined smashing as having sex.