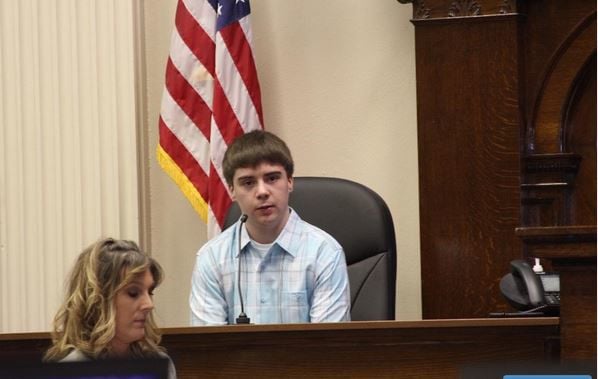 DECORAH --- Jacob Seelinger, the teenager who was convicted earlier this month of second-degree murder, will be sentenced Sept. 3.
Seelinger, 18, of Decorah, and Dalton Adam, 19, of Decorah, both were charged with first-degree murder in connection with David Hansen's death last summer.
Seelinger was convicted of the lesser charge July 11. Adam's trial is scheduled for Oct. 28 in Winneshiek County District Court. A pretrial conference has been scheduled for Oct. 9. Adam's attorney, Andrew Thalacker of Waterloo, is requesting a change of venue for his client.
The men were accused of beating Hansen July 12, 2018, at Hansen's Decorah home. Hansen was knocked unconscious during the attack and never regained consciousness. He died from his injuries Aug. 31.
In Adam's motion to change the site of his trial, Thalacker said there were "inflammatory media releases by law enforcement" regarding his client. He said numerous area media outlets have reported on the case and continue to do so. Thalacker said Adam's alleged role in Hansen's death was covered "extensively" by various media during Seelinger's trial.
"The public has expressed significant interest and opinions on social media," regarding the case, Thalacker said in his motion, and therefore Adam can't get a fair trial in Winneshiek County.
A hearing on the motion has not yet been scheduled.
Thalacker also has filed a notice that Adam may rely on the legal defense at trial of "self-defense or defense of others."