WATERLOO — Alejando Franco's girlfriend doesn't believe he shot himself in the head.
"He would never do that," she said.
Given Franco's religious beliefs, suicide would mean going to hell, she said.
Federal prosecutors agree with her.
Franco was found in a West Eighth Street apartment with a gunshot wound to the head in May 2019, and he died a short time later.
Police said 37-year-old Alberto Quinto-Pascual of Waterloo — who owned the .32-caliber Smith and Wesson break-action revolver with a scratched-off serial number that killed Franco — wasn't supposed to have guns because he was a methamphetamine user.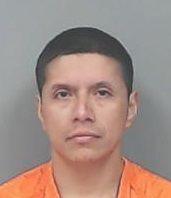 Now the U.S. Attorney's Office for Iowa's Northern District is trying to make the case that Quinto killed Franco. If the court agrees, it would increase Quinto's sentence for federal firearms charges.
"Mr. Franco didn't hold a gun up to his head," Assistant U.S. Attorney Lisa Williams said. "This story is not believable."
Defense attorney Webb Wassmer said the evidence points to Franco playing with the gun and accidentally shooting himself.
During a Thursday sentencing hearing in U.S. District Court in Cedar Rapids, three jailhouse witnesses testified Quinto told them he thought Franco was cooperating with authorities and needed to die.
"He told me he was there for killing somebody," said a man who was housed with Quinto at the Linn County Jail while awaiting the outcome of their cases.
Quinto, who earlier pleaded to the firearm charges, testified Thursday, telling the judge he had just met Franco that night at Edo's Bar and they went to his friend's West Eighth Street house where he had been staying to smoke meth and drink beer.
He said he showed Franco the revolver but took it away from him when Franco placed the muzzle of the empty weapon to his own head and pulled the trigger a number of times.
According to Quinto's account, he loaded the weapon and then passed a meth pipe. Franco said he wanted to see the gun again, so he unloaded it and handed it to him, Quinto said.
Quinto told the court he looked away to light the pipe and he heard two clicks followed by a gunshot and turned to see Franco collapse on the couch.
"I panicked. I didn't know what to do," he said, thinking "Oh my God, they are going to say it was me."
He said he cleaned off the gun and went four blocks to a friend's house where he eventually called 911.
Quinto said he didn't know where Franco found a bullet, and the defense suggested not all of the shells ejected when Quinto thought he emptied the gun.
Investigator Brice Lippert with the Waterloo Police Department said Quinto's account, which he also told officers shortly after the shooting, didn't add up.
He said the location of the bullet wound – entering just behind the right ear and traveling upward, back to front — meant Franco would have held the gun at an unnatural angle.
He also doubted that Franco, who had no firearm experience, would have been able to open the revolver's action, load a round and fire as quickly as Quinto said it happened.
Dr. Dennis Firchau, a forensic pathologist who examined Franco, said while he wasn't able to determine the distance of the weapon from the head during the shooting, most of the evidence he would expect to see with a close-range or contact shot was missing. There wasn't any searing burn around the wound, no stippling from unburned gunpowder, no imprint from the muzzle.
He said there was what appeared to be soot inside the wound — one of the signs of a close shot — but that could have come from dirt inside the barrel if the gun hadn't been cleaned. He also said the location of the injury was "less common" for self-inflicted gunshot wounds.
Judge C.J. Williams is expected to issue findings in the case Friday when the sentencing hearing resumes.
Sign up for our Crime & Courts newsletter
Get the latest in local public safety news with this weekly email.