WATERLOO – A Waterloo man who was on the police department rebranding committee has been arrested for allegedly having sexual contact with a teen.
Jamodd "Jamie" Amaul Sallis, 41, was arrested Tuesday on a warrant for third-degree sexual abuse. Bond was set at $25,000.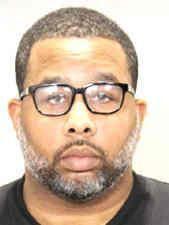 Authorities allege Sallis had sex with a girl when she was 15 in 2020 once in Waterloo and two other times in another city.
Waterloo police were notified in August, and the girl was interviewed at the UnityPoint-Allen Child Protection Center, according to court records.
Sallis was one of more than a dozen people appointed to a city panel in September 2020 to tackle the redesign of the Waterloo Police Department's griffin logo.
Sallis was appointed as a faith and community leader on the committee, which included two City Council members, police officers and public arts and human rights committee members.
In May, the City Council voted to replace the griffin insignia with a yellow patch with the words "Waterloo Police" in red lettering.
Mayor Quentin Hart responded to Sallis' arrest by saying he hopes it "highlights the importance of increased conversations and funding to keep children in our community safe."
"The crimes allegedly committed by Jamodd Sallis are horrifying and I have full faith that our criminal justice system will quickly and professionally handle the case," Hart said in a press release. "Child abuse is abhorrent and we must do everything we can do to combat it."