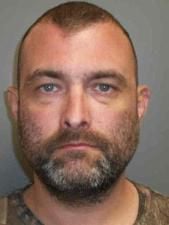 MANCHESTER – A Manchester man has been arrested in a 2004 cold case slaying in Keokuk.
Authorities allege Nathanial Leo Ridnour killed the grandmother of his then girlfriend in 2004 following a disagreement with the woman.
The body of 73-year-old Bonnie Callahan was found in the Mississippi River shortly after she was reported missing.
Ridnour was 17 years old at the time of her death. On Monday, Ridnour, now 34, was arrested for first-degree murder in Callahan's death, and he was transported to the Lee County Jail in Montrose to await trial.
Officials with the Iowa Division of Criminal Investigation said the arrest came after the case was reopened in 2017 as part of a cold case initiative that has netted arrests in seven other unrelated cases in southeast Iowa.
In 2004, Callahan, a retired nurses aide, was living in the Mississippi Terrace Apartments in Keokuk, and Ridnour was living in the same complex with his father. Ridnour also was dating Callahan's 15-year-old granddaughter, and Callahan didn't approve.
Callahan's relatives reported her missing on the morning of June 15, 2004. A fisherman found her body in the river around 3:45 p.m. that afternoon.
Investigators said it was suspicious because Callahan had recent knee surgery and wasn't able to get around without her walker. The walker — along with her wallet — were discovered inside her locked apartment, so it was unlikely she would have been able to make it to the river on her own.
An autopsy found there were signs of blunt force trauma on her body.
Ridnour said he was out walking around on the night Callahan disappeared, and later said he was on his father's couch and didn't leave the apartment.
Investigators said he told acquaintances he was a suspect in Callahan's death and needed to get out of town. These statements were made before law enforcement began talking to him about Callahan's death, according to court records.
He told one person he went to Callahan's apartment to discuss the dispute over the relationship, and an argument occurred. Another witness said Ridnour was concerned about his fingerprints being in Callahan's apartment.
Ridnour eventually left Keokuk and moved to Coal Valley, Ill., records state. He later relocated to Manchester.
Investigators interviewed Ridnour in 2019, and he said he went to Callahan's apartment to "make things right," according to court records. He allegedly said he couldn't "remember killing her," and he "didn't mean it or want to hurt anyone."
The case was a joint investigation by the DCI's Major Crime Unit, the Keokuk Police Department, the DCI Crime Scene Team, the Delaware County Sheriff's Office, the Lee County Sheriff's Office, the Iowa State Medical Examiner's Office, the Lee County Attorney's Office and the Iowa Attorney General's Office Area Prosecutions unit.
Sign up for our Crime & Courts newsletter
Get the latest in local public safety news with this weekly email.