WATERLOO — A Waterloo man has been found guilty in connection with a 2017 crash that killed an infant.
Jurors deliberated for part of the day Tuesday before convicting Derrick Earl Johnson, 37, on one count of homicide by vehicle while intoxicated.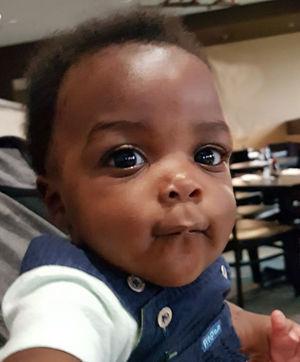 Following Tuesday's verdict, Johnson, who had been out on bond after the Aug. 2, 2017, collision, was taken into custody pending sentencing. He faces up to 25 years behind bars.
Prosecutors said Johnson was going about 55 mph in a 25 mph zone on Sycamore Street and ran a stop sign at East First Street. His pickup truck collided with a mini-van carrying 7-month-old Liam Mwanje, his babysitters and other children. Liam died of head injuries in the crash.
Police estimated Johnson's blood alcohol was around .089 to .120 at the time of the collision. The legal limit for driving is .08. Prosecutors said Johnson also had cocaine in his system.
Investigators said Johnson had been involved in an argument with a female acquaintance moments before the crash, and she had been sending him calls through Facebook. Johnson's phone was found in the floor of his vehicle, but there was no evidence he had answered any of the calls.
You have free articles remaining.
Testimony in the trial began March 27, and the defense argued that Johnson wasn't under the influence during the collision. Closing arguments were Tuesday.
During the trial, jurors weren't told that the seven-passenger minivan had a total of nine occupants or that Liam wasn't restrained in a child safety seat. The infant was being held by another passenger in the back seat, according to court records. All others were restrained, according to the police accident report.
The defense had attempted to present the evidence, but a judge sided with the state, which argued the information wasn't relevant to the criminal charges against Johnson.
WATERLOO – Authorities continue to investigate the two-vehicle crash that claimed the life o…
During trial while the jury was out of the courtroom, the court took testimony from the medical examiner who performed Liam's autopsy as part of a procedure to make a record for possible appeal reasons.
Dr. Marcus Nashelsky testified that while car seats and other restraints improve the chances of reducing injuries in a crash, he couldn't definitively say Liam would have survived the 2017 crash had he been in a child safety seat.
"We see fatalities from motor vehicle crashes among people who are restrained as well. But restraint devices, in general terms, are effective in reducing injuries," Nashelsky said.