WATERLOO – A Waterloo man has been arrested for allegedly shooting at a woman while she was holding her baby on Wednesday afternoon.
Waterloo police arrested Devanta Debrone Riley, 23, of 622 Grant Ave., for intimidation with a weapon, going armed with intent and carrying weapons. His bond was set at $150,000.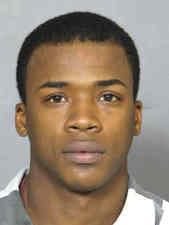 No injuries were reported in the shooting, which erupted in the area of West Fourth and Wellington Street around 1:40 p.m. Wednesday, but police found bullet damage to a vehicle that was parked in the area.
Residents called police after hearing three shots and seeing a person climb into a SUV and leave.
According to court records, Riley exchanged words with Myka Ivy and Kieshon Charlery as they passed by his house, and Riley and his girlfriend, Justina Lee, then followed them. Riley then fired at Ivy and Charlery while she was holding her 7-month-old child.