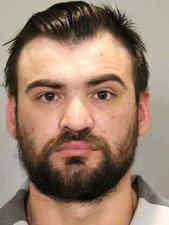 CEDAR FALLS – A one-night crime spree has resulted in new charges for a Waterloo man who allegedly broke into vehicles, garages and sheds in a Cedar Falls neighborhood in December.
Cedar Falls police last week charged 31-year-old Denis Kekic, of 1656 Cornwall Ave., with five counts of burglary to a vehicle and six counts of third-degree burglary.
He was also charged with one count of fourth-degree criminal mischief for about $1,000 in damages caused during the burglaries.
Court records allege Kekic hit addresses on Russell Road, Victory Drive, Hawthorne Drive, and Sunnyside Drive on the night of Dec. 16 into Dec. 17, taking more than $5,000 worth of property.
In one case, a garage door opener stolen from a parked vehicle was used to enter a detached garage. Another time a window was removed to gain access to the garage.
Investigators linked Kekic to the break-ins through shoeprints in the snow and DNA on an open can of Coca-Cola found at one of the scenes, according to court records.
Kekic is also awaiting trial for allegedly taking an AR-15 rifle and fishing and camping equipment from the garage at a Waterloo home in November. His bond is currently set at $94,000.