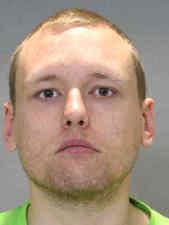 WATERLOO – A Waterloo man has been arrested after he allegedly set fires in a park Friday evening.
Residents called 911 after seeing the man ignite dry grass in two areas of Lafayette Park, 1900 Lafayette St., around 6:15 p.m.
Crews with Waterloo Fire Rescue extinguished the flames, which claimed a 20-by-15-foot area and a 3-by-4-foot area of the park. Officers found at least eight other spots in the park where fires had been started and apparently burned themselves out.
Police arrested Jake Raymond Dale Grinstead, 36, of 1803 Mulberry St., for third-degree arson. Bond was set at $2,000.
WATCH NOW: Courier fire videos
Former church fire, Waverly, Iowa, Dec. 19, 2016
VIDEO: House Fire, Gable St., Waterloo, Iowa 120319
Apartment fire, Jefferson St., Feb. 19, 2016
Duplex Fire, Western Ave., Feb. 9. 2016
Fire, Beaver Ridge Trail, Cedar Falls, Iowa Feb. 5, 2018
Garage/house fire, Seneca Ave., Waterloo, Iowa Dec. 11, 2017
House Fire, W. Second St., Waterloo, Iowa, Oct. 20, 2016
House fire, Marion St., Evansdale, Iowa June 6, 2018
House fire, W. 2nd St., Waterloo, Iowa July 7, 2017