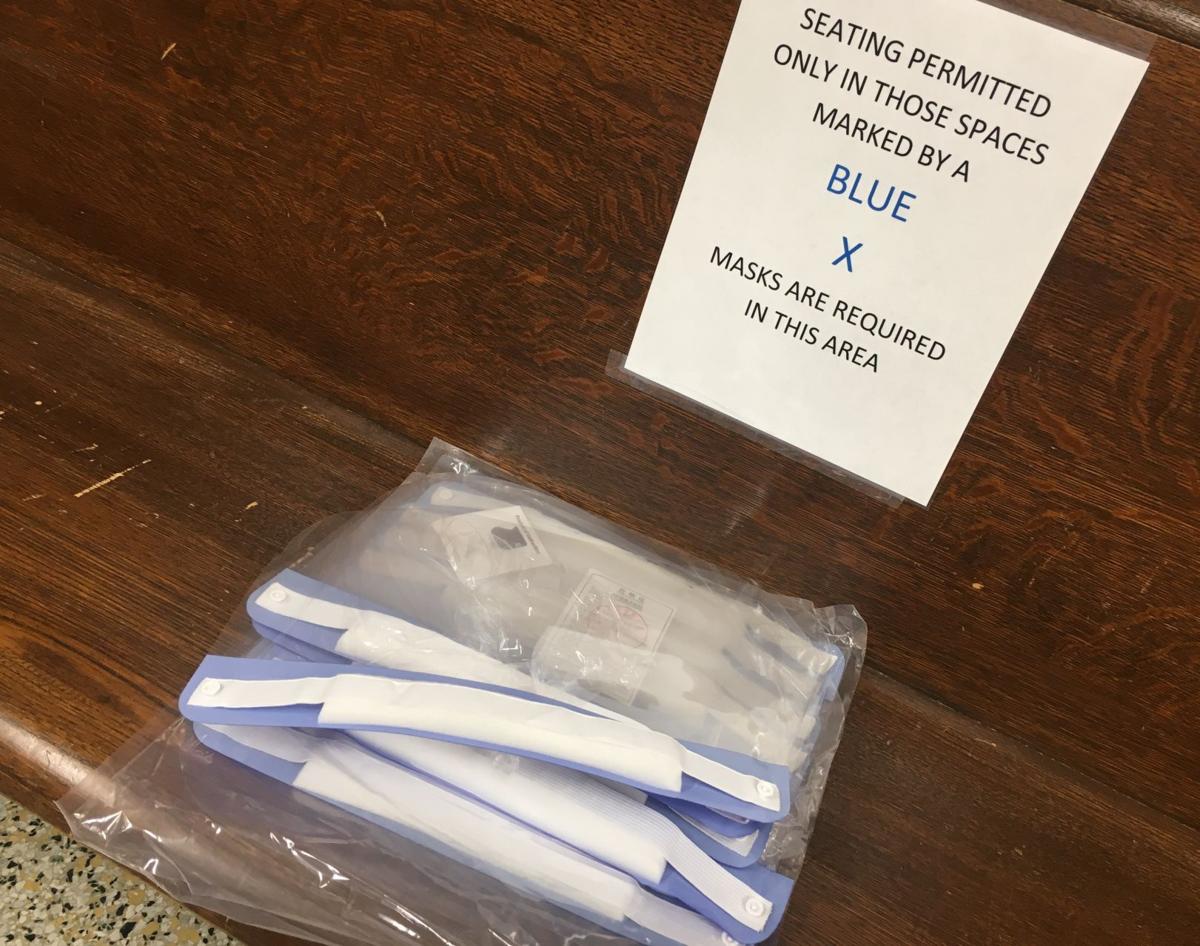 WATERLOO – Residents called for jury duty are leaving the Black Hawk County Courthouse with a souvenir — a clear plastic face shield.
Court officials wearing rubber gloves handed out the transparent piece of personal protective equipment to potential jurors who showed up Tuesday as the county prepared for its first criminal jury trial since the coronavirus pandemic shuttered government offices in March.
Noticeably missing from the jury selection experience are the clogged parking lots, lines at the check-in counter and packed courtrooms.
"It's very much geared toward the jurors," said Arnell Ernst, the county's clerk of court.
Instead, voir dire — the examination of prospective jurors by prosecutors and defense attorneys — was done in shifts about two and a half hours apart. People were scheduled to arrive at the courthouse 15 at a time. Following the question-and-answer session, court workers wiped down the benches in preparation for the next group of 15.
People in the jury pool are in the courthouse for a shorter period of time than pre-COVID jury selection.
"You go home for the day, and at the end of the day, we let you know if you are actually selected," Ernst said.
Those chosen to serve on the jury will be notified by phone, text or email.
Even those who aren't chosen can keep the face shield.
There will be more differences once the trial starts.
The jury box will remain empty, and jurors will be socially distant when seated in the front rows of the gallery.
"We wouldn't be able to, with the 12 seats, actually seat all of them up there (in the jury box). Being seated in the gallery is going to allow them to be able to keep that six-foot distance," Ernst said.
Spectators will be seated in the gallery's back rows.
Attorneys, judges and witnesses will join jurors in wearing the face masks. Court officials said the clear plastic shield makes it easier to convey facial expressions and helps the court transcriptionist following the statements.
Ernst said improvements have been made to the courtroom microphones and sound system.
"I think sound is the biggest concern we have, making sure everybody can hear everybody," she said.
Sidebars — in which the jury normally is sent out while the attorneys and judge argue points of law — will be conducted in a side room; the jury will remain in the courtroom.
During deliberations the courtroom will become the jury room, with everyone else cleared from the room until panelists reach a verdict.
Afterward, participants can fill out a survey to provide feedback on the process.
Most of the changes came from a batch of pilot trials held in different counties across the state in August.
Concerned about COVID-19?
Sign up now to get the most recent coronavirus headlines and other important local and national news sent to your email inbox daily.