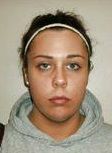 WATERLOO -- The Iowa Supreme Court has upheld the conviction of a Waterloo mother whose toddler was treated for smoke inhalation in a 2017 fire.
Court records allege the fire may have started when the child's father placed a propane torch lighter --- that was used to smoke hash oil --- on the floor.
The mother, Brenna Ann Folkers, 32, was convicted of child endangerment in a bench trial after police alleged she knew marijuana and hash oil were kept in a bathroom cabinet. Authorities said the cabinet wasn't locked, which placed the child as risk.
On appeal, Folkers argued there wasn't enough evidence that she was parenting the 2-year-old child at the times she used the drugs. She also argued that the cabinet containing the drugs was locked.
In a decision issued Friday, the Iowa Supreme Court noted that an officer's body camera showed that the officer was able to open the cabinet without unlocking it first.
The child's father, Richard Neil Wilson, pleaded to child endangerment and reckless use of fire in 2017 and was sentenced to probation.
The charges stem from a Jan. 16, 2017, fire at the couple's Kipling Road mobile home. Firefighters found the child covered in soot and took the child and Folkers to the hospital, according to court records.
Wilson allegedly admitted to using the lighter to smoke hash oil, and police found marijuana, hash oil and related pipes in the cabinet.
Photos: Missing children in Iowa
Sign up for our Crime & Courts newsletter
Get the latest in local public safety news with this weekly email.