TOLEDO — Tama County authorities are keeping quiet about a recent push seeking the public's help with information about any digging in a wilderness area outside of town 17 years ago.
According to press release issued this week, the Tama County Sheriff's Office recently obtained information from a mushroom hunter, and investigators want to compare it with other accounts of similar activity.
"Any person who may have seen suspicious vehicles, activity or evidence of fresh digging in the Lohberger Wildlife Refuge which is northwest of Toledo in April or May of 2000, please contact us," read the release signed by Detective Bruce Rhoads with the sheriff's office.
The release seeks information from anyone who have been digging by hand in the wildlife area "for any legitimate purposes that may have left behind fresh dirt/diggings that could be later observed by mushroom hunters in May of 2000."
Reached by phone Wednesday, Rhoads declined to comment. But the 2000 time frame correlates with the disappearance of Cora Ann Okonski, and authorities are preparing for a second trial in her suspected slaying.
Okonski was 23 when she was last seen April 16, 2000. Authorities say she is dead, but her body has never been located.
Rhoads was a lead investigator in Okonski's disappearance and took the stand in May during the trial of her ex-boyfriend, Tait Otis Purk. One witness said Purk confessed to killing Okonski and burying her body in a state park or a nature preserve in a hole so deep it required steps to climb out of.
During the May trial, investigators said they had followed numerous leads regarding Okonski's possible whereabouts. That included digging in two different salvage yards and a farm and a search of the Columbia Wildlife Area involving flyovers, ground-penetrating radar and cadaver dogs.
Jurors found Purk guilty of murder, but the verdict was later overturned by District Court Judge Mitchell Turner, who granted a new trial.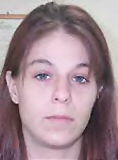 Tama County Attorney Brett Heeren had appealed the judge's decision, but the appeal was later voluntarily dismissed by prosecutors.
Trial is set for November, and Purk had waived his right to a jury.