WATERLOO – Cyrus Banks said his first instinct was to stay alive and get help after he was shot in the stomach during an altercation with his sister's boyfriend.
"I didn't want to die on the street like that," Banks, 34, told jurors Wednesday as trial started for the man accused of pulling the trigger, Ishmael Komeh. "I wasn't going to lay there helpless."
Banks said he clenched the 9mm magazine that had dislodged from the gun during the struggle in front of the house at 1211 W. Mullan Ave. and fled inside, knowing that the gunman wouldn't be able to fire additional shots without any bullets. It was there that he called 911.
WATERLOO — An early Saturday morning shooting sent a man to the hospital with life-threateni…
Komeh, 36, of Waterloo, is charged with willful injury causing serious injury, felon in possession of a firearm, carrying weapons and domestic abuse causing bodily injury.
Prosecutor Brad Walz said Komeh had first hit Banks' sister, Shantel Delgado, when she told him she didn't want to go out any more around 2 a.m. Aug. 19, 2017.
Banks had just been dropped off in front of the house after catching a ride from Cedar Rapids, and he grabbed some cash from the house to pay the driver for gas. When he turned back to the house, he heard Komeh yelling at Delgado that he was going to "pistol whip" her in front of her brother, and he saw Delgado dart from the home yelling, "he's going to kill me."
Banks testified that Komeh then lifted his shirt to show a handgun tucked in his pants. Banks said he decided to rush Komeh before he could do anything.
"I took the opportunity and attacked him. I ran up on him, and I body slammed him," Banks said.
He said he heard the shot and felt a burning sensation from the bullet entering his body. Komeh ran off with the empty pistol, and Banks said he told the driver to leave because he didn't want her to be caught up in the situation. Walz said Delgado had hid under a camper in the neighbor's driveway until the confrontation was over.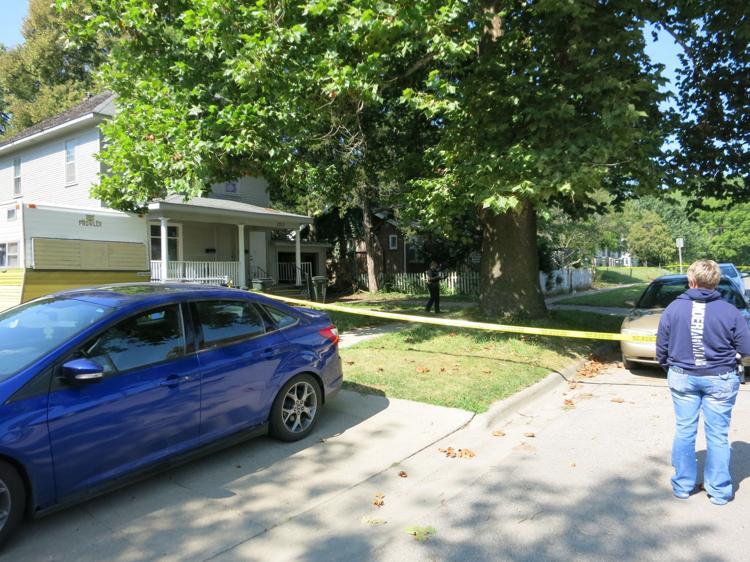 Banks was unconscious in an Iowa City hospital for a few days following the shooting. The single bullet had destroyed a kidney, and doctors had to restructure his kidneys.
Police found the magazine in the house but haven't been able to locate the weapon.
Under cross examination, defense attorney Cory Goldensoph asked Banks if he was the one with the handgun, noting Banks also had a felony conviction that prevented him from legally handling firearms. He asked if Banks had given the gun to the driver.
Banks denied he had the gun.
Goldensoph also asked why Banks had waved off the driver when she could have called 911 or could have driven him to a hospital. He noted that law enforcement was never able to locate the driver to get her account of the incident.
Banks said he didn't know how to contact her.
During opening statements, Goldensoph said Delgado initially told police that she didn't know who shot her brother.