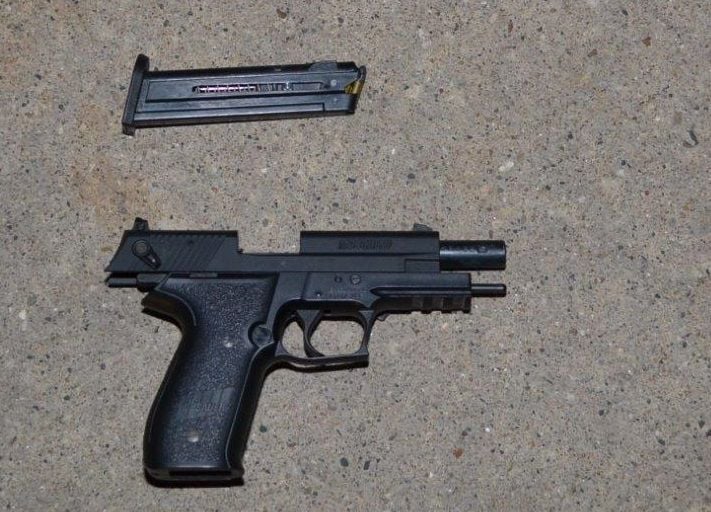 WATERLOO | A Black Hawk County jury has found a Cedar Rapids man -- who is a person of interest in an unsolved Waterloo homicide -- guilty of unrelated drug and gun charges Thursday following trial.
Queshandis Ramon Seals, 19, formerly of Waterloo, was convicted of possession of marijuana with intent to distribute in proximity to a school while in possession of a firearm and carrying weapons.
Waterloo police said the gun, a .22-caliber Sig Sauer, had been reported stolen in a home burglary about three months before it was found with Seals, but jurors acquitted him of charges of trafficking stolen weapons and fourth-degree theft.
Sentencing will be at a later date.
The charges stem from a July 4, 2014, incident where officers with the Waterloo Police Department's Violent Crime Apprehension Team approached Seals about 12:03 a.m. after he walked across West Fourth Street against the crossing light, causing a car to brake to avoid hitting him.
Court records state the officers recognized Seals when they made contact with him.
"Officers recognized the defendant from previous encounters. The defendant is a person of interest in a 2012 homicide," police wrote in a report describing the arrest. Because of this and because of shootings nearby on Locust Street in prior days, officers patted Seals down for weapons, the report states.
Police found the pistol in a pocket -- it had an empty chamber and four rounds in the magazine -- and a bag of marijuana in a cargo pocket. During an interview with police, Seals admitted to selling marijuana and paying $160 for the gun, the report states.
The unsolved homicide didn't come up during trial after the defense filed a motion to keep information about it from reaching the jury.
Authorities declined to discuss the slaying, and the report doesn't provide any further details. But records show that in January 2012 Seals had lived in a home in the 500 block of Sumner Street. On Jan. 5, 2012, Martavious Taveros Johnson, 17, was shot and killed in the 500 block of Sumner.
Johnson had been dropping off his sister's boyfriend when a group down the street began yelling. After briefly talking with people in the group, Johnson turned to climb into a vehicle and was shot once, according to witnesses.
Police searched Seals' home, but Seals wasn't arrested in connection with the Sumner Street incident, and no one has been charged with Johnson's slaying.
The Sig Sauer had been stolen during an April 2014 burglary at a home on William Drive. In all, 28 handguns, rifles and shotguns were swiped from a gun safe while the residents were on Easter vacation.
Workers with a cleaning service discovered the break-in. Four teens were taken into custody for the theft, and Darrius Redd was arrested for receiving some of the stolen weapons in exchange for drugs.