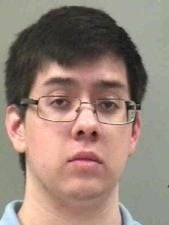 WAVERLY – Bond has been set at $100,000 for a Minnesota man accused of groping Wartburg College students while they slept in 2018.
Authorities arrested Bryan Patricio Malone, 22, of Minneapolis, on charges of first-degree and third-degree burglary, third-degree sexual abuse, and two counts each of assault with intent to commit sexual abuse and second-degree burglary. He was also arrested for one count of fourth-degree theft.
Malone had been a Wartburg student at the time of the incidents, and he was suspended from the school when suspicions turned to him, according to Waverly Police, who investigated the case.
He returned to Minnesota where he lived with his parents, police said. Formal charges were drawn up in November at the close of the investigation, and he was detained on the arrest warrant in Minnesota in early January and was later returned to Iowa.
The charges stem from a series of crimes in the early morning hours of Feb. 4, 2018, when Malone -- who lived in another building at the time -- allegedly used his Wartburg ID to enter Grossman/Lohe Hall around 2:50 a.m. and then "passed out" in the commons area. Other students noticed him slumbering around 4 a.m. and snapped photos, according to court records.
Around 6:15 a.m., one woman awoke to a man groping her groin and buttocks, and the assailant fled when she sat up, according to court records.
Another woman told police she awoke to someone stroking the back of her thigh at about 6:45 a.m., and she briefly followed the intruder when he left and got a description of his clothing.
Around 7:30 a.m., a third woman reported feeling someone touch her upper thigh as she slept and rolling over to see a man in her bedroom. At first she thought she was dreaming, but she saw the man again later when she walked down the hall to use the restroom, according to court records.
Authorities allege Malone also visited an unoccupied dorm that morning where he took $300 in cash and left a semen stain on a bedroom comforter. That intrusion wasn't discovered until the following morning when the victim returned and discovered the cash was missing.
The victims identified Malone through photos, and his DNA matched the semen stain authorities collected from the comforter, according to court records.