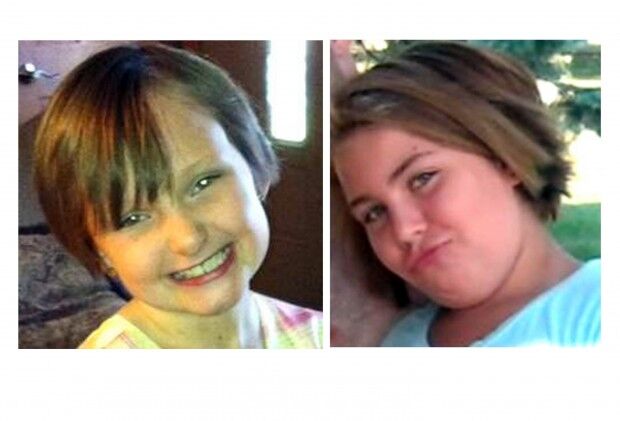 EVANSDALE | It's been three years since Lyric Cook-Morrissey and Elizabeth Collins disappeared while riding their bikes in Evansdale and were later found dead.
No arrests have been made in the case, and no arrests appear to be in the works.
Still, interim Evansdale Police Chief Jeff Jensen pauses when asked if their deaths are a cold case.
"I don't want to consider this a cold case because we are still actively working on it. Nobody has put it on a shelf and said we're done with this. … We're still scratching for every little lead we can get," Jensen said.
Since the cousins -- Elizabeth, 8, and Lyric, 10 -- disappeared in 2012, the investigators have been interviewing witnesses, sorting through leads and revisiting evidence.
"There is always something to do, always something to check into, always something to look at," Jensen said.
One investigator still works the case on a full-time basis, and others assist as needed to track down leads. Once a month, there is a meeting.
"We still have investigators' meetings and talk about who, what, where. Everybody comes together and discusses everything that they know. There are recent updates that come in," Jensen said.
The latest push for public help came in February, when authorities shifted the focus to Seven Bridges Wildlife Area in rural Bremer County, which is where the girls' remains were found. The once popular 125-acre park on the Wapsipinicon River has been a remote backwoods for years.
It's not something a person just stumbles upon, and law enforcement asked the public for information about people who might be familiar with the location.
"We actually got quite a few tips off of that. We are following up on them. It's a never-ending process," Jensen said. "Do we get a lot of tips that are not going to go anywhere? Yes. Do we follow up on those? Yes, because we are looking for everything and anything that can possibly help solve this case."
Lyric and Elizabeth were last seen riding their bikes in downtown Evansdale around 12:15 p.m. July 13, 2012. Family members started to look for them around 2 p.m. when they failed to come home. They called police at 2:48 p.m.
Firefighters found their bikes next to the trail on the far end of Meyer's Lake at 5 p.m. Elizabeth's purse was about 25 feet away on the other side of a fence.
The search that ensued included infrared-equipped aircraft, FBI dive teams, cadaver and scent evidence dogs and automated phone alerts. Hundreds of volunteers scoured nearby wooded areas as investigators visited local sex offenders and followed sanitation crews as they collected trash.
Investigators said they received information about an old, white full-sized sport utility vehicle parked near Arbutus Avenue, which is near the lake's back corner.
Hunters found the girls' remains about 12:45 p.m. Dec. 5, 2012, at Seven Bridges Wildlife area. The causes of death remain sealed.
Rewards are still being offered for information in the case.
A $150,000 reward, raised privately and by the FBI, is available for information leading to an arrest and conviction in the case.
On top of that, Cedar Valley Crime Stoppers has a $20,500 reward for anyone coming forward with information that simply leads to an arrest.
Anyone with information on the case is asked to call the Evansdale Police tip line at 232-6682 or Cedar Valley Crime Stoppers at (855) 300-8477.