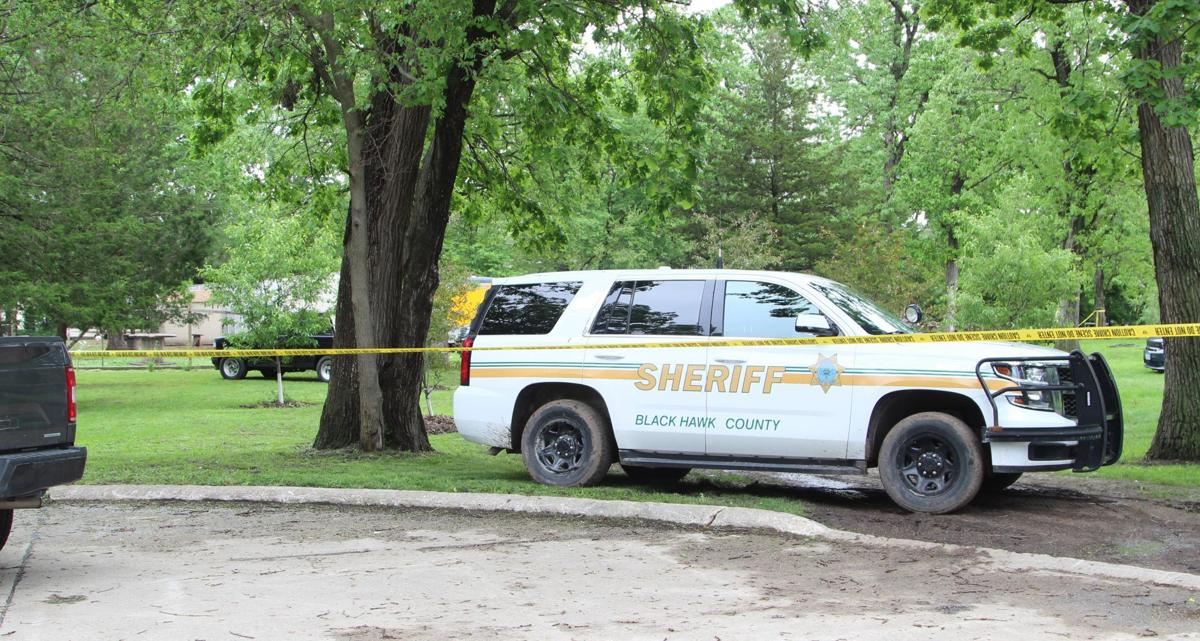 WATERLOO — Authorities were looking for Mitchell Allen Mincks for weeks before his girlfriend and her stepfather disappeared from their Chino Valley, Ariz., home in late April.
Prosecutors obtained a warrant for Mincks' arrest April 1, although the reasons remained sealed until after the bodies of Elissa Landry, 28, and David Batten, 45, were found buried in her Subaru in an undeveloped lot on an Evansdale cul de sac in May.
No one has been arrested for killing Landry and Batten, but Chino Valley police describe Mincks as a "person of interest" in the case, and court records allege Mincks' father helped Mincks bury the bodies with an excavator.
Court records obtained by The Courier show Mincks, 25, was starting to run afoul of his supervised release — a probation program that follows federal prison sentences — before the slayings. The former Waterloo resident had moved to Arizona in June 2019 after serving time for a firearm charge.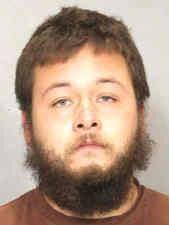 After about a month of freedom, Scottsdale, Ariz., police found a pill bottle containing marijuana in Mincks' vehicle during a traffic stop July 24, 2019, according to court records. It wasn't clear if he was arrested for the infraction, but federal probation officials learned of the encounter.
Mincks allegedly used marijuana and methamphetamine in August, according to probation records. He then missed drug testing appointments in September, February and March.
Sometime around March 25, 2020, he moved without notifying his probation officer. Two days later, probation officials asked the court for a warrant, saying his whereabouts were still unknown and he was a risk to the community.
Mincks was apparently staying with Landry at Batten's home on Chino Drive. Records indicate Mincks and Batten didn't get along, a fact that wasn't lost on family members.
The last contact anyone had with Batten was the afternoon of April 19 when he texted relatives and talked to his brother on the phone. The following day, family members became concerned because they hadn't heard from him. They went to the house and found the TV on, the cat unfed and Batten's guns missing.
Officers found possible blood stains on the front porch and another stain, still damp, on the living room carpet.
The cushion of a living room chair was soaked in what appeared to be blood, and the amount of blood led investigators to conclude the person who suffered the injury would have needed emergency care, according to court records. Someone had attempted to clean a rug next to the chair.
Investigators also found drag marks and tire impressions that pointed to a body being loaded into a vehicle. There was also a spent shell casing at the home.
Detectives also found a surveillance video of Mincks making purchases at a Chino Valley Circle K convenience store before heading north on Highway 89 in Landry's Subaru.
Cell phones belonging to Batten and Landry were traced and found abandoned along the side of the road on Highway 89 near Drake, Ariz., north of Chino Valley. Investigators said it appeared the phones had been tossed out of a moving car.
Landry's two dogs were later located in Waterloo, some 1,500 miles from Chino Valley, and neighbors spotted Mincks and his father with earth-moving equipment on Timber Oak Road on April 22, court records state.
Arizona authorities put out a missing persons notice for Batten, Landry and Mincks, and on April 28, authorities detained Mincks at a home at the end of Doris Lane. He was arrested on the federal supervised release violation warrant.
The search for Batten and Landry continued in the days that followed. Investigators believed their bodies were in the rugged terrain surrounding Chino Valley and suspected the Subaru was somewhere near Waterloo.
That changed on May 27 when local law enforcement, FBI agents and Chino Valley detectives began searching a small farm at the end of Timber Oak Road and found Landry's Subaru buried with the bodies inside, according to police.
Mincks' father, Allan Thomas Tucker, was arrested for two counts of abuse of a corpse for allegedly helping Mincks bury the bodies.
Mincks has been returned to Arizona to face a probation violation hearing in federal court while other charges are pending, according to Chino Valley police.



PHOTOS: Arizona missing persons
052920jr-timber-oak-search-1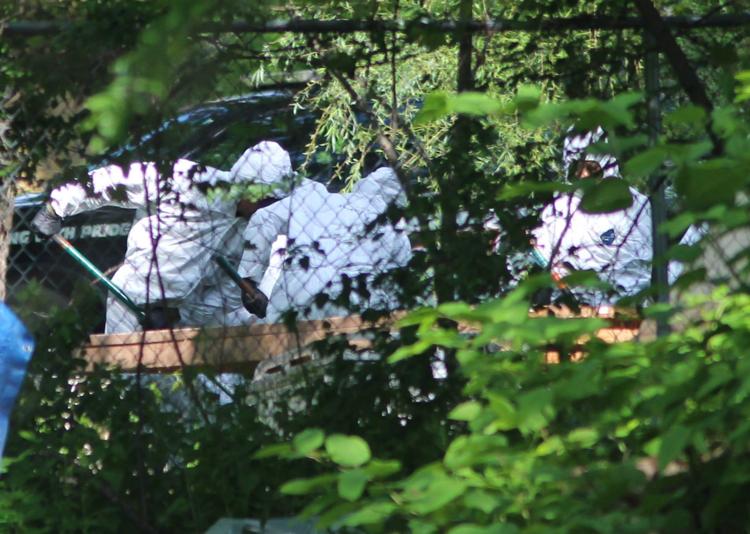 052920jr-timber-oak-search-4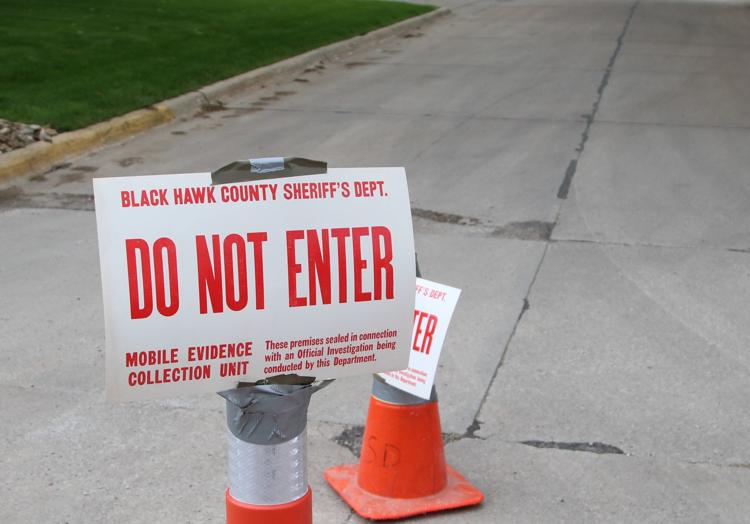 052920jr-timber-oak-search-3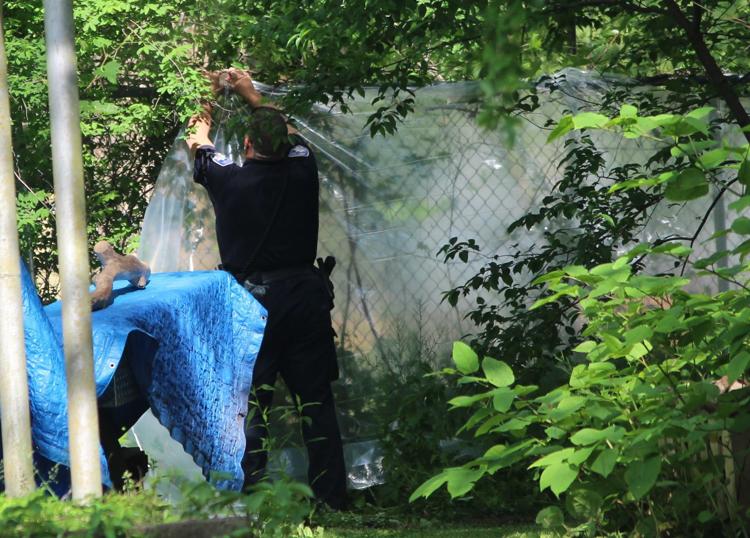 052920jr-timber-oak-search-2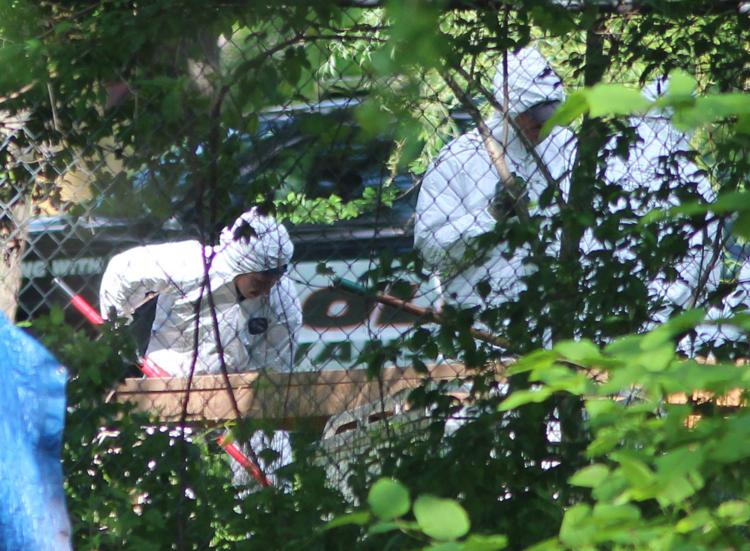 052820jr-timberoak-search-4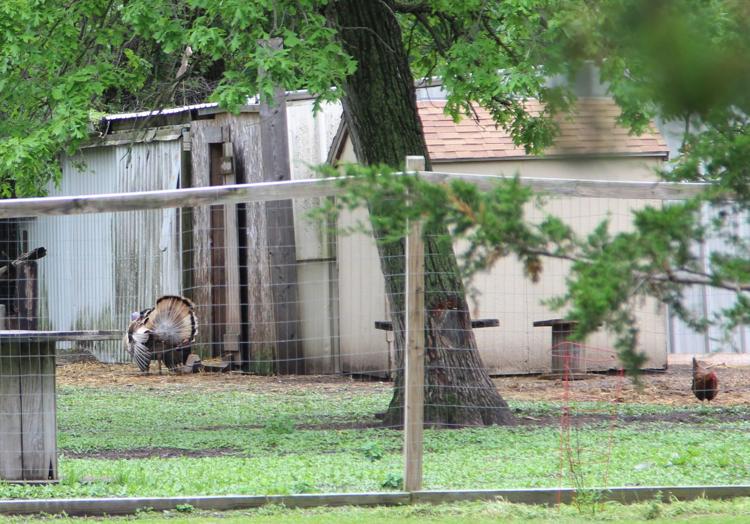 052820jr-timberoak-search-3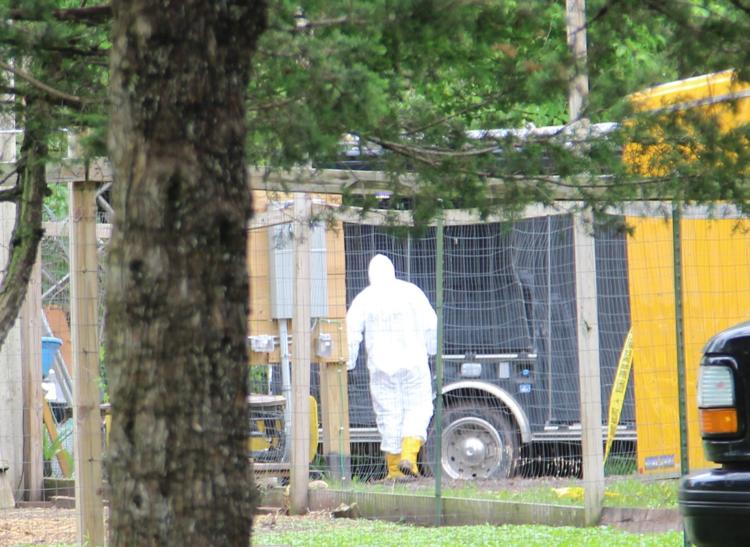 052820jr-timberoak-search-2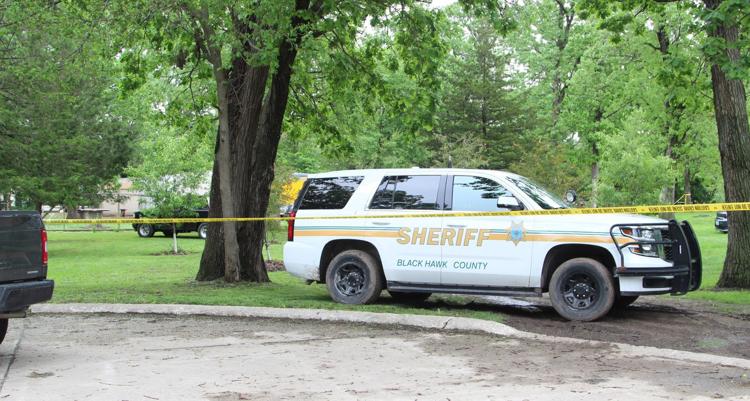 052820jr-timberoak-search-1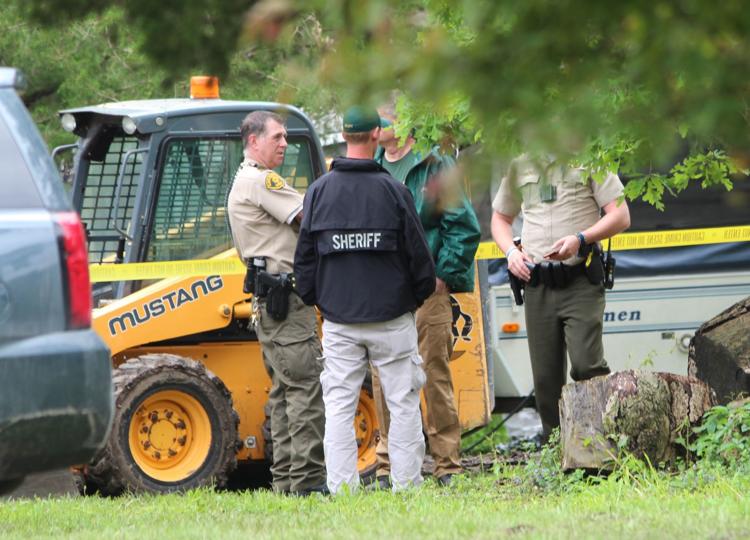 042820jr-missing-search-1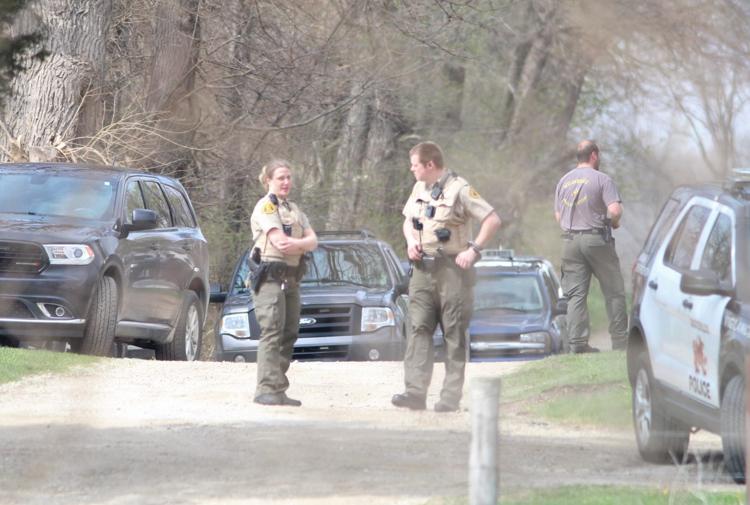 042820jr-missing-search-2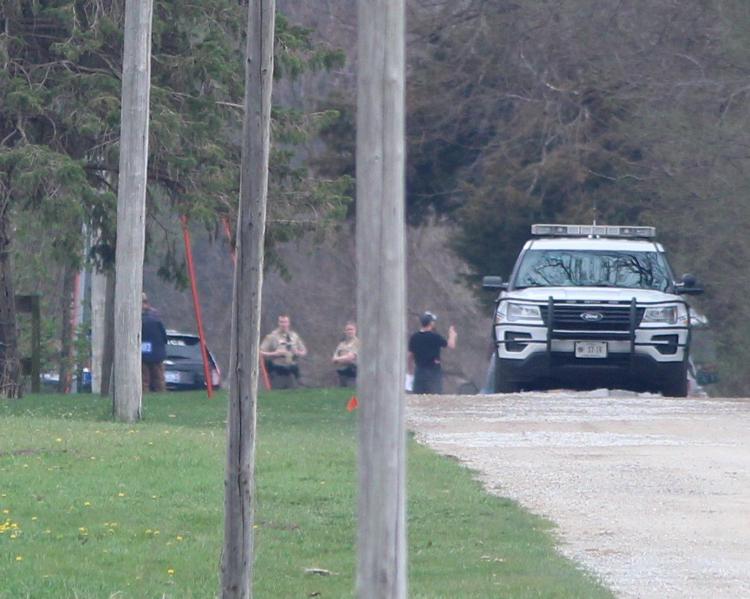 050220ho-car-lake-1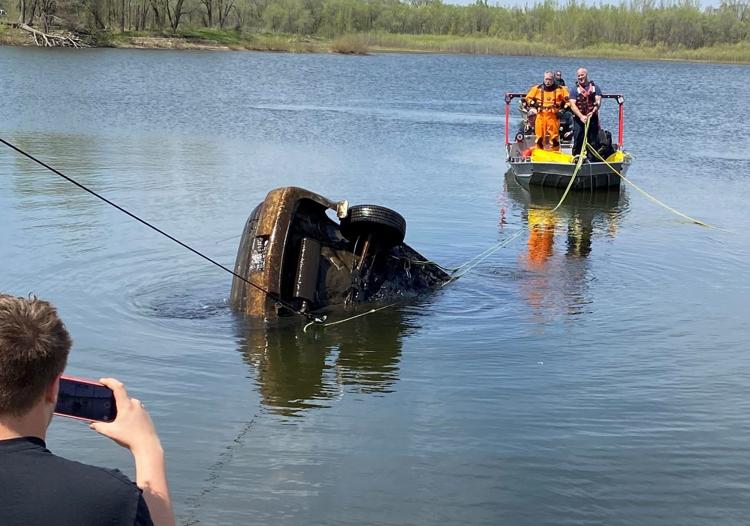 050220ho-car-lake-2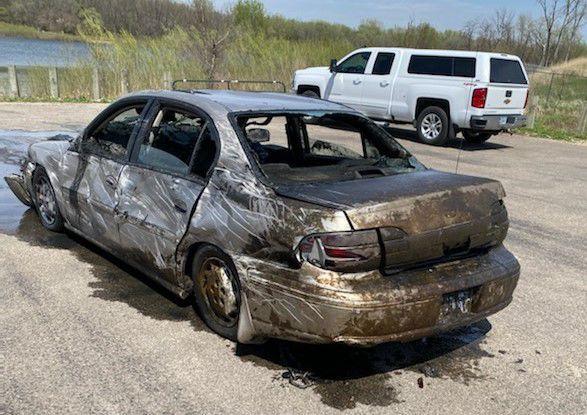 042820jr-missing-search-a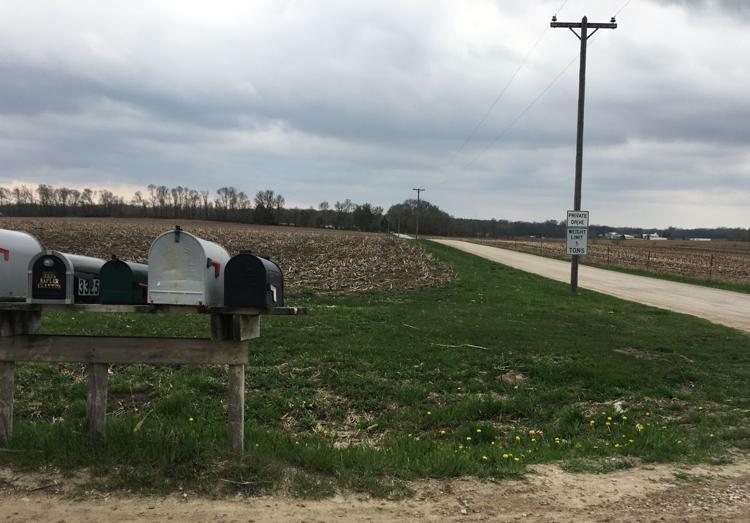 042820jr-missing-search-b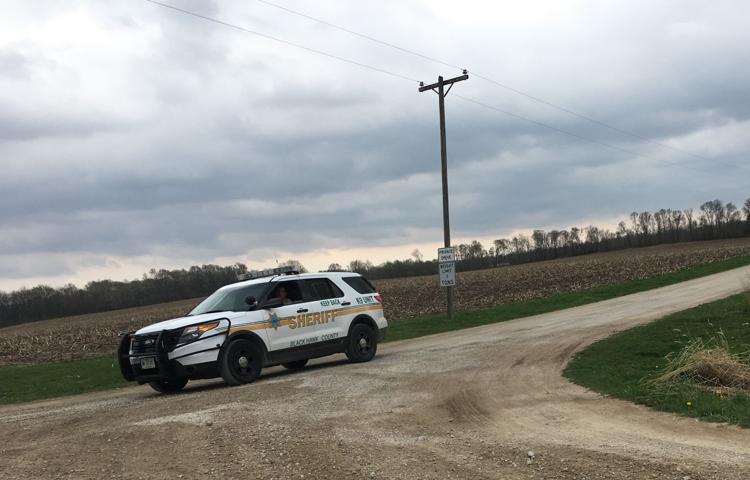 Missing poster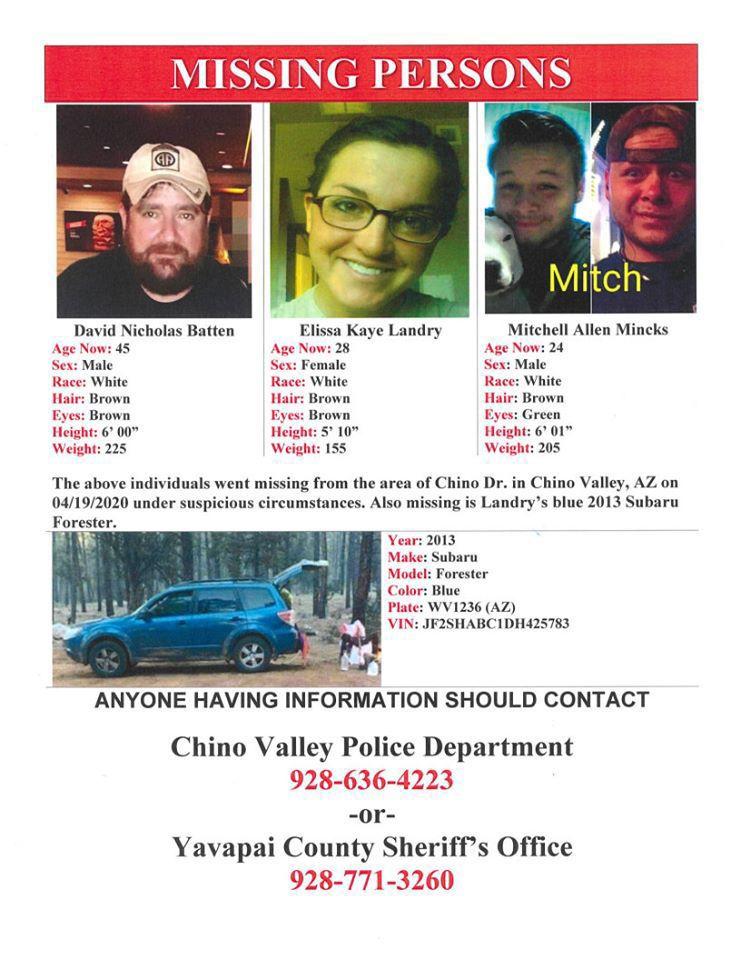 Reward poster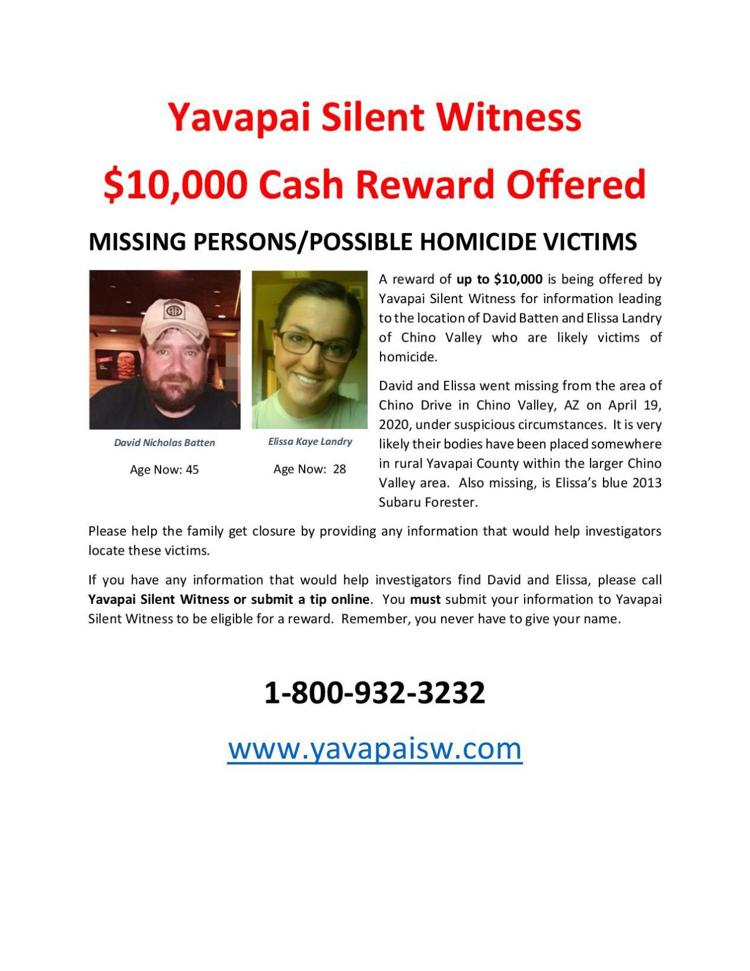 David Batten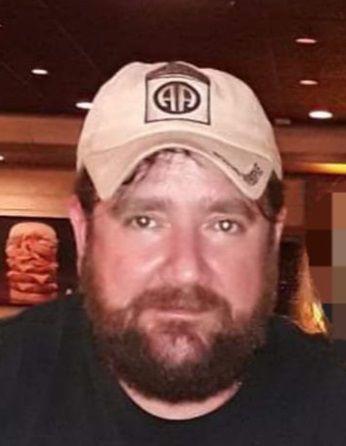 Mitchell Allen Mincks
Mitchell Allen Mincks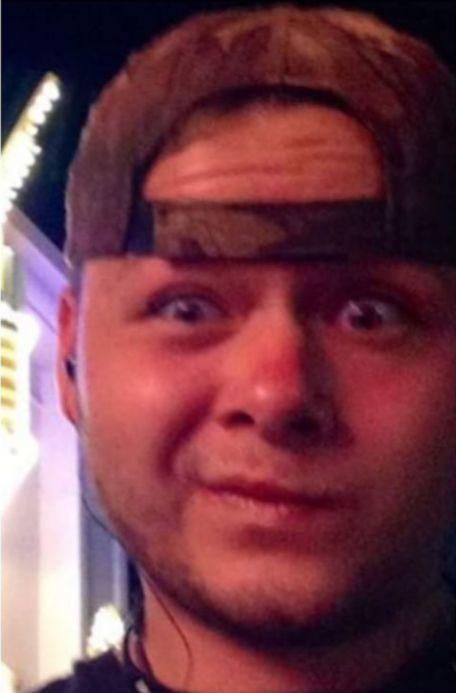 Elissa Landry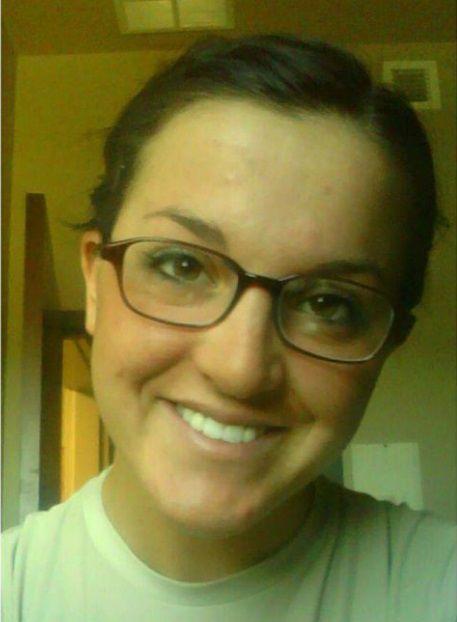 050220ho-car-lake-4

050220ho-missing-arizona-a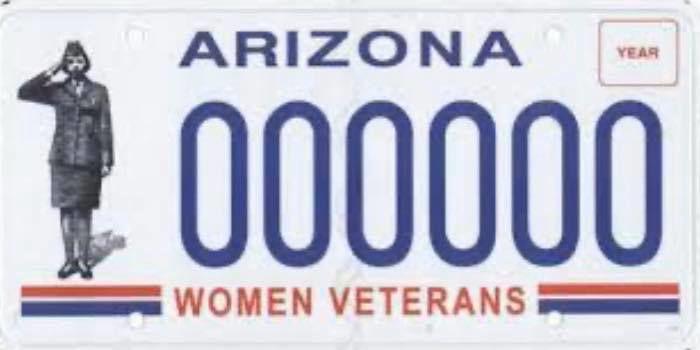 Sign up for our Crime & Courts newsletter
Get the latest in local public safety news with this weekly email.