WATERLOO – A Missouri man has been sentenced to prison after allegedly using a gun to threaten a woman at a Waterloo motel in 2019.
Judge C.J. Williams sentenced Devonner Coleman, age 30, from St. Louis, to eight and a half years in prison on a charge of felon in possession of a firearm Friday in U.S. District Court in Cedar Rapids. He will be on supervised release for three years following his prison time.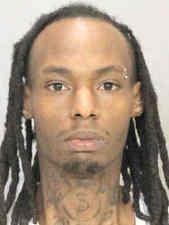 During the hearing, the woman said Coleman showed a gun and told her he doesn't mess with "snitches" while they were at the Motel 6 in Waterloo on May 11, 2019. He also stepped on her foot and yelled at her while she was on the phone with a 911 operator, according to prosecutors.
When Waterloo police arrived, they found Coleman seated in a car in the parking lot. Officers also found a bag with sawed-off .22-caliber Mossberg Plinkster rifle with a grip wrapped in duct tape and several bags of marijuana.
Officers found Coleman's fingerprints on the weapon and the drugs, according to court records.