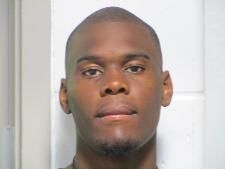 WATERLOO – A fourth person has been arrested in connection with a February home robbery in Elk Run Heights in which numerous firearms were stolen.
According to court records, Dequonterio Jashawn Galloway-Bass had been placed in handcuffs Feb. 23 shortly after police raided his Stardust Drive apartment and found seven of the stolen guns. But as they were headed to the police station, he kicked open a squad car door and ran off, records state.
He remained at large until Monday when police surrounded a home at 705 ½ W. Third St. following a shooting a block away.
Galloway-Bass, 21, was inside the house, and following a brief police standoff, he was arrested for eight counts of felon in possession of a firearm and one count each of trafficking stolen weapons, carrying weapons and first-degree robbery.
He was also charged with escape for fleeing the police car in February.
No arrests have been made in Monday's shooting.
Police allege Galloway-Bass was one of the people who forced their way into a Marie Avenue home in Elk Run Heights on in the early morning hours of Feb. 23. The intruders pointed firearms at the female resident and her children and fled with several firearms from a gun safe.
On Feb. 25, members of the Waterloo Police Department's Violent Crime Apprehension Team executed a search warrant at an apartment at 6111 Stardust Drive and found seven firearms. Officers recovered stolen AR-15 rifles and other guns.
Galloway-Bass left the apartment before police arrived. He was detained a short time later and escaped.
Authorities allege Galloway-Bass had made arrangements to sell the weapons for 10 pounds of marijuana and $3,000 in cash, according to court records.
Two other teens, ages 13 and 15, were charged with robbery in the Elk Run case Monday.
Daymion Eugene Ohrt, 20, of Waterloo and a relative of the victim, was arrested in February for first-degree robbery and conspiracy for allegedly orchestrating the robbery plan.
Also in February, Davon Marcell Oliver, 21, of Waterloo, was arrested for eight counts of felon in possession of a firearm, and a 14-year-old girl also was detained on charges of fourth-degree theft, carrying weapons and trafficking stolen weapons, according to police.



Photos: Guns in Northeast Iowa crime cases(tncms-asset)008a5a44-0fd1-11ea-bd86-00163ec2aa77[1](/tncms-asset)