CEDAR FALLS — The use of monoclonal antibody therapy has been a game changer for more than 20 residents at Western Home Communities who tested positive for COVID-19 and who are at high risk for becoming seriously ill.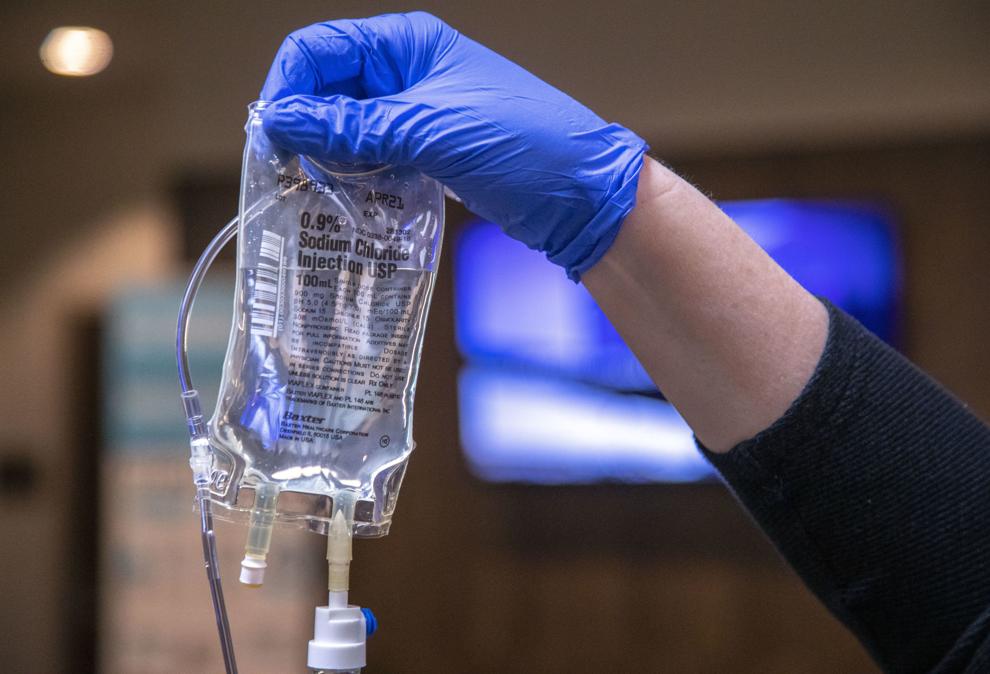 The intravenous therapy, which received emergency use authorization from the FDA in November, was administered to prevent hospitalizations, lessen symptom severity and spur recovery.
"When I first read about these products coming on the market and the FDA's emergency use authorization, it seemed really reasonable. Monoclonal antibody treatment is a form of passive immunization, which isn't new. The technology has been around for a long time, and giving antibodies has been used in other aspects of medicine," said Dr. Richard Frankhauser of Cedar Falls, medical director at Western Home Communities.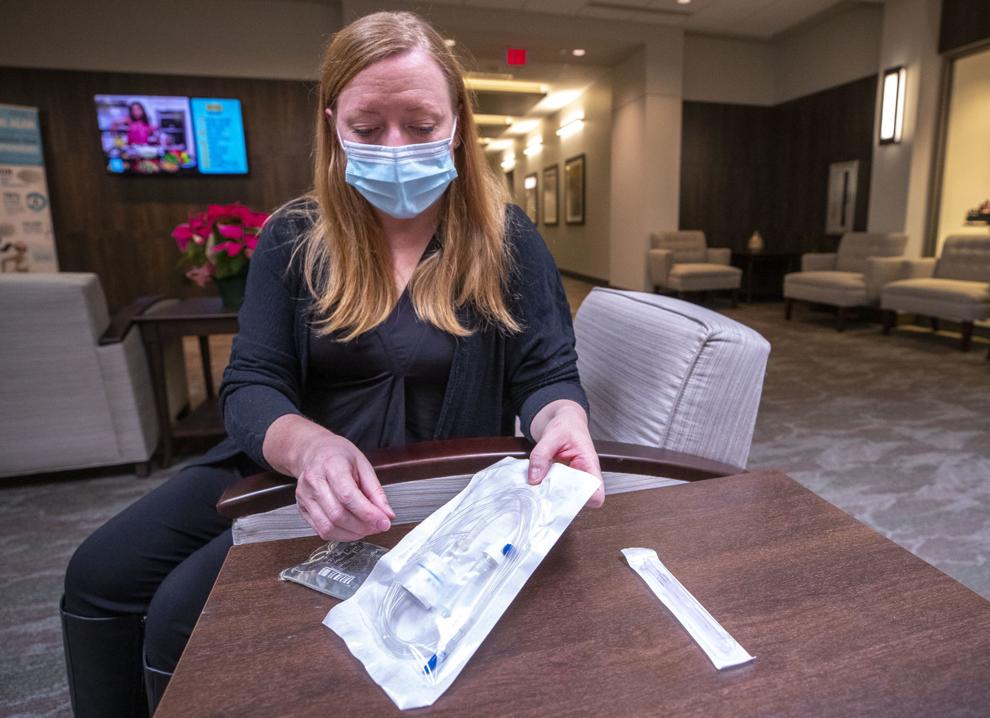 Since the pandemic began, approximately 71 residents at Western Home Communities have tested positive for COVID-19. That is 6.4% of more than 1,100 residents.
"Iowa has had 10.4% of its population test positive, and I believe the national average is 9% of all Americans have tested positive. For such a contagious virus that targets older adults, we're thankful that a lot of vigilance and extra effort helped keep our residents safe," said Linda Bowman, chief communications officer.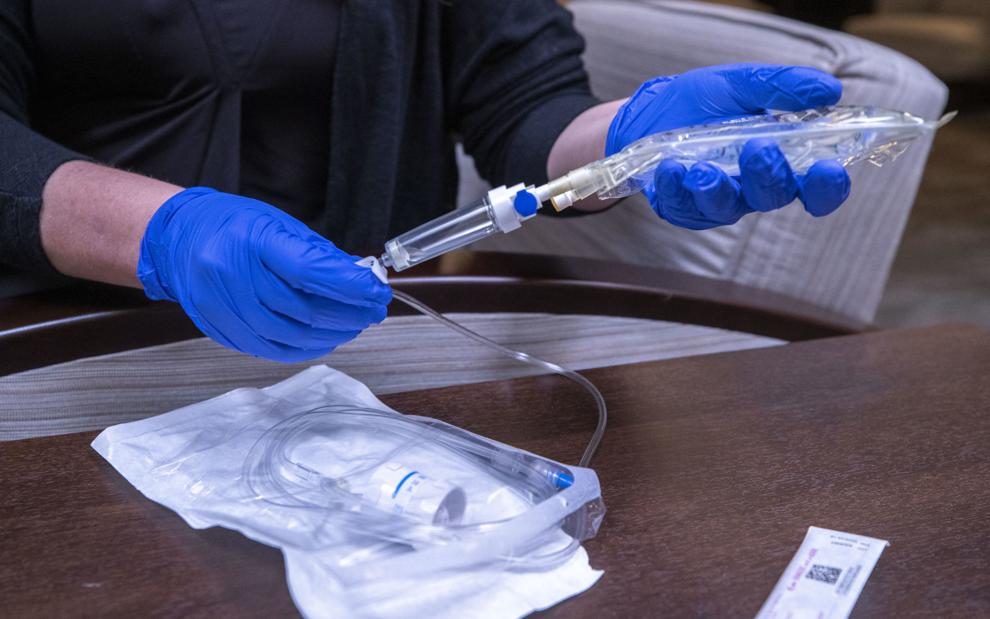 Monoclonal antibody treatment is authorized by the FDA to treat patients "who have tested positive in the last 10 days at high risk for progressing to severe COVID-19, or who are age 65 or older, or who have chronic medical conditions." Former President Donald Trump and former New Jersey Gov. Chris Christie received monoclonal antibody treatments when they tested positive for COVID-19 last year and had speedy recoveries.
It's good news for residents at long-term care facilities and retirement communities because until now, no specific treatment has existed for COVID-19. "This is the first time we've had anything to use to treat people. Between the antibodies and vaccines now available, it's really a game changer. Hopefully, it turns a corner for all of us," said Wendy Ager, Western Home Communities system regulatory and compliance officer.
Western Home has vaccinated almost everyone twice. All assisted living and nursing home residents have had their second vaccinations. In independent living and villas, residents had their first doses Feb. 17 and all second shots will be done by March 10.
Antibodies are naturally produced in the body to combat infections. Monoclonal antibodies are laboratory-made proteins administered to patients through an infusion. Bamlanivimab or a combination of casirivimab and imdevimab attack the spike protein of SARS-CoV-2, said Dr. Frankhauser. These antibodies work by blocking the virus' attachment and entry into human cells, according to the FDA.
The therapy is most effective when given as early as possible after diagnosis, Frankhauser said, even before symptoms develop. For high-risk patients with less severe symptoms, trials have shown that it helps prevent disease progression that could lead to hospitalization. Monoclonal antibody treatment is not authorized for patients who are already hospitalized with COVID-19 or require oxygen therapy for COVID-19.
"If you can drop hospitalization from 10% to 2%, which the information indicated, I thought it was worthwhile if we can save an individual from getting severely ill and being hospitalized. About that time, we found out the pharmacy we use had 40 doses available and almost nobody was using them. It seemed like an appropriate next step to take," said Frankhauser.
People are considered at high risk who are 65 and older; have a body mass index above 35; are at least 55 and have heart disease, high blood pressure, a chronic respiratory disease, chronic kidney disease or diabetes; or who have an immunosuppressive disease or are receiving immunosuppressive treatment.
Western Home's RightDose long-term care pharmacy director had to ask the state for access because it had been originally distributed to hospitals, "even though it's a treatment you can't get in the hospital — it's to keep you out of the hospital," Bowman explained.
Frankhauser said patients and families have been receptive and well-informed about the treatment as an option. A doctor's order is required to administer the infusion.
The majority of bamlanivimab infusions were administered in-house around Christmas. The process took two hours – one hour for the infusion and one hour of observation following the infusion, in case of an allergic reaction. New protocols have now made it possible to administer antibodies in 30 minutes, said Frankhauser.
Monoclonal antibodies are different from COVID-19 vaccines being administered nationwide. A vaccine is designed to activate immunity by introducing a dead or weak virus into the immune system, triggering an immune response. Antibody treatments give the body antibodies to protect itself.
After receiving treatment, Frankhauser said, patients must wait 90 days before receiving a COVID-19 vaccine. If the patient has already received their first dose of vaccine before monoclonal antibody therapy, the CDC guidelines recommend waiting 90 days before receiving the second dose.
Frankhauser has been pleased at how well patients responded to treatment. "And as far as COVID-19 goes, we're in pretty good shape right now. You do what you can do to prevent people from getting sick, and that's an extremely difficult task. It's been a difficult time for everyone."