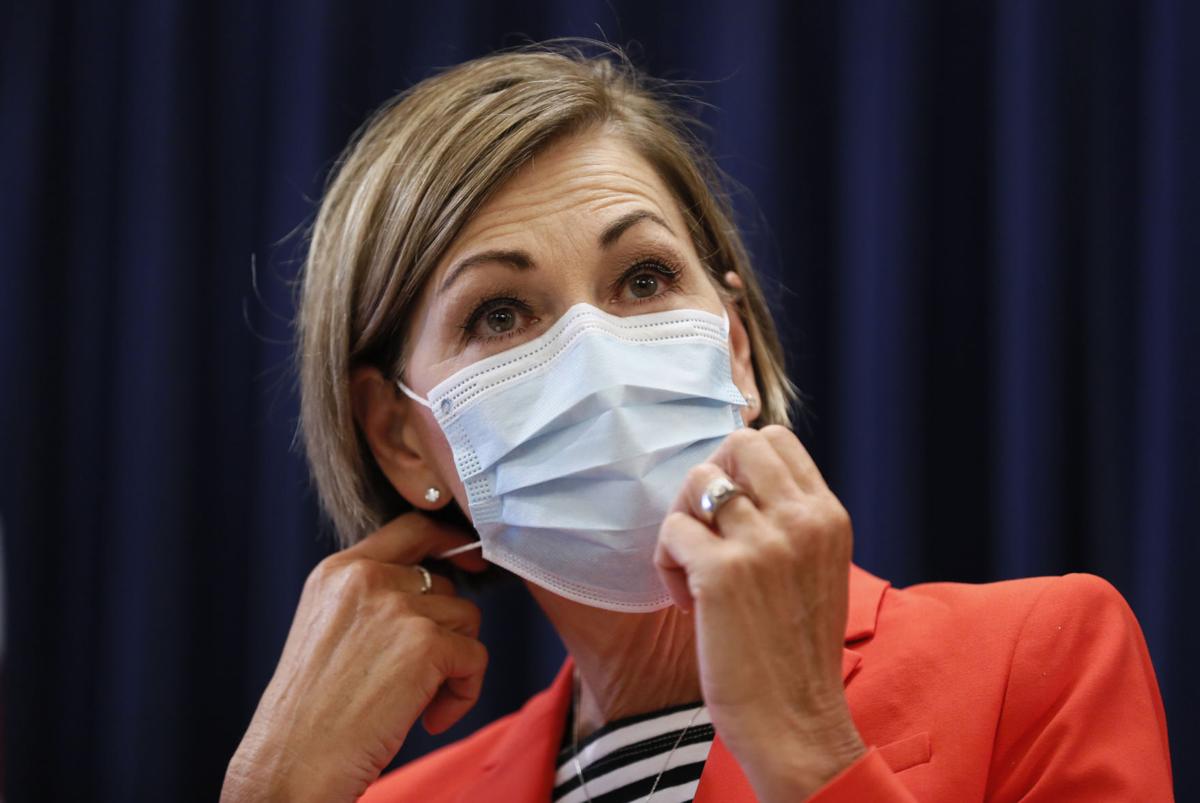 DES MOINES — The first cases of the new coronavirus were confirmed in Iowa six months ago today, and a half-year in, the global pandemic continues shows no signs of slowing here.
More than 1,100 Iowans have died of virus-related causes, and new cases have been surging in recent weeks, making the state one of the nation's hot spots.
On the half-year anniversary of the pandemic's first appearance, here is a timeline of the coronavirus and COVID-19, the disease it causes, in Iowa:
March 8: First cases
The first cases of the new coronavirus in Iowa are confirmed. Three individuals, all from Johnson County, test positive for the virus. All three were passengers on an Egyptian cruise ship on which there had been a breakout.
"I want Iowans to know that I am confident that we are prepared, that we take this situation seriously and we will manage it responsibly," Iowa Gov. Kim Reynolds says at a news conference that Sunday evening.
March 11: Colleges close
Iowa's three public universities — the University of Iowa, Iowa State University, and the University of Northern Iowa — announce they are suspending face-to-face instruction and moving to all online instruction for at least two weeks.
March 15: K-12 schools close
Reynolds recommends K-12 schools close for at least a month, citing the evidence of community spread of the virus. On April 2, she extends the school closures through at least the end of April. On April 17, Reynolds announces schools will remained closed through the end of the school year.
"Believe me, I would like nothing more than to stand before you today and announce that Iowa will be open for school in May," Reynolds says. "I regret to say Iowa schools will not reopen for this school year."
March 17: Businesses close
Reynolds orders the closure of many Iowa businesses, and says social gatherings must be limited to 10 or fewer people. The business closures include restaurants, bars, fitness centers, adult day cares, and casinos.
"These are unprecedented times, and the state of Iowa will do whatever is necessary to address this public health disaster," Reynolds says. "I have authorized all available state resources, supplies, equipment and materials to combat the spread of COVID-19. The actions taken today are necessary to protect the health and safety of all Iowans, and are critical to mitigating the spread of the virus."
Five days later, Reynolds expands her order to salons, barber shops, tattoo parlors, and swimming pools.
She does not issue a statewide shelter-in-home order, something that other states — including neighboring Illinois — have issued and many medical and public health experts call for.
"At this point we're going to continue to re-evaluate every day, we'll sit down with the (Iowa) Department of Public Health, we'll look at the (federal) CDC guidelines, we'll look at what's happening in other states, and we'll evaluate what we're seeing in the state of Iowa, where the hot spots are, and we'll make that decision going forward," Reynolds says. "But right now we're not at the place where we're ready to implement that (shelter-at-home) order."

The first Iowan to die from COVID-19-related causes is confirmed. The individual's name is not publicly released, but is confirmed to be an adult from Dubuque County between the ages of 61 and 80.
"Our hearts are heavy with the first loss of an Iowan to COVID-19. The thoughts and prayers of our state are with the family during this difficult time," Reynolds says.
March 26: Unemployment soars
State unemployment claims soar to nearly 41,000 and the state pays out more than $10.6 million, providing a glimpse of the toll the quarantine is taking on Iowa businesses. Accommodation and food services, health care and social assistance, education services, and retail trade were the most impacted sectors, according to the state.
April 14: Packing-plant outbreaks
The state confirms 86 cases tied to an outbreak at a Tyson food plant in Columbus Junction. The plant closes temporarily to deal with the outbreak.
It is one of many outbreaks that will occur in packing plants over the coming weeks and months across the state. At least eight plants across the state experience state-confirmed virus outbreaks, infecting thousands of Iowans.
April 15: Testing expansion
Using federal pandemic assistance funds, the state enters into a $26 million contract with Nomi, a Utah-based private health care company, to provide 540,000 COVID-19 tests over the next five months.
"As Iowa and the nation prepare to reopen, the ability to conduct large-scale assessment and testing is critical to understand how prevalent this disease is and how it's evolving," Reynolds says. "The amount of data available will help us start to control the virus while making evidence-based decisions about how to ease the restrictions that have impacted our daily lives, and begin to open up our businesses in a safe and responsible manner."
The program gets off to a rocky start with initial demand making hit hard to get a test, and many Iowans saying they are forced to a week or more for results.
April 20: Expert warnings
In a letter to the governor and state leaders, University of Iowa health researchers project the state could see between 263 and 711 virus-related deaths by June 1. The state confirmed 535 virus-related deaths by June 1.
Those researchers also warn the governor there is "considerable uncertainty" over COVID-19 projections in the state, and that "prevention measures should stay in place."
April 24: Reopening begins
On a day when the state has its highest numbers yet of virus-related deaths and cases, Reynolds announces she is lifting restrictions on businesses. Hospitals are allowed to resume elective surgeries, and farmers markets are allowed to reopen.
"This is our first step of many to re-opening Iowa and getting life and business back to normal as soon as possible," Reynolds says. "It will be done in a responsible and a safe manner, but we are at a place where it's time to start having that discussion."
Three days later, Reynolds declares some businesses can reopen in 77 counties where the virus is not as active, according to state public health data. Restaurants, malls, libraries, race tracks, fitness centers and other retail businesses are able to reopen with social distancing measures in place.
Campgrounds, drive-in movie theaters, and tanning facilities are permitted to reopen, as Reynolds continues to loosen restrictions on businesses.
A week later, in the biggest lifting of restrictions on businesses yet, Reynolds declares restaurants, malls, fitness centers, and other retail establishments may reopen. The order leaves bars, movie theaters, casinos, and amusement parks among the few businesses still required to be closed.
On the day of this announcement, May 13, the seven-day average of new reported virus-related deaths in Iowa is at its highest point yet (12.4) of the pandemic.
Reynolds says she is comfortable allowing most businesses to open because the state's health care system has been able to handle the pandemic without becoming overwhelmed, and because virus activity is trending downward any many areas of the state, according to the administration's data.
"These positive signs give me confidence that we're on the right path and we're ready to take additional steps forward," Reynolds says. "We can and must reopen our economy. We can restart in a stable, safe and responsible way. And we can slow the spread, protect the health of Iowans and their livelihood, and protect the health care system in the long run."
May 31: Deaths increase
The number of deaths in Iowa during May jump 18% over the previous May, according to federal data. That increase helps quantify the severity of the pandemic's impact, public health experts say.
June 25: Cases surge
The seven-day rolling average of new hospital admissions hits its low-water mark of the pandemic: 14.1. Five days later, the seven-day average for total virus-related hospitalizations hits its low mark, 131.1, and another week later, the seven-day average for new daily deaths bottoms out at 1.7.
From there, all numbers rise steadily, a second rise after the pandemic's initial wave. Those increases have continued through the present day. Those seven-day averages are now 43.6 new hospital admissions, 312 currently hospitalized, and 7.9 new daily deaths, as of Sunday.
July 16: White House weighs in
The White House task force on the national pandemic response issues a state-by-state report, and it says Iowa should require face coverings be worn in public in at least 47 counties where the virus' spread is worst. Future reports recommend the same, with the number of counties increasing. By the September report, the task force "strongly" recommends a statewide mask mandate.
Reynolds throughout the pandemic has resisted issuing a statewide mandate that Iowans wear face coverings in public, largely because she says she believes such a requirement would be difficult to enforce. She also orders that counties and cities cannot issue their own face mask mandates.
July 30: School requirements
Reynolds and the state education department publish education requirements for the coming 2020-2021 school year. Included is a requirement that any school district that wants to go entirely online must be in counties with 15% positivity rates and must get clearance from the state.
Many educators, including the state's largest public teacher union, express frustration with the edict. Some districts, including some of the largest in the state, had planned on starting the school year with 100% online instruction.
"Education is fundamental to the well-being of our children and our teachers are essential to ensuring that our school kids return to learn rather than mark time and lose ground," Reynolds says. "And I know that together we can do this safely and responsibly."
Eventually, the union and the Iowa City school district sue the state over the order.
August 17: State data glitch
The state acknowledges a data glitch in its COVID-19 data reporting system: some infections are mistakenly dated months earlier. The state later says some results for Iowans who have been tested multiple times erroneously were dated to the time of their first test.
State officials later say they knew about the glitch for weeks, and that they have fixed the data errors, and that most counties saw very little change in their rates of positive tests. Some counties did see significant changes.
The glitch only became public after being uncovered by journalists.
August 27: Closing time
With new cases spiking — driven by young Iowans, specifically college students who have returned to campus for the fall semester — Reynolds orders bars and night clubs closed in six counties, including those that house the state's largest three universities.
They are the first public health orders that re-impose restrictions on businesses since Reynolds began loosening those restrictions in late April.
September 1: Iowa ranks worst
Iowa's new cases per population are the highest in the country, almost triple the national average, and the state's rate of positive tests is fifth-highest in the country, according to the latest White House task force report.
Today: A grim six months
On the six-month anniversary of the first confirmed cases in Iowa, COVID-19 continues to have a strong presence here. As of Monday, nearly 1,200 Iowans have died of virus-related causes, and there have been more than 70,000 confirmed cases in the state.
Get local news delivered to your inbox!
Subscribe to our Daily Headlines newsletter.