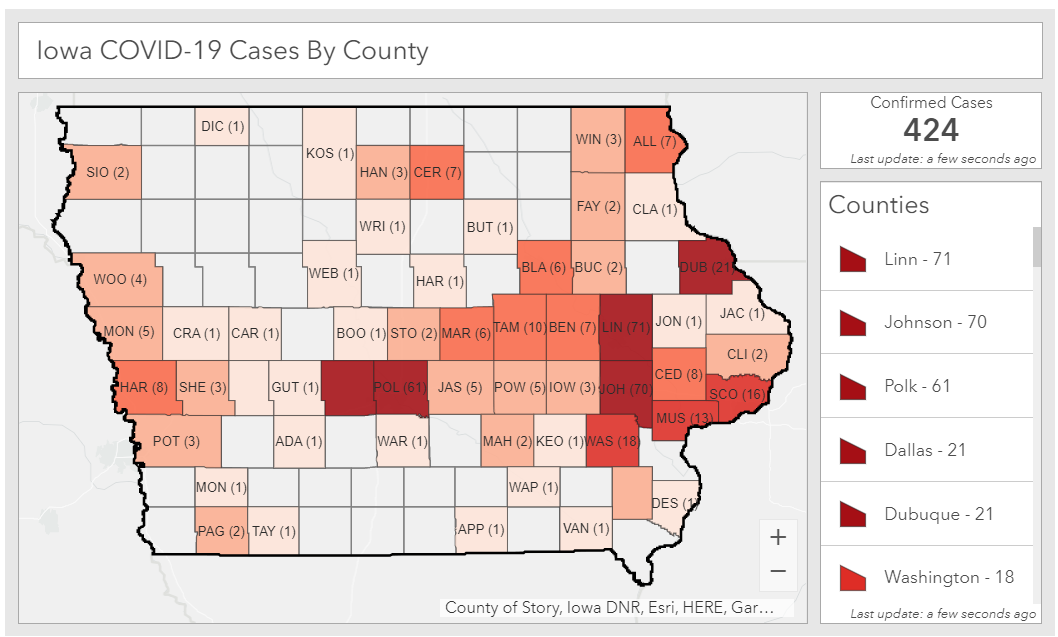 CEDAR RAPIDS (AP) — An outbreak of the coronavirus at a Cedar Rapids long-term care facility has infected 21 people, officials said Monday, as the state reported its biggest single-day jump in cases at 88.
The outbreak contributed to a recent surge of infections in Linn County, which Monday became the county in Iowa with the most cases.
Linn County Public Health spokeswoman Heather Meador would not identify the facility, saying that could jeopardize the privacy of its residents. She said public health officials are working with the facility's corporate owner to monitor the situation, including the health of residents and safety of employees.
"We are in daily communication so we can help the facility and the residents through this crisis," Meador said at a news conference.
Gov. Kim Reynolds on Monday announced 88 more Iowa residents have tested positive for COVID-19, the largest single day increase thus far. She reported two new deaths, residents of Linn and Washington counties both over the age of 81. That brings to six the total COVID-19 deaths in Iowa so far.
No new cases were reported in Black Hawk County, leaving the total at six. Tama County tallied another case, an adult between the ages of 18 and 40.
The increase in cases, which brings the state total to 424, comes as the number of tests conducted has also jumped. Health officials expect cases in Iowa to increase for two to four more weeks before peaking.
"The reality is that the end is not yet in sight," Reynolds said. "For now we must adjust to a new normal, one that is uncomfortable, inconvenient and uncertain. And this is not an easy time."
Linn County now has had 71 residents test positive for the coronavirus. Johnson County, which has 70 cases, had been the leader in Iowa since the beginning of the outbreak.
Linn County also had two of Iowa's six virus-related deaths. Meador would not say whether those deaths were linked to the outbreak at the long-term care facility
"The virus is spreading through our community at a pretty good clip," said Linn County Board of Supervisors Chairman Stacey Walker, who urged Gov. Kim Reynolds to issue a shelter-in-place order.
Reynolds has so far declined to do so. She has ordered bars, dine-in restaurants, theaters, casinos and businesses that sell furniture, books and clothing to remain closed until at least April 7 to help limit the virus' spread. Schools have been closed statewide. She said she'll decide later this week whether to extend that emergency order until the new April 30 federal target.
Reynolds, who participated Monday in a conference call with Vice President Mike Pence and other U.S. governors, said the White House expects to issue more guidance for states on the pandemic this week.
"This isn't going to be over in two weeks," she cautioned.
The governor said Iowa still has a significant shortage of personal protective equipment, but she praised "inspiring" businesses for "stepping up" to produce and donate needed items like masks, face shields, gowns and gloves.
Iowa has pending orders for more than 2 million surgical/procedural masks, 500,000-plus N95 masks, 500,000-plus face shields and 250,000 gowns, Reynolds said. There have been 153 deliveries by Iowa National Guard soldiers and others to all Iowa counties.
She said the state will receive at least 15 new mobile testing machines from Abbott Laboratories that can process tests in five minutes, possibly deployed to hospitals and nursing homes.
The Health Department said Monday there have been a total of 6,162 negative tests to date, including 1,149 Monday, which includes testing reported by the State Hygienic Lab and other labs.
Cases have been confirmed in 56 of Iowa's 99 counties. Currently, 51 Iowans are hospitalized with coronavirus-related illnesses or symptoms, while another 23 have been discharged and recovered. Another 203 Iowans who tested positive have not required hospital treatment.
For most people, the coronavirus causes mild or moderate symptoms, such as fever and cough that clear up in two to three weeks. For some, especially older adults and people with existing health problems, it can cause more severe illness, including pneumonia, and death.
Rod Boshart of The Courier's Des Moines Bureau contributed to this report.
Concerned about COVID-19?
Sign up now to get the most recent coronavirus headlines and other important local and national news sent to your email inbox daily.