Nursing is a challenging profession, one that requires great skill, compassion and commitment to extraordinary patient care. This week, National Nurses Week, the Courier honors 10 Cedar Valley nurses who exemplify those traits. On Thursday, they were celebrated at a luncheon at awards ceremony at Diamond Event center.
Sponsors are MercyOne Waterloo, Northeast Iowa Family Practice, Peoples Community Health Clinic, Western Home Communities, Cedar Valley Hospice and Hy-Vee.
Here are the 2019 Cedar Valley Top 10 Nurses.
Eric Alberts explores nursing field as he finishes degree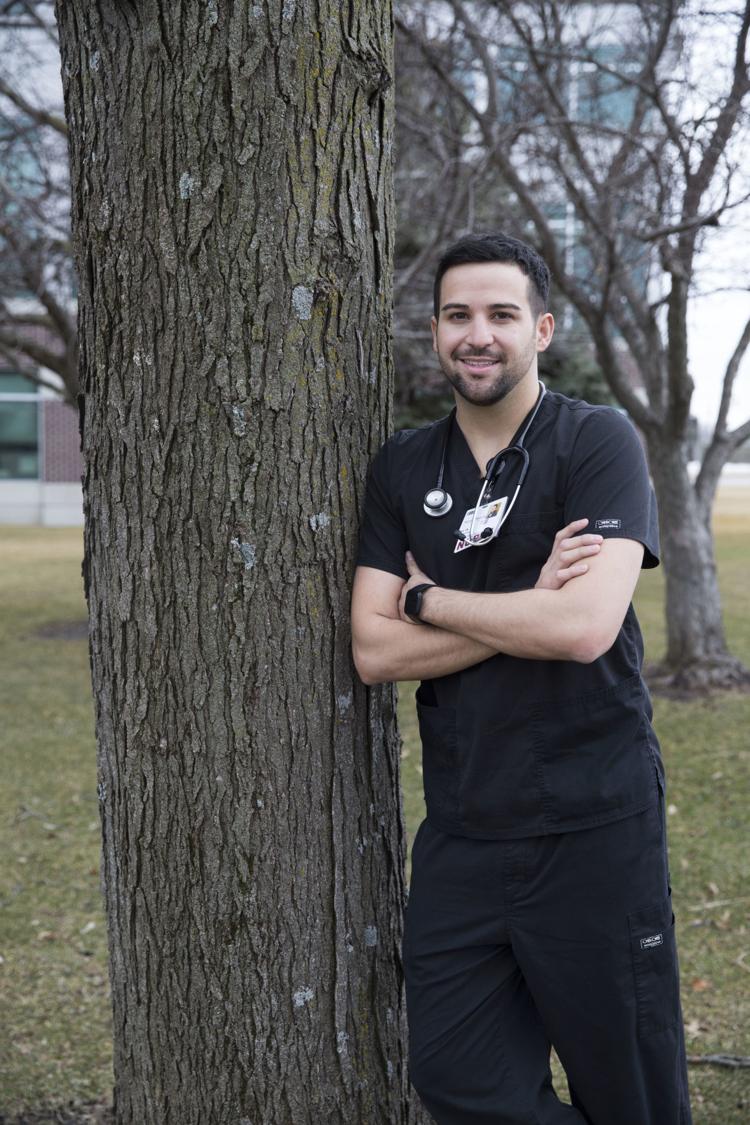 Eric Alberts' life is all about nursing.
On any given day he might be writing care plans for assisted living residents, helping doctors with a patient in surgery or studying for class.
The registered nurse is the clinical services coordinator for Western Home Communities Stanard Family Assisted Living facility in Cedar Falls. But he also works on an as-needed basis at the Waverly Health Center. In addition, Alberts is earning his bachelor of science degree in nursing through Upper Iowa University's Waterloo campus.
Later this year, the Hudson man will begin practicing those skills in other parts of the United States on short-term assignments. Alberts signed up with a staffing agency and will start his first 13-week stint in October.
"My dream has always been to be a traveling nurse for a period of time," he said. "You get to see the country and gain more experience in the nursing field."
Alberts' caring and kindness to residents and other staff at Stanard Family Assisted Living earned him a spot on the Courier's 2019 list of the Cedar Valley Top 10 Nurses. "His compassion is contagious," said colleague Bonnie Davis, who nominated him.
"Eric is dedicated to caring for our residents, always going above and beyond in all he does," she wrote in her nomination. "Our residents and their families think highly of Eric. I seriously don't know what we'd do without him at SFAL."
Becoming a nurse wasn't always Alberts' plan.
Twelve years ago, after graduating from high school, he moved to Mason City for college. "Initially, I wanted to be a music teacher," he said. When Alberts took a break after a semester, his sister suggested he return to his hometown of Clarion for a job working with intellectually disabled people in a residential setting.
That led him to considering the nursing field. Eventually, he moved to the Cedar Valley and enrolled in Hawkeye Community College's nursing program. Alberts is certain it's the field he should be working in.
"Truly, I believe everyone has a very specific calling in life," he said. "I think that's God's plan."
Alberts became a licensed practical nurse in December 2015 and has worked for Western Home Communities for about 3-1/2 years. "They were able to coordinate my schooling as I was working on my RN at Hawkeye," he said. After completing that credential in 2017, Alberts became the clinical services coordinator.
"In this position, I create service plans or plans of care for each resident and make sure that they comply with the state regulations," he said. In addition, he mentors certified nursing assistants at the facility and works alongside the nursing staff. "There's a lot that I do in my job."
His duties are different at the Waverly Health Center. "I work on the medical surgical floor at the hospital," said Alberts, dealing with patients who are acutely ill or recovering from surgery. Gaining those experiences enhanced his skills, preparing him for the next opportunity.
"Experience is key in nursing," he noted. "There's so many things that we need to do."
Heather Stech the picture of grace and grit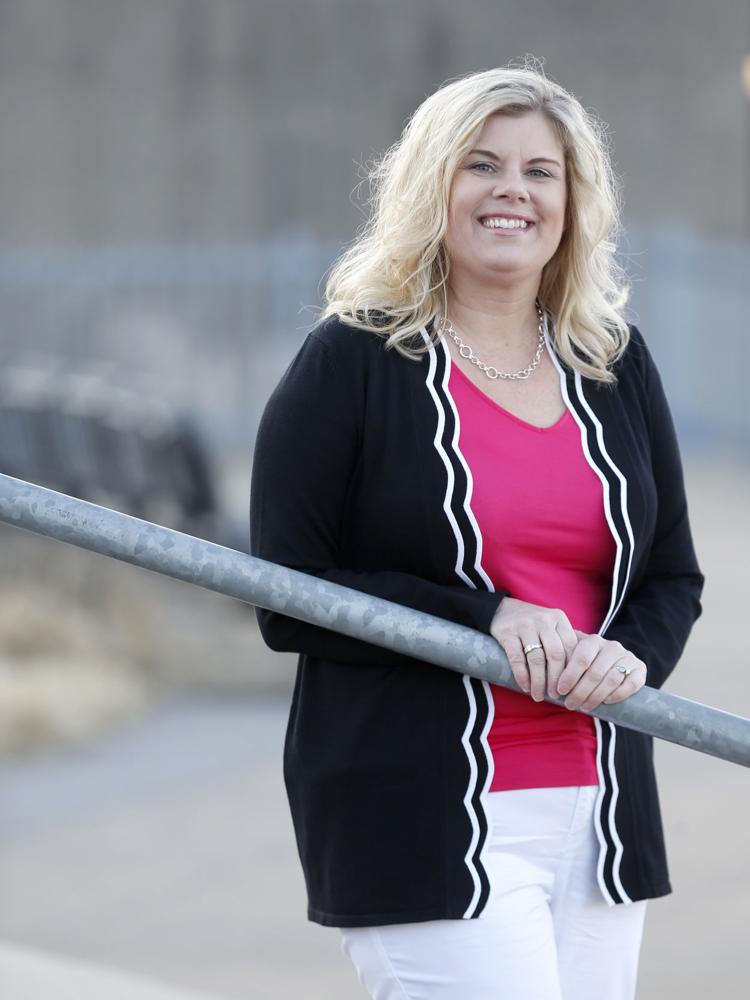 Heather Stech keeps the wheels greased and moving at Northeast Iowa Family Practice Center in Waterloo.
As nurse manager, it's her job to make sure the staff of 12 nurses who assist the 18 resident family physicians there are following best practices for optimum patient care.
"She is someone who works incredibly hard and strives to ensure patients at Northeast Iowa Family Practice Center receive the highest quality of care and that it is a wonderful place to work for the staff as well," said Alayna Zelle, a receptionist at the practice who nominated Stech for a 2019 Cedar Valley Top 10 Nurse honor.
Stech has been at the family practice center for 21 years. Initially she wanted to be a nurse in pediatrics or obstetrics, then realized family practice medicine would let her do that and more.
"We get the whole life spectrum in family practice," she said.
Stech graduated from Allen College in 1995. She's spent the bulk of her nursing career at Northeast Iowa Family Practice Center, which serves as the base of training for the Northeast Iowa Residency Program. During their three-year training period, resident physicians provide comprehensive medical care to more than 7,700 patients.
"I love what I do because of the teaching side of it," Stech said. "We have 18 resident doctors at a time, and it's neat to see them grow."
Stech also aims to help the nurses who report to her reach their career goals.
"With her kind approach and years of knowledge she has advice to give in any situation that arises and is willing to lend a hand to help," Zelle said. "She will always let you know if she notices something you do well. Heather has a way of making every person feel included and an important part of the family."
A family atmosphere is important at the practice, but Stech is also known for a "family first" approach with her staff. Stech, of La Porte City, is married and has two sons ages 19 and 17.
"Heather knows that the key to keeping her staff happy is to make sure she helps them maintain a balance between work and time with family. She has been known to take on extra tasks to help a nurse be able to attend last-minute school events," Zelle said.
Stech said that model is ultimately better for patients.
"I want them to come to work and give 100 percent and then go home to their real jobs. Family is the most important thing. If I'm flexible with them for family things, they are less stressed and they'll give back 100 percent to patients," she said.
Stech's staff appreciate her leadership.
"Heather navigates both as a nurse and supervisor with grit and grace," Zelle said. "Her integrity, kindness and enthusiastic approach help us each become better in our respective positions. Our clinic has been lucky to have a nurse like Heather call it home for over 20 years."
Sharon Frohling finds calling as long-term care nurse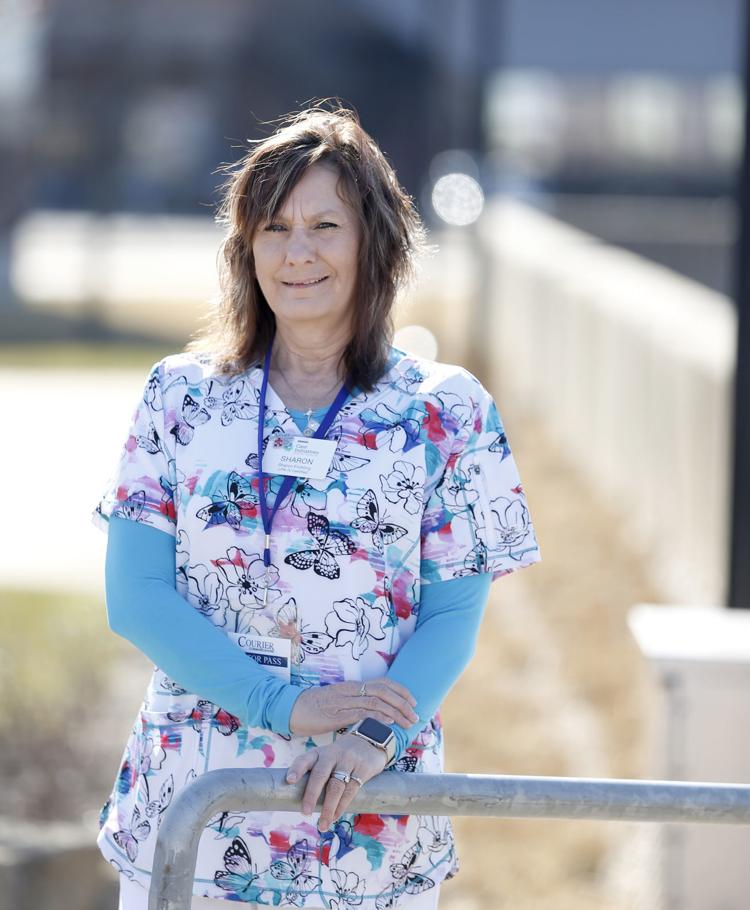 Sharon Frohling worked more than two decades as a hospital nurse before finding her passion at a long-term care center.
Her departure four years ago from Covenant Medical Center in Waterloo to work as a licensed practical nurse at Northcrest Specialty Care wasn't the traditional career move.
"No one could understand why I was going from the hospital to long-term," she said. "But if I would've known 20-some years ago, I would have gone there then. It's just awesome, the best."
As a second-shift nursing supervisor of Northcrest's "Hall 200," Frohling gets to make personal connections with the 25 or so residents spending their twilight years in her care.
"You never got to know the hospital people because they're in and out," she said. "At Northcrest I make the time, as much as I can, to talk to them."
Those who nominated Frohling as one of the 2019 Cedar Valley Top 10 Nurses said they're grateful she made the move.
"She treats her patients with dignity, respect and so much love," said Julie Flick, whose late mother-in-law was under Frohling's care.
"She cares deeply for every one of her patients, and they love her as much as she loves them," Flick added. "It's always comforting to have a nurse you can depend on to take great care of your loved one."
Candy Nardini, whose father lives in Hall 200, also praised Frohling's work.
"Some of these elderly people have no extended family, so Sharon serves as not only their nurse but a confidant, an encourager and someone who loves them as family," Nardini said.
"While she does her nursing duties well and with a high level of excellence … it is her demeanor to her residents, her level-headedness and the time she takes individually to know them well that impresses our family," she added.
Frohling said it's important to treat her patients with respect.
"I always know that someday I will need that help," she said. "We're all going to need that help sometime in our life. If this was my mother or this was me, I want that nurse to like her job."
And Frohling said she loves her job.
"The hardest part of my job is when they pass because you get to be really close to some of them" she said. "I try to make the time with them.
"The best part is seeing smiles on their faces, holding their hands. They know that you're there for them and everything's going to be OK.
"Going home at night and laying there knowing you did everything you could for the residents," Frohling added. "That's the best part."
Sara Davis lives Cedar Valley Hospice mission every day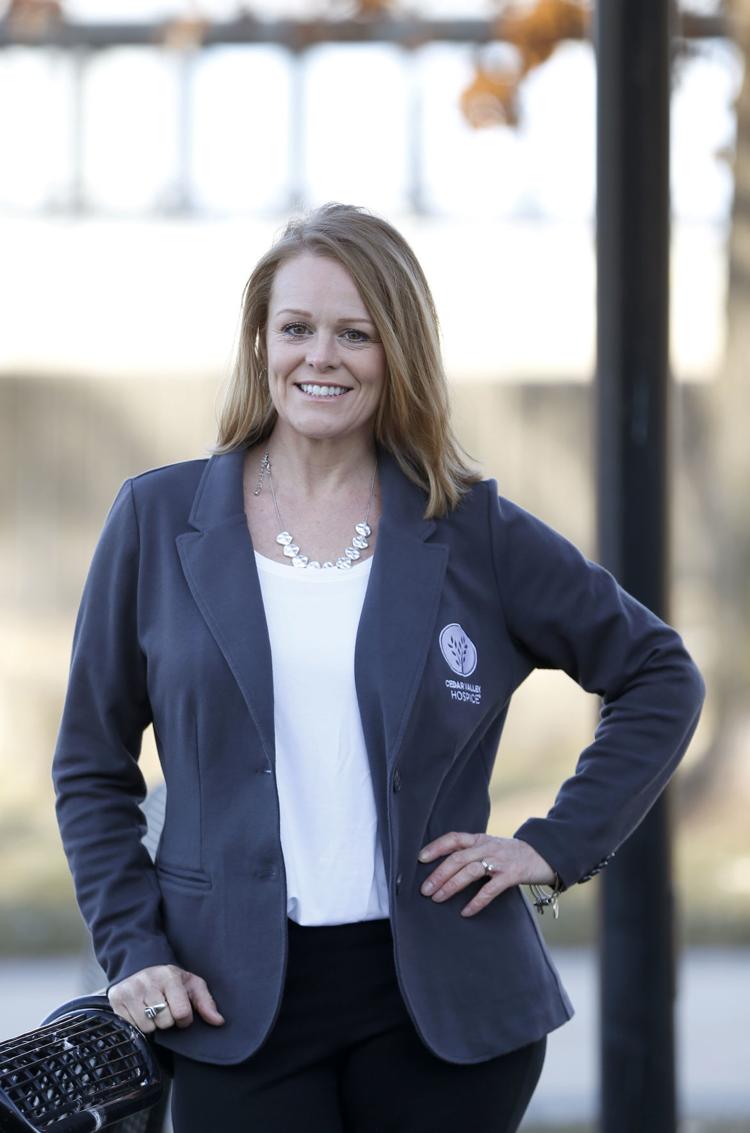 When the sun lifts over the horizon, it lifts one's spirit, too, as it suffuses the morning sky with soft, glorious pinks, oranges and yellows. It's been said that watching a sunrise can help one see their light within.
Sara Davis is known for timing it just right for her patients at Cedar Valley Hospice to watch the sunrise so they can have a moment of light, peace and comfort.
It's just one sign of the compassion that characterizes Davis' career as a nurse. She has been at Cedar Valley Hospice for nearly 14 years, working as an in-home and on-call nurse, a LINK palliative care nurse and as a Hospice Home nurse. Now she is the hospice nurse educator, although she frequently jumps in to provide care when needed.
Davis was surprised to be named one of the Cedar Valley's Top 10 Nurses. "I'm humbled to be included in this group of nurses. I know many of them, and they're incredible," she says.
"For me, being a nurse and helping people accomplish their goals is what drives me. Now as a nurse educator, I take that drive and put it to work educating our staff, community members and providers to provide the best care so that we can make a difference in their lives.
"This is part of our mission at Cedar Valley Hospice, and I'm so glad to live it every single day," she explains.
Colleague Karen Sullivan, who nominated Davis for the honor, describes her as "a wonderful nurse and educator who goes above and beyond to make sure no question goes unanswered."
Davis is passionate about caring for hospice patients. "When my children were little, I held and loved them with all my heart and throughout their lives. I will continue to do so. I hope that when my kids are older, and I'm gone, that there will be a nurse like me someday to take care of my children exactly as I did when they were babies," said Davis, who has three daughters.
"Every patient, no matter their age, deserves that dignity. It's very important to me for the patient and their families we serve to know that their loved one is taken care of. We owe it to them and to our community to care for them in the same way they were cared for when they first came into this world. I take care of my patients with love, dignity and compassion because it's what those who came before them, and those still living, would want for them during their lifetime. And I take that very seriously."
Davis was a general studies major at the University of Northern Iowa before transferring to Allen School of Nursing. She was a young mom and worked full time while going to school. As a nursing student, she realized she'd found her calling. She graduated in 1996.
"We all had something in common, and it felt bigger than ourselves. It wasn't about us. It was about nursing and helping people. As a nurse, I could make a difference in people's lives, and that's still what drives me."
She began as a nurse technician in acute care at Covenant Medical Center. "I worked alongside so many nurses that I looked up to, who were really good nurses and who were inspiring," she recalls. Then she transferred into cardiology, "and I loved that job, too.
"Then a friend encouraged me to try hospice care, and I would never regret it. That was so true. Cedar Valley Hospice is an amazing place," Davis says.
In her role as nurse educator, she constantly asks the questions: "How can we take better care of our patients, and how can we improve the hospice experience for patients and their families?"
Compassionate end-of-life care, respect for the dignity of patients and their families and working daily to support those patients and families are always of paramount concern, she says.
"Everyone works together, and it all helps make us better in caring for our patients. It parallels how I feel – I'm helping me be better by helping them be better."
Davis is grateful for the path she's taken in nursing. "Sometimes I'm surprised at how everything has fallen into place, but it's a really good fit."
Treese Pilkington finds 'home' as pediatric nurse at People's Clinic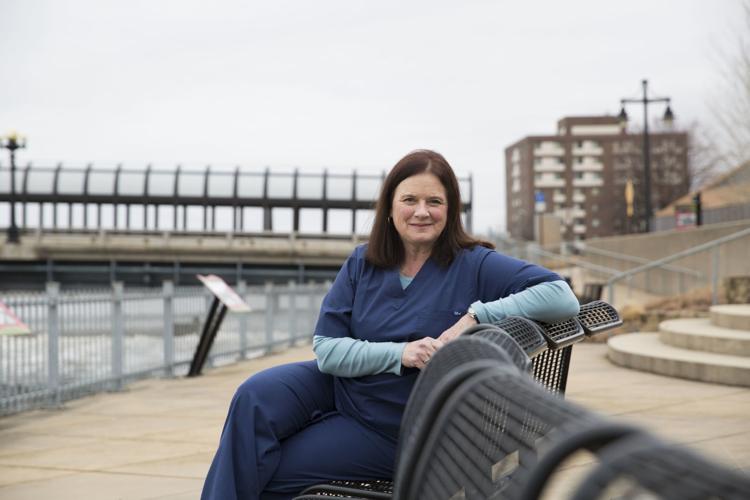 Treese Pilkington just may be the queen of animal crackers.
The pediatric nurse usually has a treat to give children who are feeling afraid or scared visiting the doctor. "All it takes to quiet a raging child are a few animal crackers," she says, smiling.
Pilkington, who has been named one of the Cedar Valley's Top 10 Nurses, has been a pediatric nurse at People's Community Health Clinic for the last 25 years. The registered nurse has given "zillions of shots, wiped away millions of tears and given thousands of kisses on the forehead" – anything to make her pint-sized patients feel loved and their parents reassured.
"I love helping kids feel better. I love their little smiles, the hugs they give me. What I do is so rewarding. This is my mission. God wanted me to be here," Pilkington says. "It's the sense that I'm helping people who really need help. These are underserved people in our community, and I love helping them and caring for them."
Receiving the award and recognition is humbling. "It's quite an honor and very humbling to be part of this group of awesome nurses – my sisters and brothers in nursing, and an awesome career to be in," she explains.
Pilkington's coworkers describe her as "our nurse-angel of hope" who has been "shining her light and making brighter the lives of thousands of children and their families over 25 years," says Kathy Merry, a colleague at People's.
At 16, Pilkington became a pediatric nurse's aide at St. Francis Hospital. After high school graduation, she enrolled at Allen College as a nontraditional student. She was married, and in her second year of nursing school, found out she was pregnant.
"I worried about how I would handle everything," she recalls, particularly when their son was born with respiratory problems which required numerous trips to University of Iowa Hospitals and Clinics in Iowa City and Mayo Clinic in Rochester, Minn. "It was stressful, but we came through it. My husband, Randy, was my rock," Pilkington says.
Their son, Wesley, is now a pharmacist, and they have a daughter, Abby.
Pilkington graduated in 1987 and became a labor and delivery nurse in obstetrics at Covenant Medical Center. She transferred to Covenant Home Health in 1989, and then to Allen Hospital's pediatric department in 1991. Dr. Sarah Gordon encouraged her to apply at People's Community Health Clinic.
"I found my home here," Pilkington says. "People's is an awesome place where our patients find help from caring and compassionate people. I'm seeing babies of grown children I took care of when they were small. That's amazing. Knowing I've had an impact on their lives is the greatest treasure."
Pilkington is the clinic's party and potluck planner. "It's a stressful job. We bring foods to share and gather, sit, relax and decompress. I've worked Thursday nights for 25 years, and sometimes we need to de-escalate our evenings."
One particular Thursday night, two young, hungry boys zoomed around a small exam room while their mom sat, exhausted. Pilkington quieted the boys by making and feeding them tacos she'd brought for the staff's supper.
"Kids can be tired, hungry and grumpy in the evening. We can be kind and sharing and make people feel better," she says.
The pediatric nurse goes the extra mile for patients. At one time, children received chemotherapy treatments for cancer at the clinic, and Pilkington organized last-day-of-chemo parties for the kids and their families. "These kids had a hard journey, and I dried lots of tears. When chemo was finished, those celebrations are some of my dearest memories."
Pilkington is thinking about retirement in another year or so. She wants her legacy to be one of "kindness. I love my little people. I want to be there for people when they need me, but make it fun, too. It means so much that I've brought sunshine into someone's life."
Compassion is key for nurse practitioner Tatjana Covic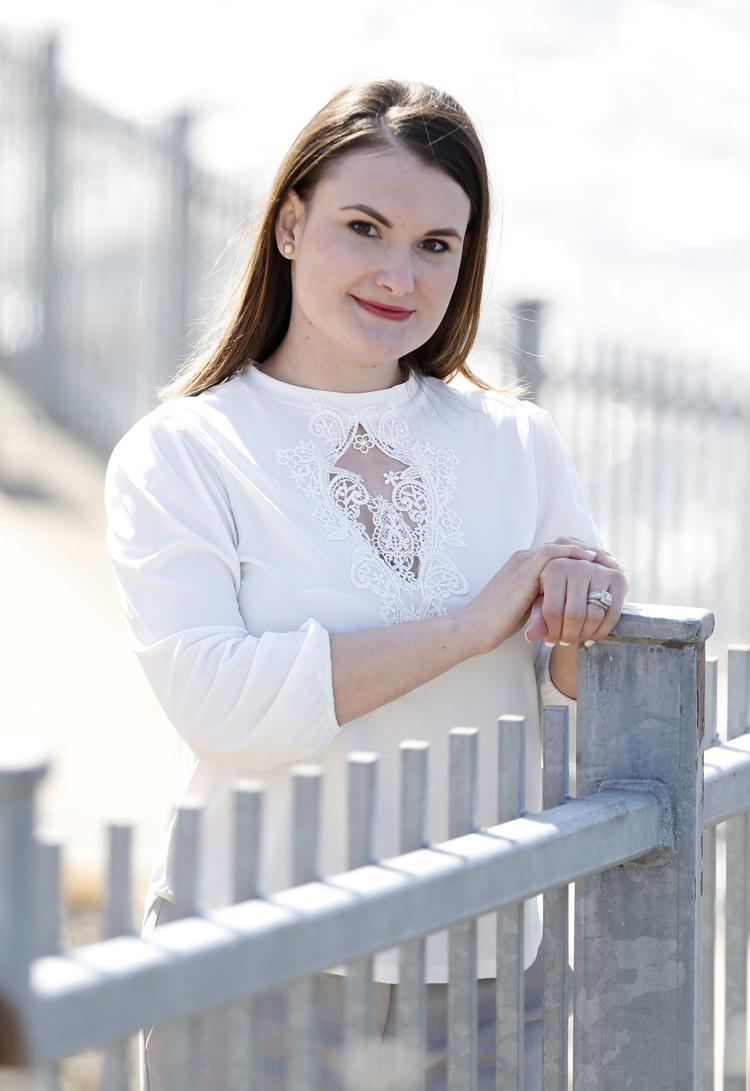 Even as a child, nursing was the only profession Tatjana Covic considered.
Born in war-torn Bosnia, Covic came to America in 1999 at the age of 9.
"It was after the genocide and the country was impoverished. There were no opportunities," she said.
The process to come to the United States took six months to a year to complete, and when Covic and her family arrived, they experienced extreme culture shock.
When Covic entered fifth grade at Orange Elementary School, she couldn't speak English and took ESL classes. Yet, she learned and excelled and went on to Hoover Middle School, graduated from West High School, all the while remaining passionate about caring for people. She then entered nursing school at Allen College. She continued her education, is working in home care nursing and recently got her family nurse practitioner license.
Covic, 29, of Cedar Falls, has been named one of the 2019 Cedar Valley Top 10 Nurses.
Though she continued to work toward her goals, it was never easy. While pursuing her education, Covic worked multiple jobs, including as an interpreter, and cared for her elderly mother, who had health issues. She got married in 2012 and then lost both her parents the following year within five months of each other.
Through that traumatic time, Covic didn't give up on her dream.
"I stayed very focused and determined and pushed through," she said. "I didn't use excuses. I worked hard and stayed persistent. I faced numerous obstacles, but I didn't want to quit. It was difficult to continue after my mother passed. She was my biggest supporter and my role model. She overcame so many obstacles. But I am truly passionate about nursing. I love what I do."
Covic and her husband, Semir, also were growing their family during this time. They now have three children ages 4, 2 and 5 months.
"My husband has been a wonderful support system, and my mother-in-law has also been so supportive. I could not be here without them," she said.
Covic offers some advice for those considering nursing as a profession.
"It takes a special person, but is so rewarding. It is worth it." she said. "You need to be passionate about caring for others and realize you will be helping people at the messiest and most vulnerable times of their lives."
Dzulijeta Ibricic nominated Covic for the Top 10 honor.
"Tatjana is what many of us aspire to be as nurses and as women: strong, resilient, compassionate," she said.
Mentoring new nurses rewarding for Joy Hershey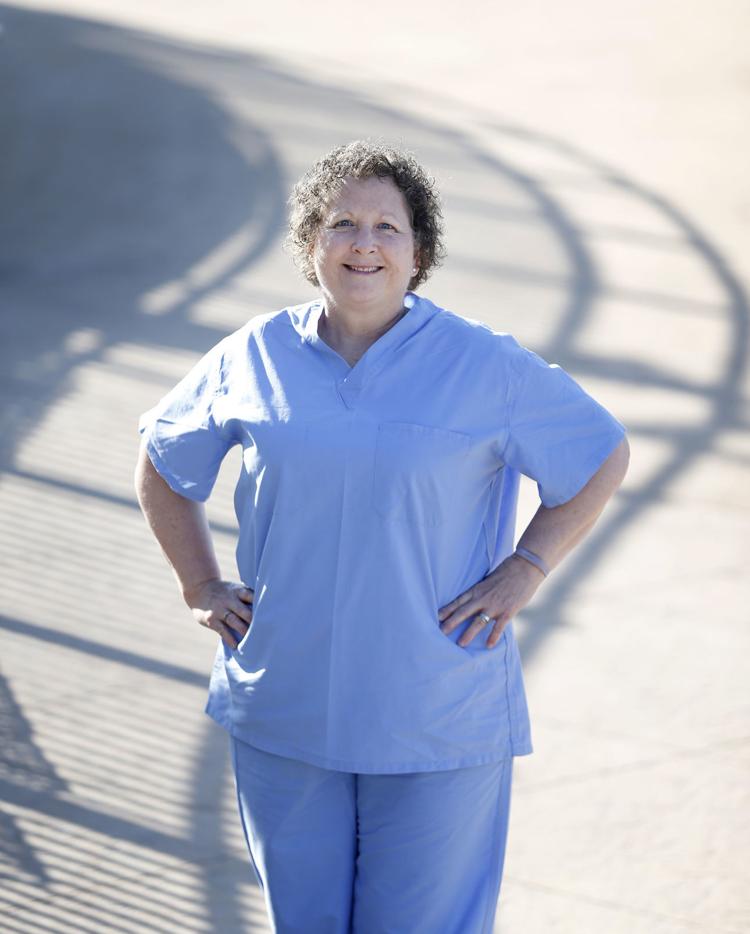 In third grade, Joy Hershey told her elementary classroom of her plans to be a nurse when she grew up.
"I never wavered from that," she said.
Now, after nearly 40 years as a nurse, she has been named to the 2019 Cedar Valley Top 10 Nurses list.
Not only does Hershey care for her patients in recovery units at UnityPoint Health-Allen Hospital in Waterloo, where she has worked since 2001, she also assists co-workers as a mentor and leader.
"It's such a great reward to hear them say, 'I got this. I can do this,' and see them grow in their professional life," she said.
Hershey is a preceptor for new employees and students and a mentor to new nurses through the nurse residency program. She assists with annual competencies and staff education, and has a certificate in critical care nursing.
Recently, she received her certification in perianesthesia nursing and scored in the top 10 percent of the nation on the CPAN exam. She then was asked to write questions for the next CPAN exam by the national committee.
"Joy has impacted my role as a recovery room nurse by her encouragement to expand my knowledge and try new roles," said Nancy Brannon, nurse preceptor in the UnityPoint recovery room.
Hershey said she has checked off all of her career bucket-list items.
"I believe in working myself out of a job, so to speak. I get a lot of satisfaction out of working with a new employee, especially a newer nurse that may not have the background," she said.
Hershey grew up in southeast Pennsylvania before living in Minnesota for 10 years. While visiting her oldest son in college at the University of Northern Iowa in Cedar Falls, Hershey and her husband, Marlin, found they enjoyed the Cedar Valley and moved here.
"I work with a great team of nurses there in the recovery room, and I really think the success of somebody's career is being part of a great team. It just makes the job so much easier, so much more enjoyable," Hershey said.
When she is not caring for her patients, Hershey and her husband spend time engaging with their community.
Hershey serves on several committees and helps with worship planning at her church, South Waterloo Church of the Brethren.
The Hersheys also are active in the local chapter of Growing Hope Globally, a Christian nonprofit organization that promotes sustainable agriculture in developing countries, and have traveled to areas served by the group in Central America and Africa.
ShanQuiesha Robinson brings personal perspective to the job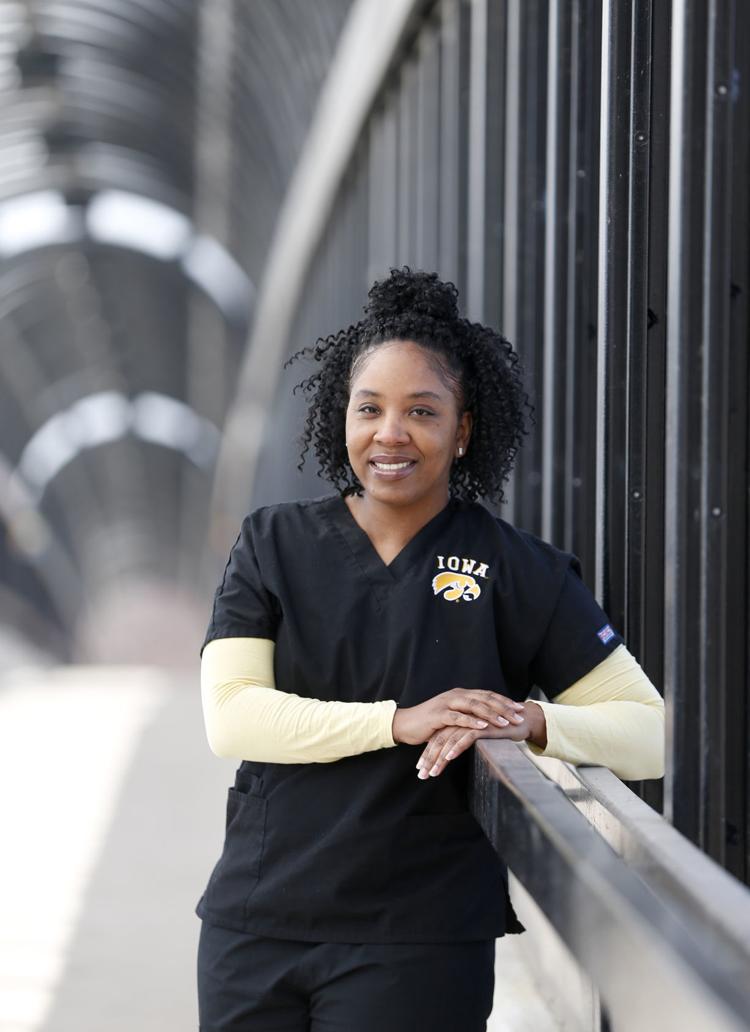 At first, ShanQuiesha Robinson was apprehensive about the nursing field.
A 2000 Waterloo West High graduate, Robinson, who goes by "Shae," had completed X-ray school but didn't feel fulfilled. Sure, she was helping patients but she didn't feel like she was reaching them.
Her godmother, Doreen Mingo, a nurse at then Allen Hospital, suggested nursing.
"People have the perspective of what nurses do, and my perspective was a little off … I didn't want to clean puke," Robinson said.
But when she learned more about the career, she saw how much critical thinking was involved and how nurses really make a difference in people's lives.
Now those who work with Robinson recognize her ability to bring a personal touch to her job as a pre- and post-surgical nurse at UnityPoint Health-Allen Hospital in Waterloo.
Part of that comes from surviving breast cancer. Shae Robinson was diagnosed a few weeks before graduation at the University of Northern Iowa, and she put nursing college on hold during treatment. It's an experience that helped mold her into the nurse she is today, and it's a fact she sometime shares with patients.
"I know if it's the right time or not. It's the feeling or this voice that tells me. … Everybody's journey is different, but you can take from each journey," Robinson said. "I have the point of view of the patient, and I have the point of view of the nurse, so I feel I can relate a little bit better with my patients."
She also inspires future generations of nurses as a clinical instructor at Hawkeye Community College. Away from the hospital and the campus, she is an organizer of the Splash of Color breast cancer awareness organization.
While studying, Robinson traveled to Africa twice during her senior year at UNI. Her first trip, as part of a requirement to earn an international health certificate, took her on a mission to Ghana, where she taught water filtration to residents who took the knowledge back to their villages.
After Ghana, Robinson was offered a chance to study any subject she wanted for the University of Iowa, and she went to Gambia to study the practice of female genital mutilation.
Robinson's experiences overseas come back to her as she prepares for her next step in life — earning a master's degree. Right now, she's trying to choose between focusing on public health, community health or leadership.
"I work in the hospital and I teach, but I still have that desire to continue to do missions and free clinics," Robinson said.
Hospice nurse Bobette Fryslie goes wherever she's called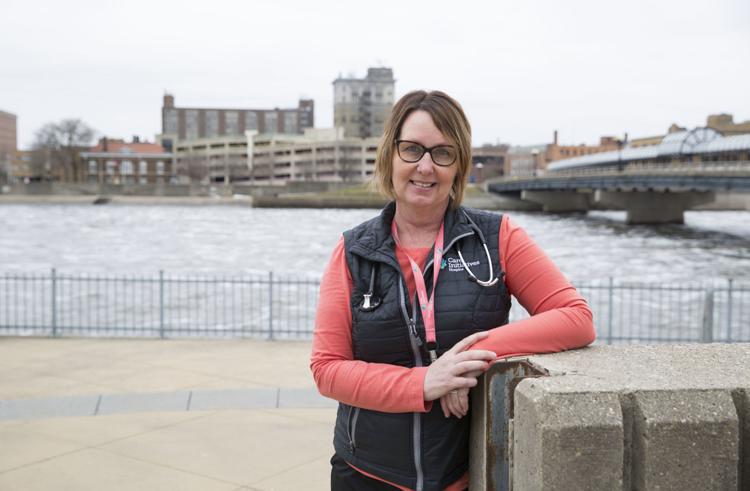 As Bobette Fryslie took care of a dying patient at his home, the man — who had an acre-sized garden — asked if he could see it one last time.
He wasn't quite able to walk the 100 yards there, however, so Fryslie drove him partway there, then enlisted the help of his daughter-in-law to help her walk the man the rest of the way.
When he got to his garden, Fryslie recalled, "he knelt to the ground and put his hands in the dirt, and stayed there, and just had his own moment."
"It was a special moment," Fryslie said.
Fryslie, a registered nurse case manager who is certified for hospice palliative nursing, will celebrate five years at Care Initiatives Hospice in Cedar Falls because of moments like that with her patients. Which is not to say that the job of caring for patients who will never recover isn't difficult.
"I get sad right along with them," Fryslie said. "When it's an accomplishment for the patient, I'm their cheerleader. I'm supporting them through all the different types of emotions that go through it. I'm their advocate, I allow them to make all their own choices, and I pursue all their wishes."
Stacie Kuper, Fryslie's younger sister, nominated her for the honor of being one of the first class of the Cedar Valley Top 10 Nurses for 2019 because of her treatment of Kuper's father-in-law.
"I have witnessed her soft, loving touch, kind and compassionate words, and her ability to stay optimistic through challenging times," Kuper wrote in her nomination. "There is often a huge request for Bobette to be one's hospice nurse."
Fryslie began her career in nursing in 1990 as a respiratory therapist at a Des Moines hospital, then spent 10 years at Hansen Family Hospital, later the Ackley Medical Center. She's delivered high-risk infants and spent time in the operating room, emergency room and in clinical settings.
But one day five years ago, the Ackley native who lives in rural Iowa Falls decided she wanted a different pace for her career.
"It came to a point that medicine was changing," Fryslie said, noting that the changing nature of insurance and only having "certain time slots" to spend with patients were discouraging. "I desired to have more one-on-one with patients, and I took that plunge into hospice."
At Care Initiatives, Fryslie helps to serve eight counties, going wherever she's called — and, her sister said, at any time they call her.
"Bobette sometimes leaves her own family/personal events to go be with her patients," Kuper wrote.
That's the nature of death and dying, Fryslie explained.
"I'm needed when my patients have the greatest need — my schedule is subject to change quite often," Fryslie said. "Things change in a hurry."
Her family understands: Her husband and three of her daughters — she has six children — are all in the nursing field, "and my oldest daughter married a nurse."
"I probably tell them three to six months in advance when Christmas is," Fryslie laughed, a nod to the hectic schedules that come with the job.
And though she's still medically treating patients in hospice, she likes the other side, as well — the emotional or spiritual side, perhaps.
"I treat the person," she said. "Maybe it's a time we forget about the disease for a moment."
She'll set up transportation, schedule something to look forward to or bake a pie (her specialty) for the family to enjoy. It's part of the "desire to help" that nurses seem to have, she said.
"Each day there are challenges, no matter what the circumstances may be, and I think that's what keeps driving you," Fryslie said.
Mary Ferrell at the heart of patient care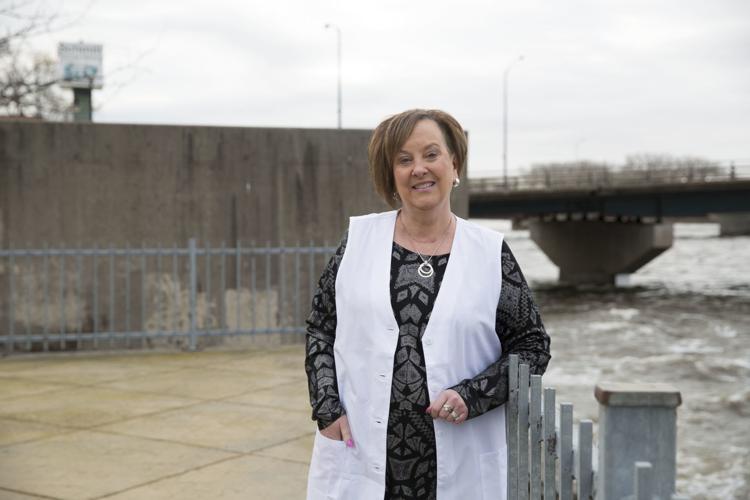 For 41 years, nurse Mary Ferrell has committed herself to patient care. Today, she still gets right to the heart of every patient as the director of cardiopulmonary services at MercyOne Waterloo Medical Center.
"I have 11 departments I'm responsible for, and it's very important to start the day rounding" to check in on patients. "It can take a while, but it allows me to visit with patients, families and staff to see if there are problems we need to solve."
It hasn't gone unnoticed by the team she leads, and it's why Ferrell was named to the 2019 Cedar Valley Top 10 Nurses list.
"She stresses the importance of compassion in all of our areas and visits with patients and families about the care and outcomes of their visits with us. Mary has a collegial relationship with providers and other leaders and is seen as an expert resource to the organization," said nominator Brandy Cooper.
Ferrell, of Cedar Falls, attended Allen School of Nursing and became a registered nurse in 1978. She went on to receive a bachelor of science in nursing from the University of Dubuque.
Ferrell worked at Allen Hospital for a number of years before joining Covenant Medical Center (now MercyOne-Waterloo) in 1997 as a cardiac facilitator. It was there she found her calling.
"I realized very soon that cardiology is what I love," she said.
At MercyOne, Ferrell also has served as director of medical services, director of trauma and critical care services and manager of cardiopulmonary services.
In 2014, she led a multidisciplinary team to establish the hospital's Chest Pain Center. The center was reaccredited last year.
"I'm very proud of that. You have to look at new strategies and programs if you want patients to receive the best outcomes," Ferrell said.
"This passion and commitment to excellent in cardiac care was the driver for Mary. ... Her mantra was this was what was best for our patients," Cooper said.
Ferrell participates in the Go Red for Women campaign, the American Heart Association Heart Walk and other health-related fundraisers and activities.
In 2016, she was named one of 100 Great Iowa Nurses. As a leader, she strives to bring out the great in other nurses also.
"As a leader, it is my job to empower and mentor nurses and staff," she said. "In any leadership role there are challenges, but I love what I do."
She encourages new nurses to never stop learning.
"Nursing right out of school can be scary," she said. "Just watch, listen, ask questions and learn. Provide care with compassion and don't be too hard on yourself."