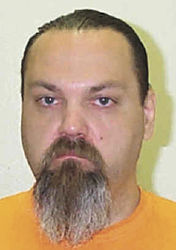 TAMA COUNTY — The fiance of a woman who disappeared in April of 2000 was charged Friday with killing her.
A grand jury charged Tait Otis Purk, 50, with first-degree murder in the death of Cora Okonski of Tama, who vanished in 2000.
Purk is serving time in a federal penitentiary in Leavenworth, Kan., for manufacturing methamphetamine and other drug and firearm charges. He was scheduled to be released in April, according to the Tama News-Herald.
The grand jury was convened by the Tama County Attorney's Office and the Iowa State Attorney General's Office to review evidence and testimony in the cold case of Okonski, who was 23 when she disappeared April 16, 2000.
Purk told investigators and the media Okonski borrowed a little money from him to go buy cigarettes April 16 and never returned to their Tama home, leaving behind her son Austin, who was 2 years old.
According to Courier archives, Purk was charged with domestic assault against Okonski in December 1999, and a no-contact order was put in place. The order was lifted in March 2000, and they had planned to marry in May.
Okonski was never included on Department of Public Safety's Missing Person Information Clearinghouse list because she had an active warrant at the time of her disappearance for failing to appear in court as a witness. DPS told Iowa Cold Cases that was because people cannot be on both "missing" and "wanted" lists at the same time.
The Iowa Department of Criminal Investigation reopened Okonski's case in March 2015 and declared it a homicide investigation Nov. 10 of this year.
No further details were available.
Get local news delivered to your inbox!
Subscribe to our Daily Headlines newsletter.