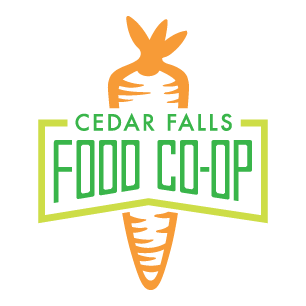 CEDAR FALLS – A community-driven initiative for a food co-op in Cedar Falls has reached the support of more than 1,000 members.
On Sept. 24, five years after incorporating, the Cedar Falls food co-op had 10 households sign on at the co-op's Fall Food Fest, pushing the community-owned grocery store over the 1,000-member mark.
"This is a notable achievement in our development," said Tom Wickersham, president of the co-op board. "This puts us on par with start-up food co-op efforts in other communities across the U.S.," he said.
The co-op, which announced in March it would be changing its name, has not yet decided its new name, but has dropped Cedar Falls from the name to more accurately reflect the Cedar Valley's only co-op store.
"Our goal is to select a new name that is inclusive of where our membership lives as well as reflect the regional farms and producers that will supply the co-op," Wickersham said.
The co-op board is working to develop a full-service grocery store where anyone can shop and anyone can own. The store's product line will focus on healthy, sustainable and locally sourced goods and produce. The goal is to open a store in or near downtown Cedar Falls.
"After we open the grocery store, we'll continue in our efforts to expand the co-op's impact," Wickersham said. "We'll add delivery, outreach and possibly satellite locations throughout the region."
"Ninety-three percent of membership lives within a 25-mile radius of Cedar Falls," said Joy Thorson, a member of the co-op's board. "Seventy-two percent live in Cedar Falls, but the remaining live in surrounding communities like Waterloo, Hudson, Waverly, Grundy Center and Shell Rock. There are even members in Dike, Jesup, Parkersburg and Tripoli," she added.
Food co-ops specialize in buying from local farmers and producers. On average, food co-ops in the U.S. buy from 106 local producers like beekeepers, coffeemakers, farmers, brewers, bakers, ranchers and more. The Cedar Falls food co-op anticipates buying from producers in surrounding regions.
"On average, co-ops are able to announce locations at around 1,000 members," said Wickersham. "We don't have a site identified yet, but we are working diligently with business owners and developers in our quest to open a store that the whole region can be proud of," he added.
Outreach Coordinator Melanie Drake noted the number of members is only one metric to the community's support. "The local business community is fully backing the co-op," she added. "In addition to the over 75 businesses offering discounts to co-op member-owners, several others have helped host programs, events and meetings, as well as donated goods and services," said Drake.
Cedar Falls resident Marlene Behn is a member of the future co-op because she sees what co-ops can do for the community. "I have always loved New Pioneer in Iowa City," she writes. "I would be proud to have a similar offering in Cedar Falls."
Once a site has been identified, co-op leadership will work on the final steps to open the store, including raising the capital, securing a traditional loan, hiring a general manager, designing the interior of the store, purchasing equipment and stocking the shelves. Officials suggest this could take 12-18 months after signing a lease.
Individuals interested in joining the co-op can do so online. Membership is purchasing a one-time, single share at $200. Payment plans are available.