CEDAR FALLS — Streets and other essential infrastructure would have to be connected sooner in new developments under a proposed amendment to city code.
Currently, city code doesn't specify when streets must be connected in new developments, and construction may depend on lots being sold, said Karen Howard, city planning and community services manager.
"In some cases, this practice has resulted in critical street connections remaining unfinished for a long period of time," Howard said Wednesday. "This incomplete or inefficient street pattern has both long- and short-term costs to the community."
Planning and zoning commission members were shown examples, including how Erik Road carries much of the traffic to Aldrich Elementary School as a result of other streets not being connected yet, as well as the final stretch of Ironwood Drive not connecting to Hudson Road.
"A lot of the complaints the city has been receiving are from all these folks that have purchased homes in these subdivisions getting to and from work, and also getting to Aldrich Elementary School," Howard said.
Those who live in older parts of town, with most streets in a grid pattern, have more routes to school and work, Howard noted. They're also likely to have faster response times from emergency personnel and alternatives when a street is blocked, she said.
"There is a cost, of course, to connecting all the streets, but the long-term cost to the community is quite great," she said.
Howard proposed amending city code to place emphasis on "ensuring the timely connection of streets within the development to ensure multiple, shorter and more direct routes between neighborhood destinations and to ensure that critical street routes are completed first" in a developer's final plat.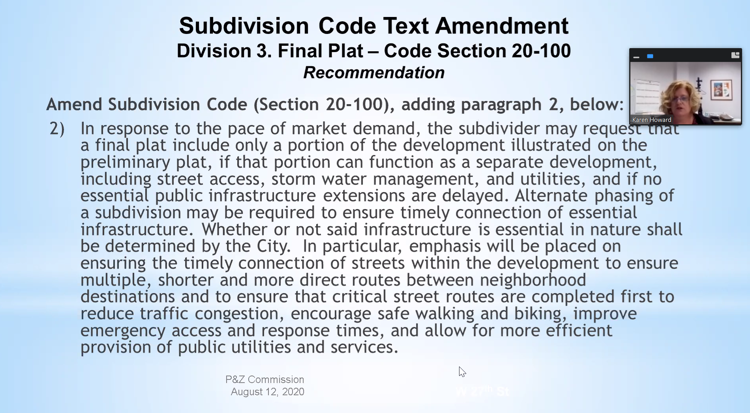 "Of course, we want to give flexibility to the developer that meets the pace of market demand, but we also want to give discretion to the city," Howard said.
"Don't we sort of already have the power to not allow those phases to be changed?" asked commissioner Mardy Holst.
Howard said there is no standard in the city code.
"It's just alluded to in the purpose statement, so we would like this formalized," she said.
Commissioner Leslie Prideaux said she believed the amendment "keeps a really fair standard and expectation for all developers."
But commissioner Kyle Larson wasn't so sure.
"It's definitely an area of concern, I'm just saying I have a little bit of skepticism about how a blanket approach would work," Larson said.
Howard is studying code language from cities with similar standards and will bring something to the board for a possible vote in September.
"I'd like to see some of that information," commissioner Lea Ann Saul said, noting she wanted to "make sure we've done our research before we make those changes."
This story was updated Friday to correct a word in a quote from Karen Howard, after reviewing the video.