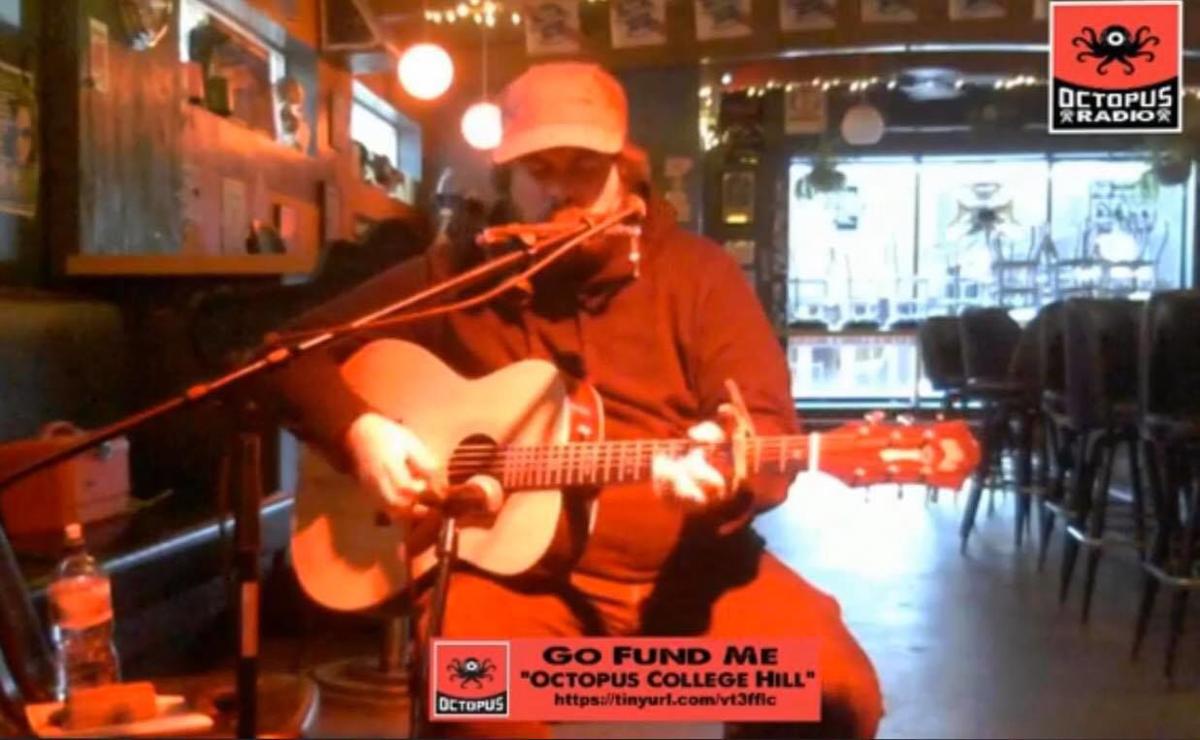 CEDAR FALLS — Just two days before a scheduled piano-playing gig, Sophia Landis learned it would be canceled due to precautions surrounding coronavirus.
Dismayed at the loss of her audience, not to mention the income, Landis — a University of Northern Iowa grad who now lives near Prairie du Chien, Wis. — posted the cancellation with her regrets to Facebook. Someone asked if she'd consider playing it anyway, but online.
Landis confessed she wasn't sure how.
"Within minutes a different (very tech savvy) friend reached out and said he would run sound and help me stream the concert for free," Landis said. "He said that we were all in this together."
So Landis performed the set as planned — on Facebook Live. The live audience grew to more than 100, with more watching the replay. She shared her Venmo account info to collect tips.
"They were quite generous, and that took a lot of anxiety out of losing my job," Landis said.
Like many others whose livelihoods depend on people gathering in groups, musicians have seen gigs, concerts and lessons dry up as the state asks everyone to stay home to slow the spread of the coronavirus.
But they're also finding ways to play or offer their expertise while practicing social distancing.
Zach Hagen of Waterloo is used to playing guitar on Facebook Live, but more to get exposure than to make money. Now he's doing both, and posting more frequently to make up for the lost gigs.
"With the quarantine, there aren't any shows or street busking opportunities," Hagen said. "So being able to post these videos on a more social scale online is nice."
Some venues are finding ways to continue paying musicians, like Octopus in Cedar Falls, which streamed a couple of solo artists from its empty bar on College Hill.
"Very much like a night out in a chat room setting," guitarist Joel Sires said of his performance at Octopus last week. "People were goofing with each other and laughing and genuinely enjoying themselves. It was nice to see."
Octopus owner Dave Deibler has stopped staging shows as he's re-evaluated even that limited amount of contact. He's working to put on live performances from musicians' homes through the Octopus podcast, noting his business only survives by continuing to put on live music.
"I think the Cedar Valley understands that if this quarantine goes through April and May, businesses like ours are going to need active help from the community to survive," Deibler said. "The hard thing for us is going to be that we won't cross some finishing line when we can leave our houses again. That's going to be when the really hard part starts. It'll be a different world and economy when we reopen."
That new economy includes music teachers like Rachel Bearinger, a UNI instrumental music grad who said there's been a "sharp increase" in students interested in online music lessons.
She teaches guitar and trumpet via Zoom through the LessonFace website, and she's gotten three new students in the past week alone, and began a group trumpet class for teenagers and adults.
"It's never quite as good as teaching in person, but I've gotten familiar with all of the tools that Zoom has to offer," Bearinger said, including screen share and draw tools to point out notes or sections of music, as well as send files back and forth.
"People seem more comfortable because they're learning a new skill from their living room, as opposed to having to travel somewhere that's initially unfamiliar," Bearinger said.
Some musicians aren't worried about the income, just how to keep playing for people. Count Gene Jaramillo of Cedar Falls among that group.
"When things stopped moving a few weeks ago, I thought one simple thing I could do was entertain people," Jaramillo, a guitarist, said.
He joined a Facebook group that challenges musicians to live-stream cover songs, set up a do-it-yourself stage in his bedroom and began filming. He was pleased to see one of his videos reach a couple hundred views and positive comments from as far away as Europe.
"I was pretty thrilled," Jaramillo said. "As the saying goes, 'If you only reach one person, it's all worth it.'"
The same goes for Xenia Sandstrom-McGuire, a Hudson native and electric bassist living in the Twin Cities. She's continuing teaching lessons on Zoom, but plays on Facebook Live for fun.
"I am not currently hurting for money, health care or a place to live," she said. "So I am promoting friends and artists, small businesses who really could use the financial help."
Businesses from radio stations to larger music venues are figuring out their own new normal amid the coronavirus pandemic:
Iowa Public Radio begins a new, weekly live concert series called IPR Tunesday from 6 to 7 p.m. Tuesdays at iowapublicradio.org
, the radio station announced Friday. First up would be Iowa City singer-songwriter Elizabeth Moen.
"While we wish we could bring these artists into our studios, we're excited to present them virtually and look forward to the opportunity to connect with our community," the station said in a release.
The Gallagher Bluedorn Performing Arts Center in Cedar Falls also plans a new online series — "Local Legends: Live from Gallagher Bluedorn." Performers will play separately from producers with spaces cleaned after each performance.
The periodic series starts Monday with The Snozzberries, streamed through Facebook Live to the Gallagher Bluedorn Facebook page and available later on YouTube. A full list is at gbpac.com or facebook.com/GBPAC.